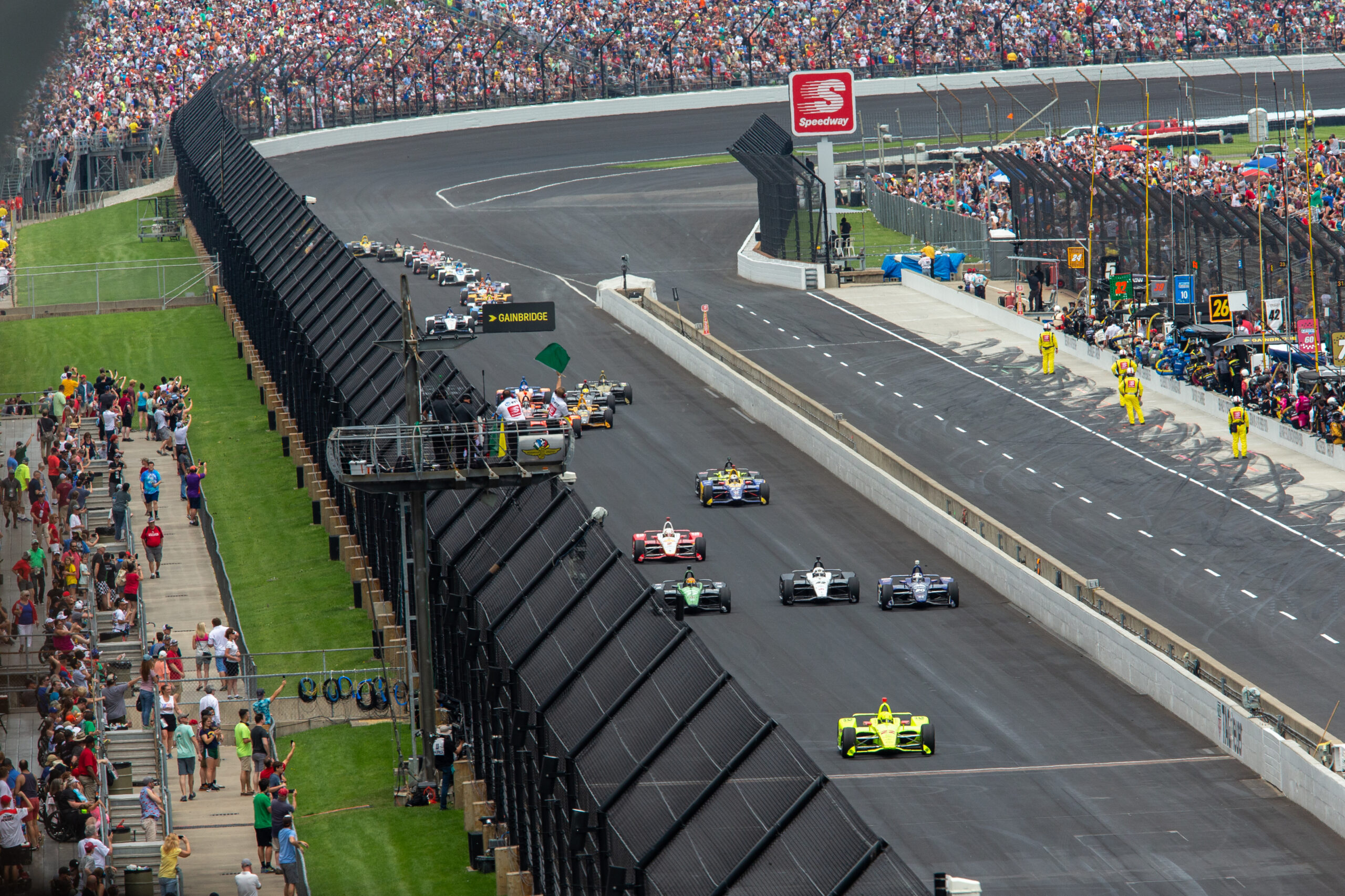 The coronavirus outbreak has forced difficult decisions for the sports-event industry. Nearly every major sporting event has been canceled, moved or postponed. Here is a look at where things stand.
What NBA Teams Have Fans This Season? | Attendance Limits at MLB Stadiums
Previous Coverage on COVID's Effect on the Sports-Event Industry
Subscribe to the SportsTravel Newsletter
Wednesday, April 21
Get ready for the biggest crowd — by far — for any sporting event since the COVID-19 pandemic started more than a year ago.
Indianapolis Motor Speedway announced Wednesday afternoon that it will have up to 135,000 fans at the Indianapolis 500 on May 30. The track said in a statement it worked with the Marion County Public Health Department and has determined that it can fill the stands to 40 percent of its capacity.
Indianapolis Motor Speedway is the largest sporting facility in the world with more than 250,000 grandstand seats and the ability to host close to 400,000 on race day.
"Our fans mean everything to us, and we can't wait to welcome them 'Back Home Again' for this year's Indy 500," Indianapolis Motor Speedway President J. Douglas Boles said. "The city and state have worked with us to identify the appropriate health and safety precautions so that we can successfully host a limited but very enthusiastic crowd. The health and safety of everyone coming to IMS, along with Central Indiana and the Hoosier State, have been paramount throughout this process."
Prior to the announcement, the largest crowd at a sporting event in the U.S. since the pandemic started was when Alabama's spring football game last weekend drew 47,218 fans.
The speedway will be open to spectators every day cars are on the track beginning with a May 15 road course event. Grandstand seating will be socially distanced and face coverings will be required on track property with temperature checks will be given at the entrances.
The venue will also extend its vaccination clinics through the end of May; it has vaccinated approximately 100,000 people since it began operating as a site.
"The number-one thing fans can do to ensure a great Race Day is get vaccinated as quickly as possible," Penske Entertainment President & CEO Mark Miles said. "We continue to offer vaccinations at IMS and will be extending our mass vaccination clinic throughout the Month of May. This is all part of the effort to continue getting Indiana back on track."
Miles said 90 percent of the IndyCar circuit's participants had been vaccinated by last Sunday's season opener and there are two more opportunities for competitors to get shots before racing begins at the speedway. Those who are not vaccinated before the track opens May 18 will be required to undergo daily COVID-19 testing.
FOOTBALL: Canadian League delays 2021 season
The Canadian Football League, which postponed its 2020 season because of the pandemic, said its 2021 kickoff will be on August 5, two months later than planned, with only 14 games instead of 18.
The original schedule was slated to open June 10 but with Canada dealing with a third wave of the virus, the CFL board of governors will delay the season and the Grey Cup game to December 12 in Hamilton, Ontario.
"The CFL depends on ticket revenue more than other professional sports leagues in North America," Commissioner Randy Ambrosie said. "Fans in the stands account for at least half of our revenue. Our clubs already stand to suffer substantial financial losses this year. Playing without fans in the stands would dramatically increase those losses."
Four of the league's nine franchises operate in Quebec and Ontario, which are both dealing with a third wave of the pandemic.
"We are prepared to be creative as well as prudent," Ambrosie said. "For example, if we are unable to host fans in the East because of COVID-19, we are prepared to start play in the West, provided eastern teams can return to their home provinces, and play in front of their fans, later in the season."
The league hopes the delay will allow for more Canadians to receive vaccinations and thus increase chances of fans being in the stands at some point.
NHL: Playoffs Still May End Up in Bubble, Report Says
The 2019–2020 National Hockey League season ended in an inventive bubble environment that saw two cities in Canada hosting an expanded playoff before the Tampa Bay Lightning beat the Dallas Stars in Edmonton — and while that may not sound like it makes sense, little about any pro sports league's postseason did last year.
This year's NHL season has been marked by several outbreaks of COVID-19 within teams, the regular season's final day already being pushed back to accommodate postponed games. The league's regional scheduling has been received positively by fans. The attempt at a unique outdoor event in Lake Tahoe was first marred by soft ice in bright sunshine, but was still able to be pulled off with spectacular views showcased on national television.
But with the regional scheduling comes a major asterisk — there has been no international play between the NHL's U.S.-based teams and the six teams in Canada, because of international travel restrictions. And that leaves the open question of what will happen when the playoffs come; the format will be the top four teams in each division advancing to the postseason with inter-division play, meaning at least one Canadian team will be in the Stanley Cup semifinals.
While the NHL and its fans hope the 2021 playoffs can look like the playoffs fans have been accustomed to, Sportsnet in Canada reported last week that it may have to be adapted again.
"From what I can tell right now, the plan is still to have the Canadian teams that make the playoffs play in their own cities," Elliotte Friedman said Saturday on Hockey Night in Canada. "However, if there is a situation where we do need to consider a bubble, it is the likely scenario that the four teams that make the playoffs would go to a bubble in the United States."
While the Canadian division's constant rotation of rivalry games has been a boost to fans and promises some enticing playoff matchups — the Maple Leafs and Canadiens are as of today scheduled to meet in the first round, which would be a TV bonanza in the country — the season's conclusion will be delayed from its original date in part because of a widespread outbreak among the Vancouver Canucks that affected at least 21 players.
The Canucks made a stirring return to the ice on Monday night, playing for the first time since March 24 and rallying for a 3-2 overtime win over Toronto. No Canucks players remain on the NHL's COVID-19 protocol list, but four of Vancouver's regular starters remained out of the lineup.
"This isn't just your regular win during the regular season," Canucks Coach Travis Green said. "It's a special win. We've gone through a lot here with our group over the last few weeks."
As the Canucks were given a few days to practice before its return to action, another team — this time south of the border — had to be put on its own pause. After three players from the Colorado Avalanche went onto the COVID list, the team's games last weekend against the Los Angeles Kings plus a Tuesday game against the St. Louis Blues were postponed. The team is tentatively scheduled to return to action on Thursday night against the Blues.
One more hockey-related note: While the NHL has not had cross-border games this season, Canada was planning to host the women's world hockey championships in Nova Scotia starting May 6. But the event was canceled abruptly on Wednesday over safety risks associated with COVID-19.
"This is very disappointing news to receive with just a few weeks until the tournament was to begin," said IIHF President René Fasel. "We strongly believe that we had the adequate safety measures in place to protect players, officials, spectators, and all residents in Halifax and Truro, based on the IIHF and Hockey Canada's experiences from hosting the IIHF World Junior Championship in Edmonton."
The IIHF and Hockey Canada have pledged to work toward finding new dates for the tournament, with the goal to host the event in the summer of 2021.
Tuesday, April 20
GOLF: U.S. Open to Have Fans as PGA Tour Encourages Players to Get Vaccinations
The sport of golf was one of the first to return from a COVID-enforced pause across the sports world last summer. And recreationally, the sport has seen strong numbers in participation given its outside setting along with its natural tendency to be socially distanced — especially if the foursome you play with at the local club has some strong hooks and slices off the tee.
And as fans have increasingly returned to sporting events, golf is no different. The USGA has announced that a limited number of fans will be in attendance at the men's U.S. Open at Torrey Pines Golf Course (South Course) in San Diego from June 17–20 as well as the women's Open at The Olympic Club (Lake Course), in San Francisco from June 3–6 — with a key disclaimer about fans who want to travel to California to be at either event.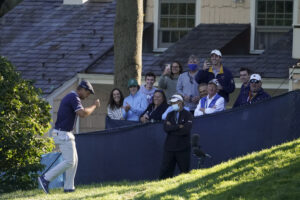 For both championships, multiple health and safety guidelines will be in place including face coverings required for fans, staffers and volunteers. California residents must show proof that vaccination against COVID-19 has occurred at least 14 days prior to the championships or that a negative test result has been received; all out-of-state fans must provide proof that vaccination against COVID-19 has occurred at least 14 days prior to the championship.
"Last year, we missed the energy that fans bring to our U.S. Open championships," said John Bodenhamer, USGA senior managing director, championships. "We are grateful to our local and state health and safety officials in California to be in a position to welcome some fans back this year to witness the greatest players in the world contending for these prestigious championships, while working to maintain the health and safety of all involved."
The announcement comes after the USGA did not have fans at last year's U.S. Open in Winged Foot, New York, in September or the women's event at Champions Golf Club's Cypress Creek Course in Houston in December.
The U.S. Open policies on fan attendance come after the Masters was held during its traditional spring dates after last year being held in November. The tournament in November did not have fans in attendance; this spring's event was with fans — sorry, patrons — at Augusta National. The exact total was not known but was estimated to be around 25 percent of its usual capacity.
Players in the majors and the PGA Tour, meanwhile, will not be required to get COVID-19 vaccines, the PGA Tour said in a memo obtained by ESPN, but those who do not get vaccinated will have to continue to undergo weekly tests at their own expense before playing in an event.
Players and caddies have been required to be tested on-site each week of an event on the PGA Tour, which ESPN said has reported fewer than 30 on-site COVID positive tests over the past 10 months. The tour's own on-site testing will stop at the end of June.
Face coverings will be required at tour events indoors, but the tour said in the memo "in accordance with CDC guidelines, fully vaccinated individuals may gather in small groups without face coverings."
The PGA's steps to encourage vaccinations without making them explicitly mandatory follows similar steps by many other pro leagues including the NFL and NBA, which will loosen its health and safety protocols for those who have been vaccinated and once a team's roster reaches a benchmark of vaccination.
Monday, April 19
Throughout the National Football League, today means the start of virtual offseason meetings, which seems almost amazing given it does not feel that far away from when Tom Brady and the Tampa Bay Buccaneers raised the Super Bowl trophy in front of the home crowd at Raymond James Stadium.
But as the virtual meetings start, tensions between the NFL and the players union about how the rest of the offseason will be conducted during the COVID-19 pandemic have been played out in public.
The union has insisted on an all-virtual offseason similar to what the league completed in 2020 — with nearly half of the league's 32 teams having announced they won't participate in voluntary offseason workouts.
The only mandatory activities this offseason would be June minicamps before the official start of training camp. The NFL last week issued a memo announcing the first four weeks of the voluntary program will be virtual before transitioning to in person.
"I think what a lot of players have said that they've heard from their coaches is that they need to show up," NFLPA Executive Director DeMaurice Smith said Saturday on SportsCenter. "… I think that what you're seeing now is for the first time players exercising their voice … to say 'no.' And frankly it's probably one of the few times that coaches have ever heard players say 'no.' And for some players, it's probably the first time they've said 'no' to their coach."
While the NFL cannot mandate vaccination of players because of the CBA negotiated by Smith and others in the union, it does have the ability to do so for other employees on all 32 teams — and it has made its position on the issue clear in the past week. NFL Chief Medical Officer Dr. Allen Sills has told clubs that Tier 1 or Tier 2 employees — including coaches, front-office executives, medical personnel, video specialists and others who work with players — will not be allowed to be around players without proof of vaccination.
Teams also reportedly have been told they must file weekly reports on employee vaccination numbers with the league. The league has also told clubs that it should educate employees on the work-related benefits of vaccination, highlighted by the ability to access the football-only areas of the facility, as well as bypass testing, tracking device and quarantine requirements.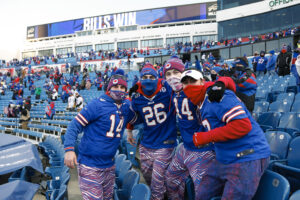 One team has also told its fans that vaccinations are the only way it will be allowed to go to games this season; Erie County, New York, Executive Mark Poloncarz has said that Buffalo Bills and Buffalo Sabres fans will need proof of vaccination in the fall to be at games and that the Bills have already been informed of his plans.
"I want to see that stadium full, I know the Bills want to see that stadium full. We want to return fans back to the stadium," Poloncarz said last Tuesday. "That's why the county supports returning all fans to the stadium and (hockey) arena for this fall … We know there's a way to do it. We know there's a way to ensure it. That's that all fans and staff are fully vaccinated. … We can then guarantee 70,000-plus people at the stadium."
Erie County owns the venues that the Bills and Sabres play at, which is how Poloncarz is able to make such an edict. Poloncarz hopes to use New York's Excelsior Pass app to facilitate entry and the county will work on a solution for fans who do not have smartphones. Plans will be in place before the season starts about how to welcome vaccinated fans from out of state.
Poloncarz said he knows that fans have a personal choice in whether or not to get vaccinated but added "there's no God-given right to attend a football game."
Friday, April 16
SAILIING: SailGP Gets Exemption to Stage Season Opener in Bermuda
SailGP and the Bermuda Tourism Authority have worked to keep the debut race of the sailing series' second season on track for April 24–25, despite a stay-at-home order and new advisories against traveling to the island.
The series applied for and received exemptions to continue its operations at Cross Island and an on-water safety trials during a seven-day government-ordered stay-at-home mandate that will expire April 20. The exemption allowed the series' athletes to familiarize themselves with a new system that has been recently implemented on the F50 boats used for competition. The on-water safety trials and training were considered vital to ensure the safety of the competitors in the event next weekend.
The Centers for Disease Control and Prevention recently declared Bermuda as having a high level of COVID-19 rates, issuing a travel bulletin that among other things advised people not to travel to the island.
For SailGP, the event will be its first since the pandemic caused delays to its planned second season last year. The series is currently seeking host cities for its third season to start next year.
In Bermuda, SailGP has pared down its operational requirements over the stay-at-home order period. That has included measures to reduce the number of people onsite to only those that are essential to finishing the preparations of the eight boats in competition, plus the reduction of onsite hours as much as possible.
As for the event itself, SailGP will limit its hospitality program to comply with latest government protocols and has cancelled all ticketed tour boat spectator experiences, refunding those who had purchased tickets for that event. The series has also created protocols for all staff to operate in designated bubble environments with no external contact, daily health reports and regular testing, among other measures.
"We are extremely sympathetic to the current situation in Bermuda and our thoughts are with everyone that has been affected by this terrible global pandemic," SailGP CEO Sir Russell Coutts said. "We are really pleased that we can return to our operations to ensure the safety of the event next weekend. We thank the government for their assistance and the people of Bermuda for their understanding. Bermuda's ability to deliver world-class sporting events while facing unprecedented circumstances has helped to position them as a leading global sports destination with an administration that is able to diligently and efficiently manage these difficult circumstances."
Bermuda Tourism Authority CEO Charles H. Jeffers II said the event will show how the island is operating the pandemic. "Showing the world how Bermuda can navigate its way through a crisis is a valuable building block to a strong tourism recovery, particularly in the sporting world where the racing next week will be seen in 175 broadcast territories—including live in the United States on CBS," he said. "The Bermuda Sail Grand Prix presented by Hamilton Princess will bring a smaller economic return to the island than the original forecast back in November, but we still expect a healthy return from $5 million direct spending on-island and media exposure around the world."
Thursday, April 15
BASKETBALL: Draft Kicks Off Landmark 25th WNBA Season as League Plans for Spectators
With attention on women's sports perhaps never greater, the WNBA plans to celebrate a landmark season that starts next month with a new in-season competition and with, like many other men's leagues, an emphasis on vaccine education.
And yes, there could be expansion into new markets throughout the country on the horizon as interest in the league continues to grow.
"Expansion is certainly on the list of things I've been thinking about down the road," second-year WNBA Commissioner Cathy Engelbert said on Tuesday. "It is interesting to note how competitive and how deep the talent in this league is, and so it's certainly something that as we come out of this pandemic, hopefully next year, that we're prepared to start talking about.
[Cathy Engelbert's Guest Perspective: Why Supporting Women's Sports is Good Business]
"I think if we have a very successful season this year, this time next year we can certainly start talking about what expansion would look like, how many and the time frame over which that would occur."
The WNBA will start its landmark 25th season on May 14. It debuted in 1997 with eight teams, growing to 16, before six teams folded in a 10-year span. The league has been at 12 teams since 2010.
One year after its entire season was held in the 'Wubble' in Bradenton, Florida, this year's schedule includes 32 games — 10 more than last regular season — and a break from July 12 through August 14 for the Olympic Summer Games in Tokyo.
This year's schedule seeks to reduce the number of trips teams take, including a "series" model in which some teams play back-to-back games in the same place. There will also be the inaugural Commissioner's Cup; last year's plans, which were disrupted, called for 10 regular season games in the first half of the season counting as Cup play events with the top team from each conference playing a title game upon returning from the Olympics.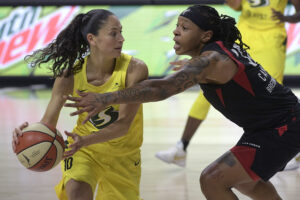 This season will see the WNBA return to home markets, but some will not return to their home arenas. The New York Liberty are moving home games to Barclays Center in Brooklyn from Westchester, New York. The Los Angeles Sparks will play their first 11 home games at the Los Angeles Convention Center because Staples Center is booked solid with delayed NBA and NHL games for the Lakers, Clippers and Kings; the Sparks will move back to Staples Center for their final five home games and any playoff games.
The defending champion Seattle Storm will play all of home games at Angel of the Winds Arena in Everett, Washington, as renovations to Climate Pledge Arena continue through the fall. Overall, Engelbert said nine teams and possibly 10 will welcome fans at the start of the season — she didn't specify which teams —  but "we're hoping as we go into the Olympic break and come off of that, maybe we can have more full arenas."
The WNBA is also no different than any other league when it comes to having players and staffers vaccinated — while the league has collective bargaining with its players and therefore cannot mandate it, Engelbert said they "highly recommend" players get their vaccines. Those players who are fully vaccinated will have a shorter quarantine period before team training camps.
"We are working to help teams provide opportunities now that the eligibility has opened up in almost — certainly every state that our teams play in," Engelbert said. "And as we get to training camp we'd love to continue to facilitate players wanting to get the vaccine and that's what we're working on with teams right now."
COLLEGE VOLLEYBALL: Rice Out of NCAA Tournament Because of COVID
The NCAA has deemed the Rice vs. North Carolina A&T first-round game at the Division I Women's Volleyball Championship in Omaha, Nebraska, a no contest due to COVID protocols within Rice's program.
This is the first time this tournament has had COVID-19 related issues. N.C. A&T will advance to the next round against No. 13 Penn State on Thursday.
"The NCAA and the committee regret that Rice student-athletes and coaching staff will not be able to play in a tournament in which they earned the right to participate," the NCAA said in a statement. "Because of privacy issues we cannot provide further details."
The second round of the NCAA Tournament gets underway on Thursday. The volleyball tournament, typically held in the fall at various sites before the Final Four, is being held this spring at the CHI Health Center in Omaha with 48 teams instead of the traditional 64.
The opening three rounds are being played at the Omaha Convention Center before moving to the CHI Health Center for the Sweet 16 onwards. There are four competition courts laid out in two halls with eight practice courts in a third hall. But before the tournament even started, two coaches made their issues with the setup in Omaha, Nebraska, publicly known.
Nebraska Coach John Cook, whose team is seeded No. 5, compared the setup to that of a high school tournament and suggested a better setup would have been to play the opening rounds in multiple sites in and around Omaha, specifically mentioning venues at Creighton University, the University of Nebraska-Omaha and University of Nebraska-Lincoln.
"That's a lot nicer of an NCAA tournament because those are three great facilities [and better] than the setup they have now, which is in a convention center, no locker rooms, no bathrooms," Cook said. "It's going to be interesting how this is all pulled off."
Kelly Sheffield, coach of top-seeded Wisconsin, added that a lack of ESPN announcers for the first two rounds downplays the tournament's importance. The NCAA released a statement saying that each team will have a secure changing area on site and there is no requirement for announcers to be providing commentary for the first two rounds. ESPN later added announcers for the first two rounds.
Wednesday, April 14
OLYMPICS: 100 Days Out, Olympians and Paralympians Coming to Terms with Restrictions
The Olympic Summer Games are 100 days out today, a milestone that at one point seemed like it might never get reached. But the Games are continuing, the torch relay is already underway (even if some stops have had to limit spectators after concerns over COVID-19 outbreaks) and athletes from around the world are preparing for their trips to Tokyo.
Those trips will of course look different this year than they have at previous Games. The recently announced ban on foreign spectators is likely to mean a ban on the family members of athletes themselves, something Olympians and Paralympians are coming to terms with accepting.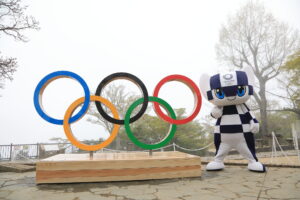 At the Team USA Media Summit last week, athletes largely were accepting of the restrictions and understood why they will be in place. But there is disappointment nonetheless.
"It's definitely been a hot topic in my family," said Stephanie Roble, who has qualified for the Games in sailing. "My parents were looking forward to coming over and celebrating their 40th wedding anniversary during the Olympics, so obviously they're very bummed. But we're just accepting that that's where the world is right now. And I think sailing is unique in the sense of we aren't really a spectator sport. It's quite hard to see us out racing. So I guess in one sense, it doesn't really affect us, but it would mean a lot to me to have my family and friends there."
Nathaniel Coleman, who will be one of four U.S. athletes competing in climbing in the sport's Olympics debut said his family was also disappointed not to come. "They love to watch me compete whether it's a local event or at an Olympic event," he said. "But I've come to terms with it and they've come to terms it with. They'll be watching live and giving me support from afar. So I think it's just what has to be done."
Even Olympic veterans felt uneasy about the situation. Allyson Felix, who is trying for her fifth Games, would be making her first appearance since the birth of her daughter, Camryn. She said she always envisioned having her daughter in Tokyo but that the circumstances may not present that opportunity if she qualifies. "It's not an ideal situation," Felix said. "For me, you know, my family will just have to adjust to whatever that means."
Others were matter of fact about their training. McKenna Greer, a Paralympian shooter, said there were mixed emotions when the announcement was made but that she intends to be so focused on competing that she wouldn't have time for family that made the trip.
"For me, I'm a little bit different I guess," she said. "My parents were able to come to Rio (in 2016) and support me and that was huge for them, especially for my dad since he helped me get started in the sport. But I consider what we're doing at the Games kind of like a job. We're there for our sport. We're there to represent our country, and a lot of people within my community have thought it's a little weird that I didn't necessarily want my husband there, but it would be spending a lot of money for him to watch me shoot and we wouldn't even really get to spend any time together."
While athletes may be traveling alone, most of the athletes that appeared at the Media Summit said they have already been vaccinated or plan to get an appointment. And for those that have been vaccinated, the overriding theme was that they didn't want to let years of training potentially get ruined if a vaccine can help prevent COVID-19.
"I'm doing it for the safety of myself and others," said Carlin Isles, a member of the U.S. rugby team. "I don't want them telling me I can't play after all these years of hard work. So I'm definitely going to get that (vaccine) so the percentage of getting COVID is very low."
But USOPC officials were quick to say that while they are encouraging vaccines for athletes and are providing as much information as they can including webinars on the benefits of the available vaccines, the question of whether athletes take one will be up to them. "We're fortunate in what's happened over the last couple of months that the vaccine has become pretty readily available," said USOPC CEO Sarah Hirshland. "And it's looking like by early May that the vaccine will be available to anybody who chooses to take it. So we're feeling really optimistic at this point."
Regardless of the travel restrictions or the vaccination opportunities, officials at the USOPC said athletes are training without any question as to whether the Games would take place at all. At 100 days out, the event, both on the Olympic and Paralympic side, is full steam ahead.
"I can tell you that the athletes are trying very hard not to focus on any changes in the plan," USOPC Chair Susanne Lyons said. "They are absolutely 100 percent focused on preparation for Games that should happen as they believe will happen and we hope will happen. We're realists, and we understand the health situation is not in anyone's hands, but we believe this can be responsibly and safely accomplished."
Tuesday, April 13
SOCCER: Three Stadiums Ready to Open for MLS but Pandemic's Economic Impact Stalls Sacramento's Bid
Major League Soccer's sustained expansion success may have hit a pandemic-related roadblock ahead of the league's 2021 season beginning on Friday.
The proposed team in Sacramento, California, may not be able to continue going forward after lead investor Ron Burkle pulled out of the deal last month, although MLS Commissioner Don Garber said during his season preview press conference on Monday that the bid could still be revived if they are able to find more investment.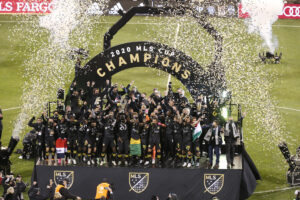 "I'd call this expansion project there leading up to this season as a COVID casualty," Garber said. "But there's still a lot of energy in Sacramento, it's a good soccer market. The mayor is very focused on trying to put another ownership group together. We're going to work with him to see what can be achieved."
But given the uncertain status of Sacramento's group, Garber said the league has moved forward on alternative options for its 30th team, namechecking three cities that showed previous interest in Las Vegas, Phoenix and San Diego.
Phoenix and Las Vegas are both sites of longtime USL Championship teams that have had success in the past; a USL Championship team in San Diego started last year with MLS legend Landon Donovan as a part-owner and coach. ESPN previously reported that MLS has had initial discussions with San Diego State University to see if an MLS expansion team could play in 35,000-seat Aztec Stadium, projected to open in September 2022.
While Sacramento's financing for a new stadium could prove its downfall in the quest to join MLS, the league will unveil three new stadiums this season; FC Cincinnati's West End Stadium opens May 16, expansion team Austin FC's Q2 Stadium is scheduled to open June 19, while Columbus' New Crew Stadium opens July 3.
"Every year the stadiums get taken to a new level," Garber said.
For MLS to get to a new level itself, one of the things it needs to do is finally end its decade-plus long quest to have a team win the CONCACAF Champions League. Since the competition to find the best club team in the region expanded in 2008, a team from Mexico's Liga MX has won the title every year; only four times has an MLS team even reached the championship game.
"We've got to win that tournament," Garber said.
The two leagues were supposed to have All-Star teams meet at Banc of California Stadium in Los Angeles in 2020 and plans are still to have the event in 2021. The annual single-elimination Leagues Cup and third annual Campeones Cup will also be held.
"The momentum isn't impacted by pandemic, we've been working on it for so long," Garber said. "The future is bright. We're going to be continuing to working together."
Competition with Liga MX continues to increase for Major League Soccer, which for fans of both leagues has continually led to theories about an eventual merger after the 2026 FIFA World Cup is held in North America.
FIFA President Gianni Infantino surprisingly raised the idea of an eventual merger being positive earlier this season and Liga MX President Mikel Arriola told The Athletic on Monday, and Garber also said it during his Monday press conference, that the leagues will follow CONCACAF's lead on any future talks.
But Arriola also admitted "I believe we can imagine playing fixtures (between MLS and Liga MX clubs). But we don't have that level of detail at this time to say anything beyond that. However, there are several models that can be considered."
PARALYMPICS: IPC Moves to Limit Delegations
The Paralympic Summer Games are following a similar move as the Olympic Games in limiting the size of international contingents that otherwise would be traveling to Tokyo this summer. The International Paralympic Committee has announced it will limit its accreditations in response to requests from local hosts to limit the number of visitors to the event, including the prohibition of accompanying guests for all its accreditation categories.
"The decision follows clear direction from the Japanese government that it requires a very significant reduction in the numbers of accredited participants who do not have essential and operational responsibilities at the Games," the IPC said in a statement. "The IPC fully respects this decision and endorses the approach to take all necessary measures to ensure safe and secure Games this summer."
In addition to accompanying guests, the groups that will see limits on access to the event include:
• No IPC Honorary Board members, with the exception of international dignitaries
• No guests of International Organizations of the Disabled (IOSDs) or IPC Regional Organizations
• No participants from the 14 recognized International Sport Federations (sports that are currently not on the Paralympic program) including presidents or secretaries general
• No participants from Winter Sport International Federations, including presidents or secretaries general
• No IPC Standing Committee Chair and members, with the exception of the ones of the IPC Medical Committee and IPC Anti-Doping Committee who have operational roles at the Games
• A significant reduction in the number of IPC Honoured Guests, Distinguished Guests and IPC Guests
• NPC Guest Passes providing access to the Paralympic Village have been canceled
Monday, April 12
FANS IN THE STANDS: Leagues All Aim for 100 Percent Capacity
Professional sports leagues are trying to be as cautious as possible. Other than the Texas Rangers' home opener last week, nobody has tried to have sellout crowds since the beginning of the COVID-19 pandemic.
But each league is already making plans to open the gates fully to consumers once society reaches herd immunity status.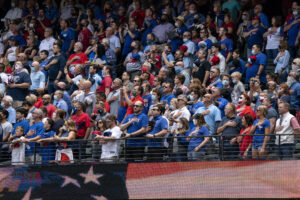 Every Major League Baseball team is allowing fans at games this season and Los Angeles Dodgers President Stan Kasten has said that should California open up completely as planned on June 15, he would hope that Dodger Stadium will be at 100 percent capacity as well.
Teams and venues have been planning for several months to have increased capacity as the year goes on with an eye toward eventually being at 100 percent capacity. For those who do go to pro games currently, the experience is nearly touchless from mobile tickets and concessions along with merchandise purchases.
There has been no college football program that has said it expects to have a restricted number of fans in attendance once the fall comes around. The NFL also expects full capacity next season and is planning as such after a year in which its league-wide total of 1.2 million fans was a 90 percent drop from 2019.
"All of us in the NFL want to see every one of our fans back," NFL Commissioner Roger Goddell told reporters in late March. "Football is simply not the same without fans, and we expect to have full stadiums in the upcoming season."
Of note with regard to the NFL's plans is that the league has not made any decision yet on if it will have some type of vaccination requirement for attendees.
The NBA, which started the season with only a few teams allowing fans but now has almost the entire league playing in front of smaller numbers of crowds, announced on Wednesday a new partnership with CLEAR that will see the secure identity company's Health Pass technology available for COVID-19 screenings at arenas. A third of all NBA teams already use CLEAR's Health Pass technology for their in-arena employee or fan safety protocols and as COVID-19 vaccines continue to be administered, CLEAR expects to be able to link an individual's vaccination records to their Health Pass account.
Teams are also trying different ways to encourage vaccinations with an eye toward being able to have sellout crowds. The Miami Heat recently set up vaccinated seating areas at American Airlines Arena for fans and the Golden State Warriors, who will have fans at games for the first time on April 23, said fans who provide proof of vaccination do not need to provide a negative COVID-19 test to attend games unless they are within 30 feet of the court. Fully vaccinated fans will also have the opportunity to purchase tickets in designated sections of the arena bowl.
Friday, April 9
YOUTH SPORTS: Outbreaks Tied to Youth Tournaments a Rising Concern Throughout Country
Collegiate and professional sports receive billions of dollars in television, fan revenue and more. Various events across the country from the small towns with Division I basketball to the biggest cities in the world have been broadcast to millions of sports fans who have been waiting — still waiting — to be able to attend a sports game soon.
Vaccination rates are increasing and so is attendance at many outdoor sports. And that is terrific news. But many in the sports-event industry know that it's not just the NCAA championship or professional sports games that can bring in millions each year in sports tourism; it is youth sports that are the lifeblood of many communities and recreation complexes across the country.
The CDC's announcement this week that children may be spreading COVID-19 through activities such as youth sports is another reminder that the pandemic is far from over, no matter the rising optimism.
Children may be spreading COVID-19 through extracurricular activities like sports, said Dr. Rochelle Walensky, director of the U.S. Centers for Disease Control and Prevention on Monday, after a COVID-19 variant spread in Carver County, Minnesota, with dozens cases linked to youth sports activity over the winter. COVID-19 was also linked to high school wrestling tournaments in Florida in December where 38 people tested positive, according to a CDC report published in January.
In Nevada, the more infectious B.1.1.7 variant of COVID-19 has been linked to an outbreak at a recent youth volleyball tournament and Mark Pandori, the director of the Nevada State Public Health Laboratory at the University of Nevada, told the Washington Post that the tournament is generating "a very, very large cluster" of B.1.1.7 cases and "we are now at the point of community spread."
The CDC has recommended that children limit youth sport participation and follow specific guidelines when practicing or playing and lists nearly a dozen different recommendations on its website. But a recent New York Times story showcased the wide variety of rules and regulations across the country, from everyone wearing masks in San Francisco to unmasked attendees at Little League games in Texas.
It also pointed out one of the other variables when it comes to youth sports — not only in the health and safety protocols but also the financial needs to compete in youth sports, needs that can pinch a family's pandemic-stressed finances more than ever before. It also pointed out that the American Academy of Pediatrics updated its COVID-19 guidance recently on returning to sports and physical activity with a greater emphasis on avoiding shared travel and meals.
In its story, the Washington Post reported that in the state of Michigan, cases among children ages 10 to 19 have jumped 133 percent in the past month and the state's leading epidemiologist said infections seem to have been spread through activities "including sports, but not limited to sports." Michigan Governor Gretchen Whitmer at the start of April mandated that youths ages 13 to 19 be tested before all practices and competitions.
"We're finding out that it's the team sports where kids are getting together, obviously many without masks, that are driving it, rather than in the classroom spread," Dr. Anthony Fauci, director of the National Institute of Allergy and Infectious Diseases, said Tuesday on "Good Morning America." "When you go back and take a look and try and track where these clusters of cases are coming from in the school, it's just that."
Thursday, April 8
TENNIS: French Open Delayed One Week After National Lockdown
Only a few months after it was held in the fall for the first time, one of tennis' Grand Slams is delaying its first serve again.
The French Open has been postponed by a week due to the COVID-19 pandemic and will begin on May 30, the French Tennis Federation (FFT) announced Thursday. It comes only a few months after last year's French Open, postponed in the spring, was instead held as the final Grand Slam of the year in September.
The clay-court Grand Slam will finish on June 13, two weeks before the expected start of Wimbledon, which has said it will be held this year on its regular dates after being canceled last year for the first time since World War II.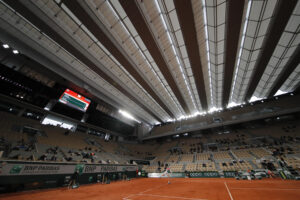 FFT president Gilles Moreton said a decision was made after consulting with public authorities, the governing bodies of international tennis, and its partners and broadcasters. Last fall's French Open was held in front of 1,000 people at the renovated Roland Garros complex.
"It will give the health situation more time to improve and should optimise our chances of welcoming spectators at Roland-Garros," Moreton said in a statement. "For the fans, the players and the atmosphere, the presence of spectators is vital for our tournament, the spring's most important international sporting event."
The postponement will have an impact on the ATP and WTA calendars with grass-court tournaments scheduled to start on June 7 throughout Europe. The French Open's decision comes after France entered a third national lockdown on Saturday with President Emmanuel Macron saying he was hoping to "reopen" the country around mid-May.
"Both the ATP and WTA are working in consultation with all parties impacted by the postponement to optimize the calendar for players, tournaments and fans, in the lead up to and following Roland-Garros," the WTA and ATP said in a joint statement.
Wednesday, April 7
OLYMPICS: USOPC Downplays 2022 Boycott Talk, Reveals Travel Plans for Tokyo
The U.S. Olympic and Paralympic Committee downplayed talk of a potential boycott of the 2022 Olympic Winter Games in Beijing and reiterated their plans to keep athletes safe as they prepare to travel to Tokyo for the 2020 Games.
In a wide-ranging press conference to kick off a three-day media summit, leaders of the USOPC addressed comments from a U.S. State Department spokesman on Tuesday that the U.S. was in discussions with allied nations about a potential boycott of the Beijing Games over China's human rights records. The state department itself has since backed away from those remarks, but USOPC Chair Susanne Lyons said her organization would not support any boycott, noting that past measures have proven ineffective to change policy and end up hurting athletes in the process.
"For our athletes, their only dream is to represent the USA and what we stand for on the international field of play," she said. "We do not want to minimize the issue in China. But we do not believe that Team USA's young athletes should be used as political pawns in these issues."
More pressing for the USOPC at the moment is getting the rest of its team qualified at the remaining trials events in a safe manner and working on the logistics both of Team USA's travel to Tokyo and the protocols in place once on the ground. While the International Olympic Committee has issued playbooks for athletes, coaches, international federations, media and other stakeholders that will be allowed to travel to Tokyo, USOPC Chief of Sport Performance and NGB Services Rick Adams said the USOPC has adopted its own playbooks to "fill in any gaps" in the IOC's plans and keep the movement of its athletes as restricted as possible.
"There is specificity around transportation, meals, gatherings — we are going to great lengths to make sure our delegation at the trials, the time in between trials and the Games, getting to Tokyo and on the ground in Tokyo that we will follow the guidelines, the science and the playbooks," he said. "That's the commitment we owe to Team USA's athletes."
Before the Games arrive, the U.S. team is still yet to be locked in, with high-profile trials events still on tap for sports such as track and field (Eugene, Oregon), swimming (Omaha, Nebraska) and gymnastics (St. Louis), all of which are planned in June. Issues have also developed over access to the main U.S. Olympic and Paralympic Training Center in Colorado Springs, Colorado. Some national governing bodies, including USA Boxing and USA Shooting, have turned to off-site training grounds over concern about limited access to the main venue. Those limits, Adams said, have been made with USOPC medical staff and based on local case rates to prevent an outbreak that could affect a large number of athletes. "It has been a challenging balance to strike," he said.
USOPC officials also confirmed they will maintain an off-site training center in Tokyo during the Games, a common practice in recent Olympic and Paralympic Games where U.S. athletes can have their own private training space. Transportation to and from that center in Setagaya City as well as safety protocols on site will be part of the playbook the USOPC develops for its contingent.
Many logistics of this year's Games will of course look different from years past. That will include the processing that athletes go through before they travel to Tokyo, something typically done in one city before all athletes and staff depart. "The only thing I would say is we have the best Games preparation and events logistics in the world, and we are looking at it individually," he said. "Every individual will have a travel sequence in place that will be prioritized around health and safety."
As for the athletes themselves, the USOPC reiterated its earlier stance that it will not require athletes to be vaccinated to participate. However, the organization will be encouraging its athletes and contingent to receive a vaccine when it's available. "We're fortunate in that what's happened over the last couple of months is that the vaccine has become pretty readily available," USOPC CEO Sarah Hirshland said. "We're feeling really optimistic at this point."
Hirshland also addressed the constituency that will not be making it Tokyo, namely foreign visitors who have been banned as spectators at the event. U.S. fans who had already purchased ticket packages through CoSport, the ticketing agency authorized by the USOPC to sell those packages, have expressed frustration at the pace and completeness of refunds on money they have spent. CoSport has said it will not be able to refund any packages until later in 2021 ater it receives repayment from Tokyo 2020 and that it intends to keep a 20 percent handling fee it collected on all packages. Hirshland said the USOPC is working as best it can to secure refunds for ticket buyers but that much is still unknown from the Tokyo organizers as to when they will reimburse CoSport for its initial costs. "We'll advocate for refunds," she said. "The great challenge is asking for patience as everything unfolds. We beg for patience and we will continue to advocate as much as we can."
HOCKEY: Situation Worsens for NHL's Vancouver Canucks with 25 Positive Cases
The COVID-19 crisis impacting the NHL's Vancouver Canucks continues to escalate with the team announcing that 25 individuals have now tested positive, including 21 players. The source of the infection is believed to be a variant although the exact variant has yet to be identified.
Team officials have traced all the infections to a single individual who obtained the virus in a community setting. The rapid spread of infection throughout the team indicates a link between the contacts and the primary case.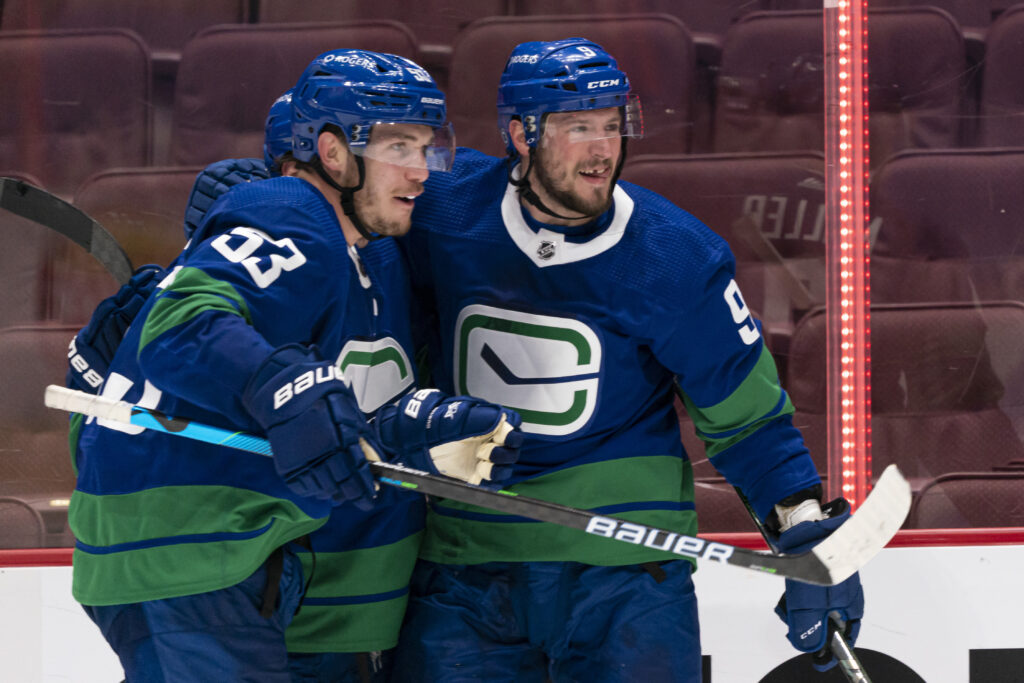 On March 31, the team in conjunction with the NHL and BC Health officials postponed a game against the Calgary Flames and closed Rogers Arena's team areas following confirmation of three positive COVID-19 test results over a period of two days. Players and staff have since been in quarantine with no date set yet for the team's return to play.
"The health and safety of players, staff, families and the greater community remains the utmost priority," said Team Physician Jim Bovard and Infectious Disease Physician Josh Douglas, in a statement from the team. "The Canucks are grateful for the continued support of local public health officials, the NHL and NHLPA and encourage everyone to help prevent the spread of COVID-19 by following health orders. COVID-19 infections are rising in BC. This is a stark reminder of how quickly the virus can spread and its serious impact, even among healthy, young athletes."