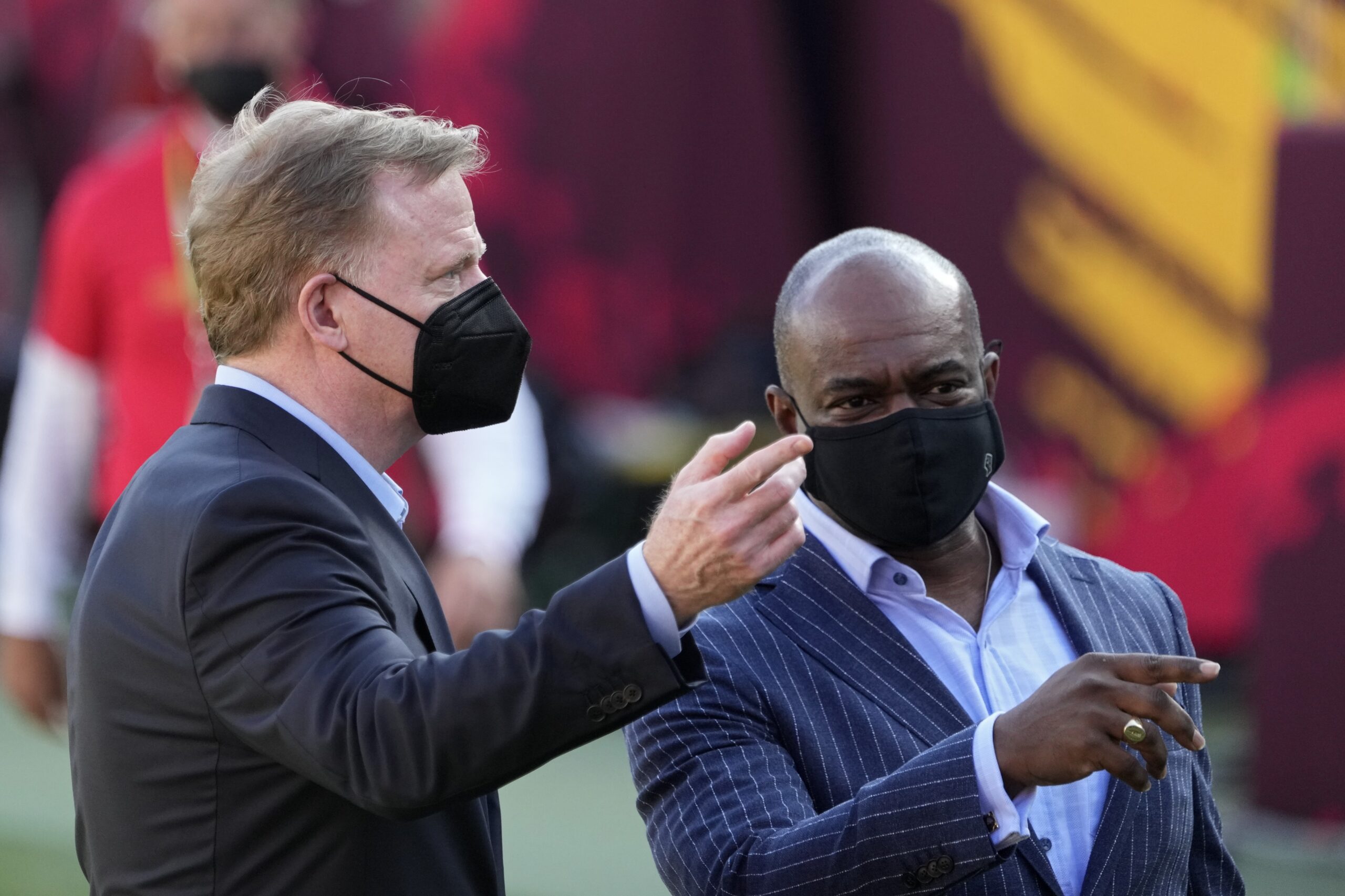 The coronavirus outbreak has forced difficult decisions for the sports-event industry. As events come back online and as destinations, venues and event organizers determine capacity limits for fans along with health and safety protocols for their events, here is a look at where things stand.
2021 Olympics Updates: The Latest from the Tokyo Games
Previous Coverage on COVID's Effect on the Sports-Event Industry
Subscribe to the SportsTravel Newsletter
NFL: Goodell Incentivizes Vaccinations With Forfeit Threat
The NFL took perhaps its strongest step yet in all but forcing players to become vaccinated on Thursday, telling teams that games will not be rescheduled this season due to a team outbreak and a club that cannot play because of players with COVID-19 will forfeit the game.
Tom Pelissero of NFL Network reported the news on Thursday. The league moved multiple games last season because of COVID outbreaks on teams, most notably moving a game between the Pittsburgh Steelers and Tennessee Titans scheduled for week 4 back to week 7 because of an outbreak on the Titans. An outbreak on the Baltimore Ravens forced the team's spotlight Thanksgiving Day game against the Steelers to be postponed nearly a full week as well.
Several other games throughout the season were rescheduled because of the Week 4 outbreak on the Titans. A few others were delayed one or two days because of outbreaks but not more than a week. Other games at the end of the season were played despite teams having weakened rosters; the Denver Broncos memorably lost at home to the New Orleans Saints while not having any quarterbacks eligible to play, forcing a practice-squad wide receiver under center, while the Cleveland Browns lost at the New York Jets with almost its entire wide receiver corps out because of positive tests and contact tracing.
But this year, the league told teams, "if a club cannot play due to a Covid spike in vaccinated individuals, we will attempt to minimize the competitive and economic burden on both participating teams," and the game will be registered as a forfeit. The memo was sent two days after the Southeastern Conference said that it would have games forfeited by teams who are unable to have the minimum number of eligible players available as well.
Notably for the NFL compared to college football, "if a game is cancelled and cannot be rescheduled within the current 18-week scheduled due to a Covid outbreak, neither team's players will receive their weekly paragraph 5 salary," the NFL's memo said, adding that the team responsible for the cancelled game due to unvaccinated players will cover financial losses and be subject to potential discipline from the commissioner's office.
While the league cannot mandate players to get vaccinated, Thursday's memo is the latest in a series of moves to incentivize vaccination — almost to the point of mandating it. The NFL and NFL Players Association have already agreed on updated health and safety protocols for this season as training camps are about to open over the next week. Fully vaccinated players do not have to wear masks or undergo daily testing. Players not fully vaccinated will have a daily COVID-19 test, wear masks, continue social distancing and will not be allowed to leave the team hotel when on the road.
The NFL has told those who are classified as Tier 1 or Tier 2 employees of teams that they must be vaccinated or they cannot interact with players. Thursday's memo says vaccinated players or staff who test positive and are asymptomatic can return after two negative tests 24 hours apart. Non-vaccinated players or staffers who are positive must isolate for 10 days.
NFL Network's Judy Battista reported Thursday that more than 78 percent of players have had at least one shot and 14 clubs have at least 85 percent of players vaccinated.
NFL: Jerry Jones 'Satisfied' With Cowboys Vaccination Rate
Posted: Thursday, July 22
When the Dallas Cowboys reported to training camp in Oxnard, California, on Wednesday, the team had not reached the NFL's 85 percent team vaccination threshold that would allow for an easing of COVID-19 restrictions — something that disappoints Cowboys Hall of Fame wide receiver Michael Irvin.
"You're not thinking right," Irvin said at the opening of the Dallas chapter of Merging Vets & Players, which brings together combat veterans and former pro athletes. "If you're not one of them teams [at the threshold], are you really thinking about winning a championship?"
The Associated Press reported as of last Friday that Washington and Indianapolis were under 50 percent vaccinated among their players while 13 teams are above 85 percent threshold. Nearly three-quarters of the league's players have gotten at least one shot.
Dallas Owner Jerry Jones said Wednesday as few as five Cowboys have not made a pledge to get vaccinated at present, and a portion of players are "in the pipeline" toward becoming fully vaccinated. To hit the league's 85 percent threshold and with 90 players on a training camp roster, 77 need to be vaccinated per team for restrictions to be eased.
The Cowboys and Pittsburgh Steelers reported Wednesday since they play the Hall of Fame Game on August 5. The Tampa Bay Buccaneers can report as early as Saturday due to them playing in the regular-season opener on September 9 against Dallas. Teams are already releasing plans for fan events and league-wide practices later this month to build anticipation for the regular season, for which every team has been given approval to have their stadiums open 100 percent.
The NFL and NFLPA agreed to updated COVID-19 protocols for training camp, with fully vaccinated players are given vast freedoms compared to non-vaccinated teammates, including not having to wear masks or undergo daily testing.
But one team, the Kansas City Chiefs, has said this week that fans will not be allowed to interact with players at training camp even when attending practices. Dr. Paul Schroeppel, the team's head orthopedic surgeon, said Monday that interacting with players is not allowed under the NFL's protocols.
"The league has very strict protocols," Schroeppel said. "I think they've done everything they can to control transmission in those situations. Of course, when you get a crowd together, it's going to be very difficult, particularly for those unvaccinated."
Schroeppel added the Chiefs' ability to have full capacity at Arrowhead Stadium may also be adjusted should cases continue to rise in Missouri, where the seven-day rolling average for cases has more than doubled since July 1.
Given that the NFL has said rescheduling games will not be an option this season should a team have an outbreak — the opposite of last season's approach — Irvin said from a strictly competitive standpoint, getting fully vaccinated gives a team an advantage over a team that does not.
"Somebody in that damn locker room [should say], 'Hey man, we're going to have a chance, are you vaccinated?'" Irvin said. "Let's go through this because this could be a two-week healthy dude missing games, and in this league, this ain't the NBA. In this league that could be it for you. The right person misses two weeks, that's it."
Cleveland Browns quarterback Baker Mayfield at his youth football camp Wednesday did not confirm that he has been vaccinated, but certainly sounded that way when describing why — like Irvin — being vaccinated puts a player in an advantageous position.
"It definitely poses a competitive advantage for higher vaccine rates on your team just because of the close contact [rules] and what happens if somebody does unfortunately get COVID, what can happen to the rest of the building," Mayfield said. "It's a competitive advantage but it's also way more than that. It's about safety and just general health and well-being of human life. So I'd leave it at that."
RUGBY: Australia, New Zealand pull out of World Cup
Posted: July 22, 2021
Australia and New Zealand will not compete at the Rugby League World Cup in England due to player welfare and safety concerns linked to COVID-19, with both country's governing bodies for the sport requesting a postponement of the event to 2022.
The decision comes after organizers of the World Cup confirmed last week that the event would go ahead as scheduled starting October 23. Australia is the defending champion.
Australian Rugby League Commission Chairman Peter V'landys said: "Not participating in this year's World Cup is not a decision the Commission has taken lightly, but we must put the best interests of our players and officials first. Protecting them is our absolute priority. In the current environment, the risks to the safety, health and wellbeing of the players and officials travelling from Australia to participate in the tournament this year are insurmountable."
COLLEGE FOOTBALL: SEC and ACC Commissioners Encourage Vaccination by Players, Fans
Posted: Wednesday, July 21
College football season is not yet underway and already two of college sports' most prominent conference commissioners are sounding the siren on increasing vaccinations and hinting at the consequences of campuses and athletic departments not doing more to encourage vaccination rates among athletes.
Southeastern Conference Commissioner Greg Sankey said during his opening address on Monday's media day that six of the league's 14 football teams have reached 80 percent vaccinated rates, but "that number needs to grow and grow rapidly," hinting that forfeits will happen this fall instead of rescheduling games like last fall.
"COVID-19 vaccines are widely available, they've proven to be highly effective and when people are fully vaccinated, we all have the ability to avoid serious health risks, reduce the virus' spread, and maximize our chances of returning to a normal college football experience and to normal life," Sankey said. "It's not a political football and we need to do our part to support a healthy society."
Big 12 Commissioner Bob Bowlsby made similar pleas during his league's kickoff event last week. Atlantic Coast Conference Commissioner Jim Phillips said Wednesday to start his league's preseason media event that more than half the teams in the conference have exceeded 85 percent vaccinatied but there is no decision on whether games affected by COVID-19 will be rescheduled or forfeited.
In total, 139 college football games were either postponed or cancelled; 16 of them involved SEC teams, including four out of seven scheduled games on one weekend in November alone.
The message to schools is "you're expected to play as scheduled," Sankey said. "Your team needs to be healthy to compete and if not, that game won't be rescheduled."
Florida had two games in October postponed until later in the 2020 season and Gators Coach Dan Mullen, who at one point last fall urged the school to allow full capacity for more of a home-field advantage, then missed time after testing positive for COVID himself. Mullen said his team is not yet at 85 percent vaccinated but "we're getting close."
Georgia had two games postponed in 2020 against Missouri and Vanderbilt; the latter game was eventually canceled. Georgia Coach Kirby Smart said his team is one of the six over 85 percent vaccinated "but we're not stopping there. It's not about a number, it's not about a threshold. … What it's really about is being able to save our season, being able to keep our players safe. We want to keep our players safe. We want to keep our coaches and staff safe. We want to keep our family members safe and that comes through vaccinations."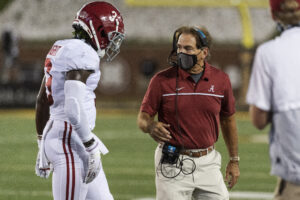 Alabama Coach Nick Saban, who missed a game against Auburn last year after testing positive for COVID, said on Wednesday that his team is "close to 90 percent" vaccinated, adding themselves to Georgia, LSU and Arkansas as the four SEC teams publicly saying they are over the threshold.
"Players have to understand that you are putting your teammates in a circumstance and situation," Saban said. "We can control what you do in our building. We cannot control what you do on campus and when you go around town, who you're around, who you're associated with and what you bring into our building.
"… So every player has a personal decision to make to evaluate the risk of COVID relative to vaccine, and then they have a competitive decision to make on how it impacts their ability to play in games, because with the vaccine you probably have a better chance. Without it, you have a lesser chance that something could happen, a bigger chance that something could happen that may keep you from being on the field, which doesn't enhance your personal development."
Sankey's plea for increased vaccinations was not just to each of the league's schools but their respective fan bases. While the SEC last season had some of the larger crowds for the college football season, none of its stadiums allowed more than 25 percent capacity overall. COVID-19 vaccination rates throughout states where the SEC's schools reside are among the lowest in the United States.
"The delta variant is changing how we approach the fall," says Chris Klenck, the head team physician at Tennessee, told Sports Illustrated this week. "The emerging variant of delta and how much more contagious and how ill it's making people has made us re-evaluate our strategies."
While no FBS conferences have said they will mandate player vaccinations, one Division II conference announced that it will — the Southern Intercollegiate Athletic Conference said all players and coaches must be vaccinated along with officials, band members and cheerleaders. The league did say that players with medical or religious reasons for not being vaccinated will be given exemptions but have to undergo regular COVID-19 testing.
"Within the context of rising COVID-19 infection rates, student-athletes are a particularly vulnerable stakeholder group who, as a result of their athletic participation, are required to travel off-campus and compete against and interact with student-athletes on other campuses," SIAC Commissioner Gregory Moore said in a statement. "The SIAC policy decision establishing vaccination as prerequisite to intercollegiate athletic competition participation is guided by the overarching interest to protect the health and safety of SIAC student-athletes and was decided in the light of overwhelming data and evidence which has demonstrated the effectiveness of authorized COVID-19 vaccines combating coronavirus as well as its delta variant."
Other than Central State University of Ohio, the SIAC consists mostly of HBCU schools in the Southern United States with five teams in Georgia, three in Alabama, two in Tennessee and South Carolina along with one in Kentucky.
NBA: Teams Race to Finish Finals Without Disruption
Posted: Tuesday, July 20
As the Milwaukee Bucks prepare to potentially win its first NBA championship since 1974, the NBA is hoping that regardless of when the Finals end — either tonight in Game 6 or, should the Phoenix Suns rally, in Game 7 on Thursday night — that they are able to complete the season without any more potential COVID disruptions.
Bucks guard Thanasis Antetokounmpo entered the health and safety protocols a few hours before Saturday night's Game 5 win for his team in Phoenix — led by his superstar brother, Giannis. Milwaukee was also missing assistant coach Josh Oppenheimer while NBA announced a little more than an hour before tipoff of Game 5 that referee Sean Wright would also miss the game.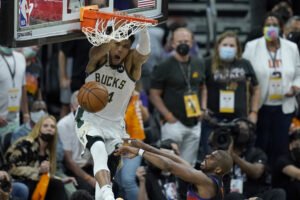 "There's a real push to stay safe, to stay healthy, to be vigilant," Bucks Coach Mike Budenholzer said. "Both teams, we're very, very close to the finish."
The NBA protocols include daily testing. Budenholzer said over the weekend the Bucks were one of the NBA teams who had at least 80 percent of players and staffers receive vaccinations.
"We live in this world — whether it's all 50 states going up or things that are happening closer to us at home," Budenholzer said. "I think all the players, I think they're locked in, being safe, being healthy. Hoping for the best for everybody around us and our country."
Phoenix advanced to the Finals even after missing point guard Chris Paul for the first two games of the Western Conference finals against the Los Angeles Clippers because he was in health and safety protocols.
"I pay attention to it just like everybody else," Paul said. "Try to control what I can control. Stay in the moment with the Finals, but health is a huge concern not just for my family but for everybody."
Milwaukee's Jrue Holiday and Khris Middleton, along with Phoenix's Devin Booker, are all scheduled to leave for Tokyo once the Finals are done and join Team USA, which had problems with COVID testing during its Las Vegas training camp. Wizards guard Bradley Beal will miss the Games and Bulls guard Zach Levine was put into health and safety protocols on Monday afternoon, though he may still be able to join the team later in Japan.
Team USA's 3×3 women's team also had a player pull out after a positive COVID-19 test. Katie Lou Samuelson will not compete in the tournament, USA Basketball announced Monday; Samuelson, a member of the Seattle Storm, will be replaced by Las Vegas Aces guard Jackie Young, who joins Kelsey Plum (Aces), Allisha Gray (Dallas Wings) and Stefanie Dolson (Chicago Sky)
Samuelson said on Instagram she is part of the 99 percent of WNBA players who are fully vaccinated.
FOOTBALL: College Season May Still Face Disruptions, Warns Big 12 Commissioner
Posted: Monday, July 19
The rise of COVID cases among non-vaccinated people could still threaten the college football season this fall, Big 12 Commissioner Bob Bowlsby warned during the league's media day in Dallas last week.
The dangers of not being vaccinated and having an outbreak were reinforced during the College World Series when North Carolina State's season was ended one game from the championship series because of COVID-related issues.
"I don't know that I've ever introduced a topic that was less warmly received than the revisitation of protocols," Bowlsby said. "With the Delta variant, there are good reasons we need to be vigilant, and we will be. There's still going to be a fair amount of testing."
Bowlsby later added "for a student-athlete, you're also rolling the dice on whether or not you're going to be able to participate because you're going to be in a testing protocol if you're not vaccinated."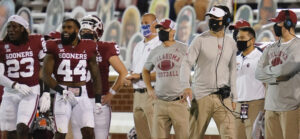 While the Big 12 cannot mandate players be vaccinated, Bowlsby said, "we are certainly, as we go forward, encouraging student-athletes to get vaccinated. … anyone not getting vaccinated is taking unnecessary risk. And that's not just student-athletes, that's anyone in our society."
Bowlsby said the Big 12 has not yet determined what its protocols this fall will be with roster availability should a COVID outbreak occur on a campus. He hopes that conference subgroup will have some of those issues resolved over the next month.
Bowlsby said even last year with restricted fan attendance and no vaccine, the league was able to complete 90 percent of its 2020 schedule — but the league's revenue distribution declined about $4.5 million per school and that individual schools sustained larger losses with lower ticket revenue.
"That (financial) impact is real and it's not likely a one-year impact," Bowlsby said. "I think that it will be into fiscal year 2023 before some institutions fully recover."
And given the financial impact that comes with having 100 percent capacity compared to restricted levels, it is not surprise that to this point, no FBS program has said anything other than they plan to have sellout crowds this fall. Whether that remains possible in a few months as cases rise in areas throughout the U.S. because of the Delta variant is uncertain.
"I think some quarters are pressing to get back to full stadiums, and there are probably people that are pressing to be very cautious about it," Bowlsby said. "I think all of our schools are relying on local health officials and doctors that serve on our conference medical committee. So we are drawing upon the best information that we can. … if we get to a point where public assembly is ill-advised because of a spike in the variant, it's not inconceivable we would go back and try and revisit those things on an institutional basis or collectively.
"But do we want to return to some semblance of normalcy? Yes, we do," he said said. "Do we think that it could be done safely? Yeah, I think health professionals that are advising us believe that it could be done safely. Whether or not the circumstances will worsen is yet to be seen."
FOOTBALL: Most NFL Teams Have Room to Improve on Player Vaccinations
Posted: Friday, July 16
Are you ready for some football?
If not, you better start preparing. Because believe it or not, NFL training camps will be starting within the next two weeks — July 27 to be exact, with two teams allowed to start six days earlier — and with that comes two weeks of constant reporting and attention paid to one thing: Team vaccination rates.
The Associated Press reported on Thursday, that there were seven teams at or over the 85 percent mark and that four of the teams are Pittsburgh, Miami, Carolina and Denver. It also said that Washington, Indianapolis, Arizona and the Los Angeles Chargers are the only four teams under 50 percent. The AP also reported that the NFL doesn't plan to cancel any games this season.
The NFL Networks' Tom Pelissero said on Friday afternoon that the number of teams at the threshold had increased to 13 with only two teams under 50 percent. He said 73.8 percent of the league's players have at least one shot.
July 27 to start training camps is 47 days prior to Sunday of Week 1 of the regular season, as allowed by the collective bargaining agreement. The league told teams to plan for fan events and league-wide practices on July 31 after a 2020 in which training camps were closed off not only to fans, but just about anyone outside of players, coaches and essential staffers to try and keep COVID-19 from breaking out among teams.
The Dallas Cowboys and Pittsburgh Steelers are eligible to report as early as July 21 since they play the Hall of Fame Game on August 5. The Tampa Bay Buccaneers can report as early as July 24 due to them playing in the regular-season opener on September 9 against Dallas. Every team has been given approval to have their stadiums open 100 percent when the regular season starts.
The NFL and NFLPA agreed to updated COVID-19 protocols for training camp and the preseason in June. Fully vaccinated players are given vastly different freedoms than their non-vaccinated teammates, including not having to wear masks or undergo daily testing.  Players not fully vaccinated will have a daily COVID-19 test, wear masks, continue social distancing and will not be allowed to leave the team hotel when on the road.
The NFL and NFLPA have agreed to updated COVID-19 protocols for 2021 training camp and preseason, per source.

How different will life by for vaccinated and unvaccinated players? From the memo that just went to clubs: pic.twitter.com/8yMPW0JBWZ— Tom Pelissero (@TomPelissero) June 16, 2021
While vaccinations for players cannot be mandatory because of the CBA, the league has done all but require coaches and staffers from the 32 teams to get vaccinated. Those who are classified as Tier 1 or Tier 2 employees of teams must be vaccinated or they cannot interact with players. Pelissero reported in early June that assistant coaches from at least four teams at that point had refused to get vaccinated; the NFL allows unvaccinated individuals to maintain Tier 1 or Tier 2 status if they provide a valid medical or religious reason.
In a memo sent to clubs last week and obtained by the AP, the NFL and NFLPA will allow teams traveling to joint practices to have their daily maximum of Tier 1 and Tier 2 individuas to either 100 or 140, depending on the club's vaccination percentage. Every team by the start of training camp will be required to develop a method to visually identify fully vaccinated Tier 1 and Tier 2 individuals.
BASEBALL: Yankees-Red Sox Game Postponed by COVID Issues in New York; Outbreak on Rockies' roster
Updated: Friday, July 16

One day after the New York Yankees and Boston Red Sox had to postpone a game because of an outbreak within the Yankees clubhouse, the Colorado Rockies are now missing their manager and four other players as Major League Baseball is dealing with two COVID outbreaks to start the second half of the season.
Rockies manager Bud Black, first base coach Ron Gideon and four players were not available for Colorado's home game Friday night against the Los Angeles Dodgers, but the clubs still planned to play. Thursday's game between the Yankees and Red Sox was the first in nearly three months to be postponed because of COVID-19.
The Red Sox and Yankees played as scheduled Friday night, a day after the series opener was postponed due to New York's six-player outbreak. Thursday's game will be made up on Tuesday as part of a day-night doubleheader.
At least one of All-Star Aaron Judge, third baseman Gio Urshela and catcher Kyle Higashioka are not vaccinated, the Yankees said, after they added to the COVID-19 injured list Friday, joining pitchers Jonathan Loaisiga, Nestor Cortes Jr. and Wandy Peralta. Yankees ace Gerrit Cole compared the news to being struck by "an invisible, microscopic truck."
New York was one of the first teams to reach MLB's 85 percent threshold for vaccinated teams, which led to relaxed health and safety protocols. This is the second time the Yankees have had an outbreak since reaching the threshold; they had more than six positives among the coaching staff in May.
The outbreak news comes as the Toronto Blue Jays were finally given approval from the Canadian government to return to Canada and the Rogers Centre starting July 30 after nearly two years away from home. The Blue Jays played home games during the shortened 2020 season in Buffalo, New York, and started this season in Dunedin, Florida, before moving to Buffalo.
Canada Immigration Minister Marco Mendicino said the Blue Jays' return home plans include significant limitations on unvaccinated individuals, "who will have to undergo a modified quarantine, not be permitted to go anywhere but the hotel and stadium and have no interaction with the general public."
BOXING: Heavyweight Title Bout Postponed
Posted: Thursday, July 15
The WBC heavyweight championship fight between champion Tyson Fury and challenger Deontay Wilder has been rescheduled for October 9 at T-Mobile Arena in Las Vegas after the scheduled date, July 24, was nixed by Fury's positive COVID-19 test.
ESPN reported that Fury tested positive on July 5 and has been in the U.S. since being cleared to return to England on Tuesday. Fury has received one vaccine shot.
Rescheduling the fight seems relatively easy compared to the lengths it took to get a third meeting between the pair on the docket. The first fight in December 2018 was a draw in which Fury was knocked down twice; Fury then scored a seventh-round TKO of Wilder in February 2020. Neither has appeared in the ring since.
"I wanted nothing more than to smash the 'Big Dosser' on July 24, but I guess the beating will have to wait," Fury said. "Make no mistake, I will be back and better than ever. We will fight Oct. 9 and I will knock him spark out!"
Wilder exercised his contractual right to a third fight but the pandemic prevented promoters from staging the fight before a full audience. What started with plans to fight in October 2020 was delayed to December 2020 once college football's season resumed and extended into the winter.
TENNIS: After a Year Away Because of Pandemic, U.S. Open Series Returns
Posted: Thursday, July 15
The U.S. Open Series returns for its 18th season in 2021 with its largest schedule since 2013 featuring nine WTA and ATP Tour events be held over six weeks, just one year after all but one tournament was cancelled because of the pandemic.
"It's incredibly exciting and positive to see the U.S. Open Series returning with such strength after an immensely difficult year," said Megan Rose, USTA managing director of major events. "Engaging fans and local communities with world-class tennis events is integral to the USTA's mission of promoting and growing the game, so the collective hard work and determination of everyone at each tournament and both tours to bring a full summer season of professional tennis back to North America is invaluable."
The full schedule began this week with the Hall of Fame Open in Newport, Rhode Island, the only grass-court event in the U.S. that is joining the U.S. Open Series for the first time. After that, the tournament goes to Atlanta for the Truist Open starting July 24 for the ATP Tour (with a women's exhibition match featuring Kim Clijsters and Sloane Stephens).
The ATP and WTA Tours then head off to different regions of the country to start August, with the ATP Citi Open in Washington, D.C., headlined by Rafael Nadal and four Wimbledon quarterfinalists while the WTA Tour goes to San Jose for the Mubadala Silicon Valley Classic, the world's longest-running women's-only pro tennis event, which is celebrating its 50th anniversary this year. The Citi Open will be limited to 50 percent capacity on attendance.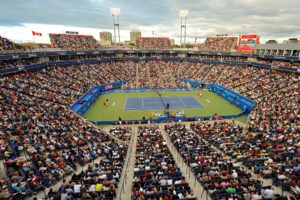 The tours then reunite — sort of — in Canada. The National Bank Open presented by Rogers has always flipped between two cities; this year starting August 7, the men will be in Toronto and the women in Montreal. The fate of the Canadian split-city stop this year had been in doubt but "Tennis Canada can confirm the option of hosting in the United States is no longer being considered as a potential alternative and the organization is focused solely on hosting the tournaments in Canada," the organization said. "We would like to take this opportunity to thank the USTA and the Western and Southern Open in Cincinnati, which had emerged as our most likely destination in the United States, for their support in helping us explore this potential option."
Cincinnati will not have two events, but it will have its joint ATP and WTA event back after last year's tournament was held in New York City under a "bubble" environment. The tournament organizers in Mason, Ohio, said they will also have full capacity for the event that starts August 14. The two tours then split again with the men going to Winston-Salem, North Carolina, and the women going to the new event in Cleveland, Tennis in the Land, before the U.S. Open starts August 30 in New York City.
The National Bank Cup in both Toronto and Montreal has not had any attendance plans approved yet — but the two Major League Soccer teams in those cities have been given clearance to play home games in front of fans, Toronto FC and CF Montreal announced on Wednesday.
Toronto play at BMO Field against Orlando City on July 17 and Montreal will host FC Cincinnati that same day in the first home games for either team since the opening weeks of the 2020 campaign. Toronto and Montreal will be permitted to have fans with 7,000 in Toronto and 5,000 in Montreal.
ESPN reported that MLS's third Canadian team, Vancouver, will continue to play home games in Salt Lake City because of ongoing work at BC Place, the Whitecaps' home venue. ESPN also reported that unvaccinated players will not be able to participate in cross-border matches.
GOLF: British Open Set for 32,000 Fans But Players Must Restrict Movements
Posted: Wednesday, July 14
After being cancelled last year for the first time since World War II, the British Open will get underway on Thursday morning under strict contact tracing protocols for players — but while also allowing up to 32,000 fans per day, the most of any tournament in the world since the start of the pandemic.
And that has definitely been noticed by players.
"I'm [fully] vaccinated, but unfortunately I know going over there, it doesn't matter if you're vaccinated or not," said Rickie Fowler. "It seems like us as players, we're jumping through some hurdles and dodging bullets and they're having 32,000 fans a day at the tournament."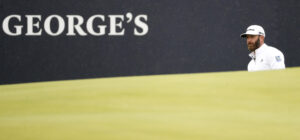 The policy of close contacts for players — compared to the fan attendance policy — was reinforced on Monday when Zach Johnson's positive test came back before he boarded a charter flight to England with 16 other players plus their managers and caddies.
If Johnson had gotten on the plane, all of the players would have been disqualified as close contacts. Johnson, the 2015 Open champion, was tested following the final round of the John Deere Classic on Sunday, as were others scheduled to make the trip.
"The way I see it, quite honestly, it's like the current situation here with the exception of the six time zones, is that I'm going to take a test here before I go, God willing it's negative, and when I go over there, I guess I'll be tested again," Johnson said before Sunday. "Again, my guess is, and I think it's a pretty fair guess, that they're looking out for the betterment of the whole and not just us players. It's kind of what I do each and every week anyway, and that's fine."
Sixteen players have either opted out or withdrawn from the major, which begins Thursday. Along with Johnson's withdrawal, the past few days has seen Masters champion Hideki Matsuyama withdraw after a recent COVID-19 diagnosis and Bubba Watson withdraw while vaccinated after he was identified as being a close contact of someone who has tested positive.
Not only is the policy surrounding close contacts stricter for the British Open than regular PGA Tour events, the number of people that players are allowed to bring was tightly controlled. Those who compete are allowed to have a caddy and two other support personnel with them. Players are allowed to have one family member attend and that person must go through a five-day quarantine to attend the event; players do not have to quarantine but the four approved people traveling with them must show negative COVID tests.
Even within the four-person "bubble" for players, they are not allowed to be in contact with other players off the course. They will not be allowed to visit restaurants, bars or grocery stores. If players and their groups decided to stay in a hotel, it had to be approved by the R&A — which also had final approval on rental housing should players decide not to stay in a hotel.
Martin Slumbers, chief executive of tournament organizers R&A, said that while a player could be disqualified for breaking protocols, "I think players know the risks. They know what will impact. They're all responsible. They don't want to put their fellow players at risk. I'd like to treat them as professionals in that regard."
Brian Harman told ESPN he considered skipping this week's major due to the restrictions before reconsidering. This week's protocols are in contrast to the PGA Tour, which told players that starting July 22 it will not require COVID testing for players and that vaccinated individuals will not have to undergo contact tracing.
"It's aggravating," Harman said. "I'm vaccinated. I got vaccinated as quick as I could, so it's been really nice to not have to test and not have to worry about it."
This week, that won't be the case.
OLYMPICS: Outlying Regions Ban 2021 Olympic Fans, Following Tokyo's Lead
Posted: Tuesday, July 13
The Japanese regions where baseball and softball events are scheduled to be held as part of the rescheduled 2020 Olympic Summer Games have joined the city of Tokyo in deciding to ban all fans from attending with 10 days before the Opening Ceremony.
Fukushima prefecture will hold its baseball and softball events, and Hokkaido will hold soccer games without fans at the Sapporo Dome. Tokyo organizers and the International Olympic Committee earlier barred all fans from venues in Tokyo and three neighboring prefectures.
"Many people including children have been looking forward to the games, and I'm very sorry to take away their chance of watching baseball and softball at the stadium," Fukushima Governor Masao Uchibori said Saturday. "It was a very tough decision to make."
A few events being held in the outlying prefectures of Miyagi, Shizuoka and Ibaraki will go ahead with limited spectators, organizers said Saturday. Organizers hoped before the pandemic that having events in Fukushima would showcase the region's recovery in an area devastated in 2011 by an earthquake, tsunami and the subsequent meltdown of three nuclear reactors.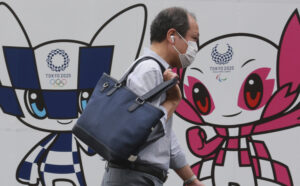 When compared to the rest of the world, Japan has done fairly well in limiting the pandemic: It has 15,000 deaths and 820,000 cases since March 2020. New virus cases in Tokyo were reported at 830, up from 593 one week ago. It is the 24th straight day that cases were higher than seven days previous, with the Delta variant spreading fast throughout the country. And with only 18.5 percent of the population fully vaccinated through the weekend, the fear is without a state of emergency that cases will only increase.
Polls have shown between 50 and 80 percent of the Japanese public oppose the Olympics, depending on how the question is phrased. About 40 people staged a small anti-Olympic protest outside of the five-star hotel in Tokyo where IOC President Thomas Bach is staying.
Bach still refers to Tokyo as "the best prepared Olympics ever" and while he may be meaning it as a compliment, it is fair to say that a large portion of the public feels like he is almost mocking them. While nearly 18 months ago the city unveiled the new National Stadium and seemed ready to open up to the world for the biggest sporting event held there since 1964, now there will be nearly no one in attendance and the official cost of $15.4 billion to organize the Games is seen as maybe half of what the real costs are, with all but $6.7 billion of that being public money.
"It's a bit like a gambler who already has lost too much," Koichi Nakano, a political scientist at Sophia University in Tokyo, told The Associated Press over the weekend. "Pulling out of it now will only confirm the huge losses made but carrying on you can still cling to the hope of winning big and taking it all back."
And while the chances of Tokyo winning it all back continue to decrease, the number of positive tests increase. Organizers said Saturday that 18 people with Olympic accreditations have tested positive since July 1; organizers said all but two are Japanese residents and most are contractors.
Bach appeared in public on Tuesday for the first time since arriving in Tokyo last week and immediately had a major slip of the tongue when talking at the headquarters of the Tokyo Organizing Committee.
Bach's opening remarks were, "You have managed to make Tokyo the best-ever prepared city for the Olympic Games. This is even more remarkable under the difficult circumstances we all have to face. Our common target is safe and secure games for everybody; for the athletes, for all the delegations, and most importantly also for the Chinese people — Japanese people," Bach said, catching his mistake quickly.
Bach's visit coincided with the official opening of the Olympic Village on Tokyo Bay. Organizers did not offer an immediate count of how many athletes were on hand.
SOCCER: CONCACAF Gold Cup Starts With Outbreaks on Two Teams
Posted: Monday, July 12
The United States men's national soccer team started its group stage play in the CONCACAF Gold Cup with a closer-than-expected 1-0 victory against Haiti in Kansas City, Kansas, on Sunday night after five Haitian players and one assistant coach were isolating because of positive COVID-19 tests.
The entire delegation was required to isolate and multiple rounds of testing were carried out without any further positives emerging. Haiti's issues are not the only ones that have already complicated the tournament; Curacao was removed from the tournament on Friday, less than 24 hours before it scheduled opener, because of "a significant number of positive results across their staff and players in the last round of testing," CONCACAF said. Curacao was replaced in the tournament by Guatemala.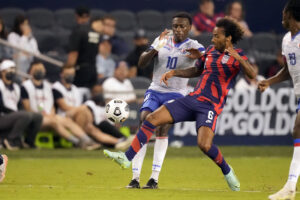 While the Gold Cup dealt with COVID-related issues even before the tournament got underway, one feature of this year's event is all of the games are being held in relatively concentrated areas of the country, specifically Texas and Florida. Part of that is because when the venues were announced, those were the states that were the most open in regard to fan capacity at games.
Canada's national team won its opening game over Martinique, although the country's Major League Soccer teams have not yet played at home. But one of those teams, CF Montreal, announced after last Wednesday's game that it would be returning home to train recently for the first time since the pandemic started.
In part because of that, the club traded Erik Hurtado to the Columbus Crew SC for $200,000 after Hurtado declined the COVID-19 vaccine. Montreal Sporting Director Oliver Renard said Hurtado being unvaccinated made his situation "problematic" if the team wanted to return to Montreal to play games.
The Gold Cup started on the same weekend that the two other major international soccer tournaments, the Copa America and Euro 2020, were both completed. The Copa America was won by Argentina over host Brazil in the only game that had fans in attendance with about 6,000 allowed into the Maracanã.
The Euro 2020 final was won by Italy in penalty kicks over host England in Wembley Stadium in a match that saw — according to witnesses — hundreds of fans storm the gates before the game without tickets and forcing their way past security and into the game.
A Wembley Stadium spokesperson said during the game that "there were no security breaches of people without tickets getting inside the stadium" but a later statement acknowledged "a small group of people got into the stadium."
The Euro event was held in 13 cities throughout the continent, which during a pandemic resulted in crowds that were in small numbers in some sites but sellout crowds in a few others. The lack of consistent standards and the amount of travel led UEFA President Aleksander Čeferin to say another continental Euro event is unlikely; UEFA is exploring whether to expand the event to 32 teams, though, in part because a larger field would mean more games and therefore greater future revenue for an event.
NBA: League 'Weathered' This Season Financially, Optimistic Next Season Will Be Normal
Posted: Friday, July 9
Having more than 1 million fans attend games during the NBA Playoffs has helped the league mitigate some of the still-immense losses that it has sustained during the pandemic, NBA Commissioner Adam Silver said before the Finals started this week between the Phoenix Suns and Milwaukee Bucks.
Silver expected the lack of gameday revenue to decrease as much as 40 percent had the league not been able to play in front of fans during the postseason. But with many teams playing in front of sellout crowds, he said the revenue dip will actually be closer to 33 percent.
"I know I heard from many people outside of basketball and even outside of sports that when the playoffs started and they saw those full arenas again, it was a signal that maybe the worst of the pandemic is behind us, and of course we're very much hoping that's the case," Silver said.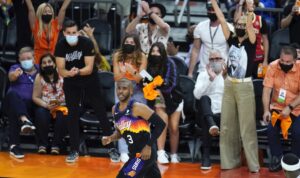 The NBA estimated its revenue loss last season at $1.5 billion. While only a handful of teams started the 2020–2021 season with fans at games, by season's end only the Oklahoma City Thunder had no fans in attendance at any point.
"Financially, for the season, without getting into it too specifically, we did somewhat better than we initially projected," Silver said. "No question, the league will incur significant losses over the past two years. I will say though, I'm not here to complain about that. Just speaking for our team owners, they view it as a long-term investment in the league and something very necessary to keep these organizations going. And by the way, it was shared sacrifice by our players as well."
While this season featured the shortest turnaround from the Finals to a regular season opener in modern history ­— the Miami Heat and Los Angeles Lakers had 71 days off — this year's NBA Finals teams, should the series go seven games, would have fewer days off. The NBA plans to have a normal 82-game season that starts in mid-October for the 2021–2022 campaign.
Phoenix leads the series 2-0 after Thursday's win over Milwaukee, 118-108. Game 3 in Milwaukee is Sunday night.
During his State of the League address ahead of Game 1, Silver also slightly pushed back on the topic of expansion. Many believe the league will eventually add two more teams and with fees reportedly to be at least $2.5 billion, the belief is the NBA will do expansion sooner rather than later to help mitigate in part the losses from the past two seasons.
"You have 30 partners and just say hypothetically we expanded by two more teams, then you would have 32 partners," Silver said. "You have a national television deal or global television rights, instead of it being divided 30 ways, it's divided 32 ways. So it's sort of cash up front, depending upon what you sell the expansion team for, but it's not necessarily the windfall that I think people think it is. The most important considerations for us when we look at expansion is, will it ultimately grow the pie? … I think at some point it will make sense to expand, but it's just not at the top of the agenda right now."
Silver also touched on the status of the Toronto Raptors being able to play next season at home after spending the 2020–2021 campaign in Tampa, Florida.
"It's unclear yet," Silver said. "Larry Tanenbaum, who is the governor of the team and happens to be the chairman of the board of the NBA, he's very hopeful that Ontario will open up and that they will be able to have the team back in Toronto. I know it's incredibly meaningful to the team. I think there was that yet additional burden placed on the Raptors more than any other team by having to relocate for the season. But we are hopeful the team will be back if things continue as we're seeing in Canada right now."
OLYMPICS: All Fans Banned with Tokyo in Another State of Emergency
Posted: Thursday, July 8
Plans to have local fans on hand for the Olympic Summer Games in Tokyo were officially shelved by the organizing committee in consult with the International Olympic Committee after the city entered another state of emergency — due to a spike of COVID-19 cases — that will last throughout the world's largest sporting event.
"Many people were looking forward to watching the games at the venues, but I would like everyone to fully enjoy watching the games on TV at home," Tokyo Governor Yuriko Koike said after meeting with IOC and Japanese organizers on Thursday.
Tokyo reported 896 new cases on Thursday, up from 673 a week earlier. It's the 19th straight day that cases have topped the mark set seven days prior. New cases on Wednesday hit 920, the highest total since 1,010 were reported on May 13. Only 15% of the Japanese public is fully vaccinated.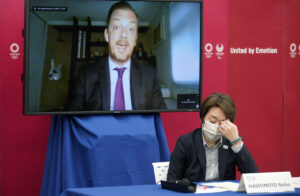 "A very heavy judgement was made," Seiko Hashimoto, the president of the organizing committee said, adding it was regrettable the Games were being held in a "very limited format."
"I am sorry to those who purchased tickets and everyone in local areas," she said.
The ban covers Tokyo and three surrounding prefectures — Kanagawa, Saitama and Chiba. A smattering of events in outlying areas such as baseball in the northeastern prefecture of Fukushima will allow a limited number of fans.
#Tokyo2020 Spectators Policy: mostly 'no spectators'

All five parties deeply regret for the athletes and for the spectators that this measure had to be put in place. pic.twitter.com/oKcXpx3lfP— Tristan Lavier (@trilavier) July 8, 2021
The latest state of emergency is the fourth declared in Tokyo since the start of the pandemic. Japanese Prime Minister Yoshihide Suga said the new state of emergency would go into effect on Monday and last through August 22 — the Olympics start July 23 and run through August 8 while the Paralympics open August 24. The policy for the Paralympic Games will be decided by July 16.
Reports had circulated in Japan throughout the week that a decision on fans was imminent and comes one day after IOC President Thomas Bach arrived in Tokyo to start a three-day quarantine at a five-star hotel. Speaking via video from his hotel room, Bach said "we'll support any measure which is necessary to have a safe and secure Olympic and Paralympic Games for the Japanese people and all the participants."
While foreign fans had been barred from attending the Games for months, organizers were desperately trying to retain some sort of presence for local fans, announcing last month that venues could be filled to 50 percent capacity with a ceiling of 10,000. Having local fans would also allow the organizing committee, which is facing billions in budget deficits, a chance to regain some revenue.
Tokyo organizers had counted on $800 million in ticket revenue for the Games. Organizers had sold around 4.45 million tickets domestically and 600,000 to overseas fans before the Games were postponed last April. They later received around 810,000 requests for domestic refunds due to the pandemic.
The IOC, on the other hand, will earn up to $4 billion in income from a television-only event regardless — but while fans will not be allowed, that does not mean the stands at events will be empty. That is because VIPs, sponsors and other dignitaries of the IOC will be allowed to attend the Opening Ceremony on July 23 and other events. Organizing Committee Chief Executive Toshiro Muto said two weeks ago members of the "Olympic family" would be allowed into venues as "organizers."
"We will have to review the situation about the dignitaries and stakeholders," Hashimoto admitted on Thursday of the opening ceremony, adding that the decision to not allow fans so close to the Opening Ceremony weighed on her.
"We had no choice but to arrive at the no-spectator decision," she said. "We postponed and postponed, one after another. I have done some soul-searching about that."
Bach was more upbeat upon arrival in Tokyo, saying "Finally we are here. I have been longing for this day for more than one year."
SOCCER: Euro 2020 Final to Draw 60,000 (or more) amid spike throughout continent
Posted: Thursday, July 8
European health officials have linked about 2,500 COVID-19 cases to attendance at Euro 2020, which concludes on Sunday with England playing host to Italy at London's Wembley Stadium in front of what will likely be more than 60,000 people.
As of July 1, seven countries have reported a total of 2,472 infections linked to matches, according to the European Centers for Disease Prevention and Control. Among the tournament's host countries, an increase in cases was reported in Russia, Azerbaijan, Denmark and the United Kingdom.
In the wake of that news, the Italian Football Federation says up to 1,000 fans will be allowed to travel to London for Sunday's final under strict conditions, including a five-day quarantine upon return. The visiting fans can only be on British soil for up to 12 hours and will have to stay in a secure bubble by using charter flights and dedicated transport to get to and from the airport and the stadium.
Accommodations for the trip will be organized by the Italian Federation at a cost of $721 per person, while a special section will be dedicated to these traveling fans to keep them separated at Wembley.
The official attendance will be 60,000 for Sunday's final, the first major tournament championship game appearance for England since the 1966 World Cup. That was supposed to be the cap for Wednesday's semifinal win for the hosts against Denmark but multiple reports put the actual number at thousands more.
OLYMPICS: Tokyo 2020 Tells Marathon Spectators to Stay Home
Posted: Wednesday, July 7
While Tokyo 2020 officials debate a last-minute decision to further limit spectators at events during the Olympic Summer Games that start July 23, even outdoor events may not see fans at them as well.
Before the pandemic, back when Tokyo's notorious summer heat was the biggest concern on organizers' minds, the marathon and race walking events were moved to the cooler climes of Sapporo. But after a meeting with Sapporo officials, Tokyo 2020 announced that they want spectators to stay away from the route, which will be held on public streets.
"At the meeting, it was agreed that in view of the current COVID-19 situation, it will be necessary to reduce the risk of infection by restricting the movement of members of the public," organizers said in a statement. "It has therefore been decided to ask the public to refrain from spectating along the course.
"We will continue to work closely with the Hokkaido prefectural authorities, the Sapporo City Government and all other relevant organizations to ensure a safe and secure Tokyo 2020 Games for all participants and for the citizens of Sapporo and Hokkaido."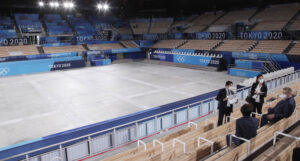 The move comes as COVID-19 rates continue to climb in Tokyo and across Japan, including in Hokkaido, Japan's northernmost island. A decision is expected before the end of the week on whether those rates warrant a further reduction of allowed Tokyo spectators, which right now are capped at 10,000 people per venue, or a maximum of 50 percent capacity. Organizers have hinted that some events, including the Opening Ceremony, may only be open to VIP attendees.
That discrepancy between what will be allowed at indoor events and the request for spectators to stay away from outdoor events such as the marathon, drew criticism from World Athletics, the international federation that covers the marathon and race walking.
"We are surprised by this new decision about our events in Sapporo, which is seemingly inconsistent with the decision to allow up to 10,000 spectators in venues in Tokyo, many of which are indoor venues," the governing body said in a statement. "We will discuss this decision as soon as possible as it would be a great shame not to have spectators for the race walk and marathon events in Sapporo given the popularity of both disciplines in Japan and the fact they are being held outdoors."
COVID-19 cases in Tokyo have hit a two-month high that almost guarantees the Japanese government will declare a new state of emergency to start next week and continue for the duration of the Tokyo Olympics. A new state of emergency could lead to a ban even on local fans. That decision on fans is expected Friday when local organizers meet with the IOC and others. IOC President Thomas Bach is scheduled to arrive in Tokyo on Thursday.
The present quasi-state of emergency ends Sunday. Tokyo reported 920 new cases on Wednesday, up from 714 last Wednesday. It is the highest total since 1,010 were reported on May 13.
CYCLING: Inaugural Maryland Cycling Event Postponed to 2022
Posted: Wednesday, July 7
As the sports-events industry continues to see signs of a strong recovery, there remain signs that not all events are back or will be able to continue as planned. Another sign came in Maryland this week, where the inaugural Maryland Cycling Classic, a one-day professional race that was postponed from 2020 to 2021, will not be held as scheduled on September 5. Instead, the Baltimore race will be moved to 2022.
"From the beginning, our aspirations have been a world-class professional cycling race in the state of Maryland," said event Chairman John Kelly, a Baltimore-area business leader who was involved in the race. "You only have one chance to make a first impression and we want to do things right. There are multiple factors in this difficult decision, mainly hinging on challenges post COVID from course development to guarantees of international athletes into the country. We look forward to launching this world-class event in 2022."
Terry Hasseltine, the president of the Sport and Entertainment Corporation of Maryland, which owns the event, said the volume of work remaining to host the race and its ancillary events, proved too much to hold a race to the standards the state had set. Event partners Medalist Sports and KOM Sports planned to build out a weekend of events that included a Health and Wellness Festival, Public Charity Ride, Community Outreach Program on bike education and participation, and a new hospitality and experiential platform.
"With all the uncertainties that still exist in market as well as some of the travel restrictions, our leadership team had to make this very difficult decision to postpone to 2022," Hasseltine said. "This said, we remain committed to building a world-class event for everyone to enjoy here in Maryland. We thank all our key partners that have stuck with us during this difficult time."
UnitedHealthcare will stay on as presenting sponsor for 2022.
"Visit Baltimore stands behind the event team and its partners' decision to postpone the inaugural Maryland Cycling Classic," said Al Hutchinson, president and chief executive officer of Visit Baltimore. "We remain excited to bring the race to Baltimore and look forward to our continued partnership in 2022."