The coronavirus outbreak has forced difficult decisions for the sports-event industry. As events come back online and as destinations, venues and event organizers determine capacity limits for fans along with health and safety protocols for their events, here is a look at where things stand.
NBA 2021–2022 Fan Policies for COVID | NHL 2021–2022 Fan Policies for COVID
Previous Coverage on COVID's Effect on the Sports-Event Industry
Subscribe to the SportsTravel Newsletter
NBA: Anti-Vaxxers Try to Storm Nets Game In Support of Kyrie Irving
Posted: Sunday, October 25
Brooklyn Nets star guard Kyrie Irving, on an Instagram Live post explaining why he would rather sit out the NBA season rather than be vaccinated against COVID-19, said he was doing it to give a voice for the voiceless.
Sunday before the team's home opener at the Barclays Center, people who very much have a voice nearly stormed the arena while protesting New York City's vaccine mandate, chanting "Let Kyrie Play!"
A small group broke through barriers and got to the front entrance of the building, forcing arena officials to close the doors while fans were trying to get in ahead of Sunday afternoon's loss to the Charlotte Hornets.
"Barclays Center briefly closed its doors today in order to clear protestors from the main doors on the plaza and ensure guests could safely enter the arena," an arena spokeswoman said. "Only ticketed guests were able to enter the building and the game proceeded according to schedule."
A New York mandate requires professional athletes playing for a team in the city be vaccinated in order to play or practice in public venues. Irving is the lone Nets or Knicks player to refuse vaccination and could have played in road games, but the Nets decided that he was not all-in, he would be told to stay out.
Protester Curtis Orwell told The Associated Press he was fighting for "bodily autonomy and sovereignty." Orwell said he was not vaccinated and knew some people who lost jobs because they weren't.
NFL: How the Cardinals Stayed Unbeaten Amid Team Outbreak
Updated: Sunday, October 24

The Arizona Cardinals are the lone unbeaten in the National Football League and last weekend, the team stayed perfect while coming closer than any NFL team in having a COVID outbreak throughout the locker room.
The Cardinals are the first team that has had to work under intensive protocols this season with frequent testing after three players, plus head coach Kliff Kingsbury, quarterbacks coach Cam Turner and general manager Steve Keim, each tested positive over the last week.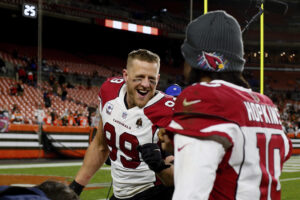 Star pass rusher Chandler Jones tested positive on Tuesday last week, followed by defensive lineman Zach Allen on Friday afternoon and defensive lineman Corey Peters  on Sunday.
"Once you get four or five (positive) tests in a week, they make everyone on Tier One and Two test daily," defensive coordinator Vance Joseph said. "Until you get through a four- or five-day period. It's been more stressful, but hopefully, after a week, things will return to normal protocols."
Kingsbury was away from the team but made sure to stay in touch with the team and coaching staff. He was cleared to rejoin the team ahead of Sunday's game against the Houston Texans after a negative test on Saturday morning and another on early Sunday.
Kingsbury was the first head coach to miss a game due to a positive test. Joseph split head coach duties Sunday with assistant head coach/special teams coordinator Jeff Rodgers in last weekend's 37-14 win over the Cleveland Browns in which burgeoning star quarterback Kyler Murray threw for 239 yards and four touchdowns.
"Once we got the news, it was just an opportunity and kind of exciting to go out and prove ourselves on the road against a great team," Murray said. "I think with the guys, you could feel the energy all week at practice. It was a great week. Coming on the road, us versus them, it was a good game."
Kingsbury can return once he has either back-to-back negative tests or 10 days away from the team facility, whichever comes first. Kingsbury is still leading virtual meetings over Zoom with his staff.
"It's still his plan," Joseph said. "He's still involved with everything. So nothing has changed as far as who is building the game plan."
Top 25 College Football Schedule
Wednesday's Game
Appalachian State 30, No. 14 Coastal Carolina 27
Thursday's Game
No. 21 SMU 55, Tulane 26
Saturday's Games
No. 2 Cincinnati at Navy, Noon
No. 3 Oklahoma at Kansas, Noon
No. 4 Alabama vs. Tennessee, 7 p.m.
No. 5 Ohio State at Indiana, 7:30 p.m.
No. 6 Michigan vs. Northwestern, 12 p.m.
No. 7 Penn State vs. Illinois, 12 p.m.
No. 8 Oklahoma State at Iowa State, 3:30 p.m.
No. 10 Oregon at UCLA, 3:30 p.m. (Fans must be fully vaccinated or have negative test within 72 hours)
No. 12 Ole Miss vs. LSU, 3:30 p.m.
No. 13 Notre Dame vs. USC, 7:30 p.m.
No. 16 Wake Forest at Army, 12 p.m.
No. 18 NC State at Miami, 7:30 p.m.
No. 22 San Diego State at Air Force, 7 p.m.
No. 23 Pitt vs. Clemson, 3:30 p.m.
No. 24 UTSA at Louisiana Tech, 7 p.m.
No. 25 Purdue vs. Wisconsin, 3 p.m.
NFL Schedule
Thursday's Game
Cleveland 17, Denver 14
Sunday's Games
Cincinnati at Baltimore, 1 p.m.
Washington at Green Bay, 1 p.m.
Atlanta at Miami, 1 p.m.
N.Y. Jets at New England, 1 p.m.
Carolina at N.Y. Giants, 1 p.m.
Kansas City at Tennessee, 1 p.m.
Detroit at L.A. Rams, 4:05 p.m. (Fans must be fully vaccinated or have negative test within 72 hours)
Philadelphia at Las Vegas, 4:05 p.m. (Fans must be fully vaccinated to attend)
Houston at Arizona, 4:25 p.m.
Chicago at Tampa Bay, 4:25 p.m.
Indianapolis at San Francisco, 8:20 p.m.
Monday's Game
New Orleans at Seattle, 8:15 p.m.
TENNIS: Novak Djokovic will need to be vaccinated to play Australian Open
Posted: Thursday, October 21
One match from the first men's Grand Slam in nearly five decades, Novak Djokovic may miss the first Slam of 2022 for his apparent reluctance to get vaccinated.
Players on the ATP and WTA Tours who are not fully vaccinated are unlikely to get a visa for the Australian Open in Melbourne in January, according to Victoria state Premier Daniel Andrews.
"I don't think any unvaccinated tennis player is going to get a visa to come into this country," Andrews said late last week. "If they did get a visa, they'd probably have to quarantine for a couple of weeks when no other players will have to."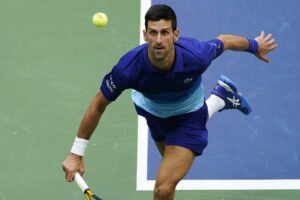 Djokovic has previously said that he was opposed to a mandate. Djokovic did not reveal his status on Monday when talking to Serbian newspaper Blic, saying "it is a private matter and an inappropriate inquiry." He added "things being as they are, I still don't know if I will go to Melbourne."
Last year's opening Grand Slam of the season did not have a vaccine mandate because the vaccine had not been approved. Players had to quarantine for two weeks but most were allowed a limited time to practice, but any who tested positive or were a close contact of a positive case were not allowed to leave their hotel rooms.
To be fair to Djokovic, his stand against vaccination is not unique in the tennis world; before the U.S. Open, roughly half of the elite male and female players were vaccinated. Several other of the ATP Tour's top 10 players in the world have made bizarre statements, Stefanos Tsitsipas earlier this year said he believed the vaccine had side effects, earning a rebuke from Greece's health minister; Tsitsipas said in late September that he had changed his mind and would get vaccinated.
Of the so-called Big Four in men's tennis — Roger Federer, Rafael Nadal, Djokovic and Andy Murray — only Djokovic has not made his vaccination status know. Murray has endorsed the ATP Tour making vaccination mandatory.
At the U.S. Open, spectators were told less than 72 hours before the tournament started that they had to show proof of at least one dose of a COVID-19 vaccine to attend matches, although players weren't required to get a shot. Victoria Azarenka, a two-time Australian Open champion said during the tournament it was "a bit bizarre that fans have to be vaccinated and players are not."
The Australian Open did have fans last year, but not at full capacity with a few days being closed off after positive case numbers started to rise. Australia is preparing to re-open its borders next month in a state-by-state process that depends on vaccination rates. Fully vaccinated people will have fewer restrictions than those who are not.
NBA: Kyrie Irving's Vaccine Refusal Stands Out Among 96 Percent League Vaccinated Rate
Posted: Wednesday, October 20
The Brooklyn Nets entered this NBA season as one of the title favorites before having a reality check on Tuesday night, losing 127-104 to the defending champion Milwaukee Bucks in the league's season opener.
The Nets will remain one of the most-discussed teams all season long no matter what its record is because of one reason: Kyrie Irving, one of the team's three stars but a player who has been told by the team to stay away because of his refusal to get vaccinated.
Irving's refusal to get the COVID vaccine means he is ineligible to play at home games in the Barclays Center along with games at Madison Square Garden, home of the Knicks, because of New York City's health department requirements of employees at indoor venues.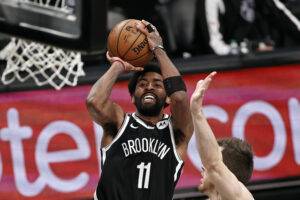 The NBA announced on Monday that 96 percent of the league's players are vaccinated but due to Irving's status as one of the game's best players when available, his refusal to get vaccinated has drawn outsized attention.
NBA Commissioner Adam Silver said the stalemate is "between Kyrie and New York City right now" and "is not a league issue." The NBA has mandated vaccination for referees, coaches, trainers and media members who come into direct contact with players.
Irving said last week Instagram that he still hopes to play this season for the Nets but did not commit to getting vaccinated should that be the only pathway back to playing all season long.
"What is being mad going to do," Nets teammate Kevin Durant said last week. "We are not going to change his mind, know what I'm saying?"
"Definitely want Kyrie to be around," Durant added. "I wish none of this stuff would happen, but this is the situation that we are in. Kyrie made his decision on what he wanted to do and he chose to do what he wanted to do, and the team did the same."
Unvaccinated players undergo daily testing and face restrictions designed to limit close contact with teammates away from the court. New York and San Francisco have local mandates that mean unvaccinated players are banned from playing in their home markets, even if visiting players are exempt from the mandate; the Golden State Warriors' Andrew Wiggins resisted getting vaccinated until his request for a religious exemption from the city of San Francisco was denied, at which point he got his shot.
The Warriors did not have fans for most of last season, a season in which only the Oklahoma City Thunder did not have home fans for the entire 2020–2021 campaign. This year every arena will be at full capacity to start the season with many having some type of protocol for fans to enter.
The ability to have fans at all games will help the NBA's bottom line; Silver said last season, between limited attendance in most markets and only 72 games instead of the regular 82, saw the league's revenue take a 35 percent dive. The commissioner said the league projects $10 billion in revenues this season should it held without any COVID interruptions.
"It's our hope that this season will look a lot more like normal," Silver said. "The one thing I've learned over the last year-and-a-half is to be very cautious about making any predictions, including what will happen with this virus. … Once we see what's happening one way or the other with the virus, we'll be making some [protocol] modifications. But I think we're in good shape right now."
COLLEGE FOOTBALL: Washington State Fires Nick Rolovich For Refusing to Get Vaccinated
Posted: Tuesday, October 19
The Washington State Cougars held off Stanford on Saturday night, winning their third consecutive game and improving to over .500 and getting within two games of bowl eligibility.
The team celebrated like it had won the Pac-12 title, dumping Gatorade on its coach and doing everything but carrying him off the field. Why would they do that for a midseason game by going over .500? It wasn't because the team has never had success, but because it was the final game for coach Nick Rolovich, who after the game seemed resigned that he would be fired.
The reason? Rolovich's refusal to get vaccinated after having his request for a religious exemption denied ahead of Monday's state employee deadline, leading to his firing — for cause. Along with Rolovich, assistant coaches Ricky Logo, John Richardson, Craig Stutzmann and Mark Weber were fired for refusing to be vaccinated.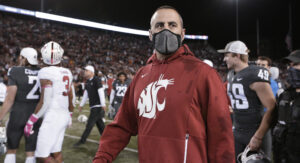 "While much has been made of the relatively small number of university employees who are not complying with the Governor's mandate, we are immensely gratified that nearly 90 percent of WSU employees and 97 percent of our students are now vaccinated," Washington State President Kirk Schultz said in a statement announcing the firings. "WSU students, faculty, and staff understand the importance of getting vaccinated and wearing masks so that we can safely return to in-person learning and activities. I am proud of all those members of our community who have set the example and taken the steps to protect not just themselves, but their fellow Cougs."
Rolovich was the highest-paid state employee, making about $3 million. Rolovich said he would comply with the state mandate all preseason and into the regular season but never got vaccinated, instead hoping he would be given an exemption. When asked why he needed an exemption over the past two weeks, Rolovich declined to explain. A Washington State University committee is assigned to examining requests; the committee does not know who files the requests because it is a blind process.
Athletic Director Pat Chun said at a Monday night press conference that Rolovich's "accommodation request" was denied, which leads to believe the religious exemption was granted. The second step of Washington State's process if a religious exemption was granted would be for the supervisor to decide if accommodations could be made. Chun saying Rolovich's accommodation request was denied indicates an evaluation was made beyond the initial exemption.
Rolovich's vaccination status has overshadowed on-field performances by the Cougars all season. Rolovich was also the only Pac-12 coach to not show up at the conference's media days in July in Los Angeles, instead connecting virtually. Washington State will host BYU on Saturday.
"The noncompliance with this requirement renders [Rolovich] ineligible to be employed at Washington State University and therefore can no longer fulfill the duties as a head coach of our football program effective immediately," Chun said during a Monday night news conference. "It is disheartening to be here today. Our football team is hurting. Our WSU community is fractured. Today will have a lasting impact on the young men on our team and the remaining coaches and staff."
NHL: Sharks Forward Suspended for Fake Vaccine Card
Posted: Tuesday, October 19
The National Hockey League suspended San Jose Sharks forward Evander Kane for 21 games after he submitted a fake COVID-19 vaccination card in an attempt to avoid getting his shots.
The suspension is without pay, meaning Kane will forfeit about $1.68 million with the money going to the Players' Emergency Assistance Fund. NHL Commissioner Gary Bettman said before the season started that only four players had not been vaccinated.
"I would like to apologize to my teammates, the San Jose Sharks organization, and all Sharks fans for violating the NHL COVID protocols," Kane said in a statement. "I made a mistake, one I sincerely regret and take responsibility for."
The Sharks have not said what Kane's status will be once he is eligible to play at the end of November. Using a fake vaccination card is illegal in both the United States and Canada, as well as against NHL rules.
"We are extremely disappointed by his disregard for the health and safety protocols put in place by the NHL and the NHLPA," San Jose said in a statement. "We will not be commenting further on Evander's status prior to the conclusion of the NHL's mandated suspension."
OLYMPICS: USOPC Confident in Vaccine Requirement and COVID Countermeasures
Posted: Monday, October 18
When Team USA heads to Beijing in February, U.S. Olympic & Paralympic Committee officials say they will be the most prepared team to deal with the uncertainties of COVID-19 that will make for a second consecutive Olympic and Paralympic Games staged under strict virus countermeasures.
Members of the U.S. team as well as coaches, administrators and support staff will be required to be fully vaccinated to compete, a more strict policy than the USOPC held during the recent Tokyo Games, where vaccines were encouraged. The only exemptions will be for those who can prove they have a medical restriction from getting a vaccine, based on measures already announced by Beijing 2022. In those cases, athletes will be required by Beijing organizers to quarantine for 21 days upon arrival to China before they can resume training or competing.
At the start of a two-day media summit in advance of the Games, USOPC Chief Executive Officer Sarah Hirshland said lessons learned from Tokyo will be carried over to Beijing. "We're strong, we're focused and if this summer is any indication, we'll be the most prepared (National Olympic Committee) and (National Paralympic Committee) in Beijing."
The U.S. expects to bring a delegation of more than 240 Olympians and 65 Paralympians to compete in Beijing, as well as an unknown number of coaches, support staff and administrators. There will be 187 medal events contested in Beijing, including new disciplines of women's monobob, big air skiing and several new mixed-gender events.
Addressing another major expected storyline of the Games, Hirshland said the USOPC will be focused on giving Team USA athletes a chance to compete despite expected political protests or diplomatic boycotts of the Beijing Games over human rights issues in China.
"The athletes of Team USA and the athletes of the world have been preparing for the Games for years," she said. "The opportunity to compete for the United States is a special one and a singular event for the great majority of Olympic and Paralympic athletes. We are focused on protecting that opportunity."
A trio of USOPC medical experts also addressed the challenges ahead in Beijing both in terms of COVID mitigation and how athletes will adjust to the unknowns ahead from a mental health perspective as well.
Dr. Jonathan Finnoff, the USOPC's chief medical officer, said the vaccine requirements that the USOPC and Beijing 2022 have put in place will make athletes safer and come from lessons learned in Tokyo. "These are challenging times but the vaccination policy we've put in place and China has put in place will make the Games as safe as possible," he said.
Sean McCann, the senior sport psychologist for Team USA who will mark his 14th Games in Beijing with Team USA, said winter athletes may be better positioned to adjust to the potential isolation without family members in Beijing, who will be banned from attending just as they were in Tokyo. All foreign spectators have been banned from the upcoming Games, although spectators from China are expected to be allowed to attend.
"Winter sport athletes from the United States have a specific challenge in that most of their competition happen in Europe," he said. "They are very familiar with being away from support systems, sometimes spouses, or kids in some cases, five months of the year. That's always a challenge. In some ways I would argue our winter sport athletes are a little bit better prepared from being cut off from their support systems."
FOOTBALL: Capacity Crowds Without COVID Outbreaks So Far This Season
Posted: Friday, October 15
When Texas A&M upset top-ranked Alabama last weekend, it was more than just a fantastic college football game — it was set in front of a raucous crowd in College Station, Texas, with just under 107,000 screaming Aggies fans on hand making it a hot topic on social media.
Last weekend's college schedule, one that featured multiple upsets and wild finishes, brought out fans in some markets like seldom before this season. Kentucky had a season high 61,690 in its win over LSU to remain unbeaten and both BYU (63,470) and Iowa (69,250) had sellouts for its games. Auburn drew 87,451 in its rivalry game loss to Georgia, a season-high as well.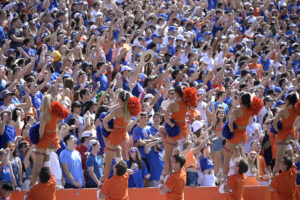 And despite concern about packed college football stadiums this fall, most college towns have not seen upticks in COVID-19 cases. University of Florida epidemiologist Cindy Prins, Ph.D., who tracks coronavirus trends nationwide, said "when we see these full stadiums, it makes people feel nervous because we've been avoiding crowds for such a long time. But some of these outdoor events really are not the super spreader events that people have worried they're going to be."
Prins said there are a variety of factors that go into not having localized spikes. The biggest is that the games are outdoors, where transmission has a much lower risk compared to what could happen in the winter with basketball and hockey games being held indoors.
"I would never say no one's ever going to get COVID-19 at a football game, but I wasn't very concerned about football games because of the outdoor factor," Prins said. "A lot of epidemiologists have expressed some concern, and again, it just comes from the idea that you do have a lot of people gathering together."
That all said, Prins still recommends people get vaccinated and "I would definitely wear a mask. I would certainly wear it while I'm waiting to get into the stadium with other people, I'd wear it when I was going to the concession stand. For me, I would still wear it during the game. Some people may feel more comfortable if they're seated and they know that people around them are vaccinated, but otherwise, keep that mask in place and be vaccinated."
The lack of outbreaks attributable to large football crowds has not meant that some colleges are stopping programs to increase vaccination among its fans. Notre Dame announced this week that it is partnering with the St. Joseph County (Indiana) Department of Health to offer free tickets for two games later this year upon getting their first dose of the vaccine and scheduling a second.
Individuals can choose to get tickets to either the November 6 game against Navy or the November 20 game against Georgia Tech.
"Notre Dame continues to look for ways to encourage members of our community — including our local fans — to get vaccinated against COVID-19," said Notre Dame Director of Athletics Jack Swarbrick. "We hope that the opportunity to secure complimentary tickets to a Notre Dame football game will provide an additional reason for residents of our broader community to become vaccinated."
Capacity at Notre Dame Stadium is 77,622; the Irish had a sellout crowd for its last home game, a loss to Cincinnati, and were close to a sellout against Purdue on September 18. The team's home opener on September 11 against Toledo drew 62,009, the smallest home crowd since the stadium expanded 25 years ago.
But capacity crowds have been commonplace in the NFL. Heading into the weekend, only two teams — New Orleans and Washington — have home attendance averages under 85 percent. New Orleans is at 74.1 percent but that is easily explainable because of having its home opener in Jacksonville, Florida, instead of the Caesars Superdome after a hurricane hit Louisiana. Washington is the lowest in the NFL, playing to 62.2 percent capacity at home, which has more to do with widespread fan apathy rather than anything else.
Meanwhile, there are 13 teams that have averaged at least 99 percent capacity this season with eight teams at or over 100 percent, led by the San Francisco 49ers playing to 101.3 percent of capacity through its first two home games.
The Arizona Cardinals are scheduled to play at the Cleveland Browns and its rowdy fans on Sunday afternoon and the Cardinals will likely have to do so with a less than full strength roster: Cardinals star defensive end Chandler Jones was put on the reserve/COVID-19 list on Tuesday after testing positive and showing symptoms in spite of being vaccinated. The team itself has two other positives among the coaching staff, meaning the team is one positive test from going into intensive protocols that would mean increased testing.
"Guys just try to mask up and we have the test to make sure that guys are good to go," Cardinals offensive lineman Kelvin Beachum said. "We just try to do everything to make sure we're safe. It's unfortunate to have somebody of (Jones') caliber test positive at this junction in the season, having the type of season that he's having but as a team we've just got to find a way to stay safe and make sure that we don't have any spreading going on in the locker room and in the building."
Top 25 College Football Schedule
All Times EDT; Most Schools Encourage Mask Wearing by Fans
Friday's Games
California at No. 9 Oregon, 10:30 p.m. (proof of vaccination or negative COVID test required for entry)
No. 24 San Diego State at San Jose State, 10:30 p.m.
Saturday's Games
No. 11 Kentucky at No. 1 Georgia, 3:30 p.m.
Purdue at No. 2 Iowa, 3:30 p.m.
UCF at No. 3 Cincinnati, Noon
TCU at No. 4 Oklahoma, 7:30 p.m.
No. 5 Alabama at Mississippi State, 7 p.m.
No. 10 Michigan State at Indiana, 12 p.m.
No. 12 Oklahoma State at No. 25 Texas, 12 p.m.
No. 13 Mississippi at Tennessee, 7:30 p.m.
Auburn at No. 17 Arkansas, 12 p.m.
No. 18 Arizona State at Utah, 10 p.m.
No. 19 BYU at Baylor, 3:30 p.m.
No. 20 Florida at LSU, 12 p.m.
No. 21 Texas A&M at Missouri, 12 p.m.
No. 22 N.C. State at Boston College, 7:30 p.m.
NFL Schedule
All Times EDT; Most Teams Encourage Mask Wearing by Fans
Thursday's Game
Tampa Bay at Philadelphia, 8:20 p.m.
Sunday's Games
Miami vs. Jacksonville at London, 9:30 a.m.
Minnesota at Carolina, 1 p.m.
L.A. Chargers at Baltimore, 1 p.m.
L.A. Rams at N.Y. Giants, 1 p.m.
Houston at Indianapolis, 1 p.m.
Kansas City at Washington, 1 p.m.
Green Bay at Chicago, 1 p.m.
Cincinnati at Detroit, 1 p.m.
Arizona at Cleveland, 4:05 p.m.
Dallas at New England, 4:25 p.m.
Las Vegas at Denver, 4:25 p.m.
Seattle at Pittsburgh, 8:20 p.m.
Monday's Game
Buffalo at Tennessee, 8:15 p.m.