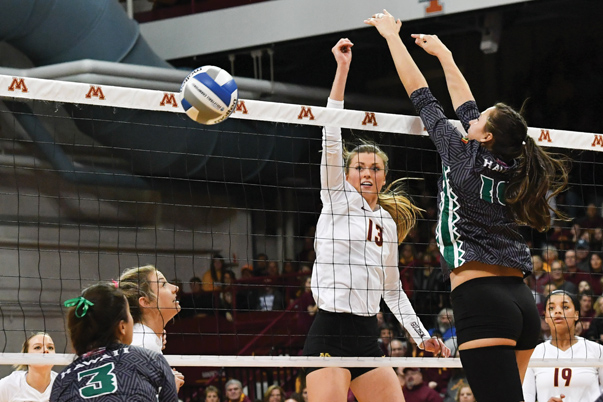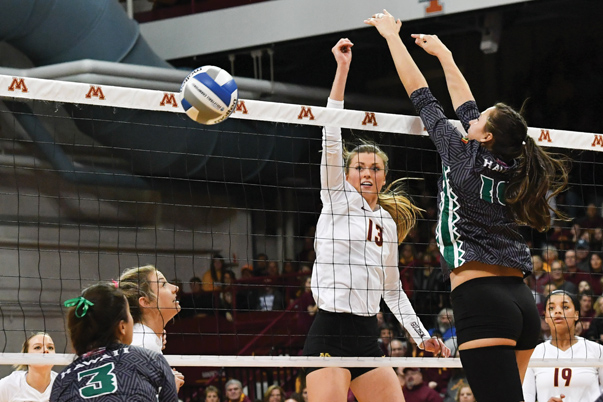 The Great Lakes are remarkable—together, they form the largest cluster of freshwater lakes in the world—and the states that hug their shorelines are equally impressive. This region, in which the Midwest meets Canada, draws teams from both sides of the international border and is home to a range of communities that offer visiting athletes a wealth of options. These include a classic college town that is nearly synonymous with basketball, a former industrial boomtown that's making a comeback and, in one of the region's larger cities, a new stadium that has already secured some of the largest events in collegiate and professional sports.
Minneapolis: Major Milestones
When the 66,200-seat U.S. Bank Stadium opened in July, Minneapolis officials knew it was a big deal that would have a ripple effect for years to come. The stadium, home of the NFL's Minnesota Vikings, is set to host the X Games this summer and next, Super Bowl LII in 2018 and the NCAA Final Four in 2019.
Several professional sports teams call the city's downtown home. In addition to the Vikings, the Minnesota Twins of Major League Baseball play at the 39,500-seat Target Field, and the NBA's Minnesota Timberwolves and WNBA's Minnesota Lynx play at Target Center, an arena that can be configured to seat upwards of 20,000. Target Center is undergoing a $150 million renovation that will overhaul nearly every space and is expected to finish this summer. Between the new U.S. Bank Stadium and the Target Center renovation, "really, we don't have any old venues here," said Scott Romane, executive director of Sports Minneapolis.
As much attention as the professional sports teams receive and as impressive as the world-class venues are, Romane said that "where we see a lot of opportunity is in the youth and collegiate space." Sports Minneapolis often works with national governing bodies such as USA Volleyball and collegiate sports organizations to great success. In addition to hosting the 2019 Final Four, the city is working with the NCAA on a variety of other championships that are up for grabs and has bids in for 16 events across seven sports, including wrestling and men's gymnastics.
Volleyball is a strong sport for the city and the state, and events typically use the Minneapolis Convention Center, which has 475,000 square feet of exhibit space and two ballrooms. The Northern Lights Qualifier, a youth volleyball event that brought some 22,000 athletes, support staff and fans to town last year, will return in April. USA Volleyball will hold its Open National Championships at the center over Memorial Day weekend and the USA Volleyball Girls' Junior National Championships is expected to take over the entire convention center for 10 days leading up to the Fourth of July.
"I was shocked because that event will probably bring in slightly more room nights than the Super Bowl," Romane said, referring to the girls' junior championships. "People don't put it in the same context as a Super Bowl, but it does have that type of impact on our community."
If Minnesota is "the state of hockey," as Romane said, then the Twin Cities are undoubtedly the capital. The annual National Collegiate Hockey Conference Frozen Faceoff at Target Center is in its fourth year, and the Western Collegiate Hockey Association women's Final Face-Off tournament will return to the University of Minnesota's Ridder Arena this month. Only in Minnesota does the university have two hockey rinks (adjacent to boot)—Ridder for the women's team and Mariucci Arena for the men. Those facilities, along with venues like Braemar Arena in the suburb of Edina and the National Sports Center in Blaine, "allow other hockey groups to come in that are looking to do some events here," Romane said.
The university's sports facilities are a major resource. In addition to its hockey arenas, venues include the Jean K. Freeman Aquatic Center and TCF Bank Stadium, which is used for Gopher football but will be the temporary home of the Minnesota United Football Club, a new MLS expansion team, for all of its first season (which begins this month) and half of its second season.
In addition to its plentiful venues, Minneapolis has a number of natural resources available for sports. One is Theodore Wirth Regional Park—with 740 acres, it's the largest park in the city's park system—which will host the 2018 Masters World Cup for cross-country skiing.
Cincinnati:
On the Rebound
To say the city of Cincinnati is undergoing a renaissance is a bit of an understatement. It's more like a rebirth. Ohio's third-largest city has capitalized on several years of revitalization and redevelopment, a marked change from a decade ago when its now-burgeoning Over-the-Rhine neighborhood (OTR to locals) was named one of the most dangerous neighborhoods in the nation. Today, the neighborhood is an area where some 20 restaurants can have two-hour waits and 2,000-square-foot condos command big numbers, said Yancy Deering, director of communications for the Cincinnati USA Convention & Visitors Bureau.
That kind of resurrection has touched nearly every part of the city, which now claims several entertainment districts: OTR, the Central Business District, the Arts District and the Banks, a hip neighborhood built from the ground up along the Ohio Riverfront between Paul Brown Stadium, where the NFL's Bengals play, and the Great American Ball Park, home to Major League Baseball's Cincinnati Reds. And getting around is easier than ever thanks to the Cincinnati Bell Connector streetcar, a circular, 3.6-mile route from the Banks to OTR that began operating in September.
In recent years, the city's downtown has added 500 new hotel rooms, another 500 are in the works—many in repurposed historic office buildings—and a couple of major hotels have undergone significant renovations. Also new is the FC Cincinnati soccer franchise, which has been setting attendance records since it began its first season last year.
"People who haven't been here in eight to 10 years are shocked because there's been such a transformation," Deering said. "Almost any place you pick in downtown is new or feels brand new."
Downtown is the city's sports hot spot. Next to the 42,271-seat Great American Ball Park is the 17,500-seat U.S. Bank Arena, home to the Cincinnati Cyclones hockey team. A half mile west of the ball park is the 65,515-seat Paul Brown Stadium, and from there it's just a few blocks north to the Duke Energy Convention Center. Volleyball, one of the city's fastest-growing sports, often uses the center's 195,000 square feet of contiguous exhibit space and 40,000-square-foot Grand Ballroom for events. The Junior Volleyball Association's 200-team Buckeye Battle, scheduled for March 25–26, has been held annually at the center for three years, and the Dayton Junior Volleyball Presidents' Day Cup tournament is booked at the center for five years starting in 2018.
Youth baseball is by far Cincinnati's biggest market thanks in part to local organizations Cincy Flames and Kings Sports, said Kim Sherlock, senior sales manager of corporate and sports development for the CVB. Each packs summer weekends with tournaments, putting to use diamonds at area high schools, the University of Cincinnati, Xavier University and sometimes the Tealtown Ballpark in nearby Milford. Soccer is also popular, and larger tournaments often use Joyce Park in Hamilton and the Voice of America Park in West Chester Township.
But Cincinnati doesn't limit itself to traditional sports; the city is into—and open to hosting—anything. This month, Duke Energy Convention Center will welcome the National Field Archery Association's Indoor National Championships, an event that will return next year and in 2019. Sherlock said it is "our first time doing anything with archery, so we're extremely excited."
The relatively newer sport of drone racing has also taken hold locally, and Sherlock said the city bid on the Drone Racing League championships in 2018 and 2019, pitching the use of the city's underground transit center as the event site. Additionally, the city is in talks to bring the competition series American Ninja Warrior to town.
Fifteen miles north of downtown, new hotel development is going up around the 65,000-square-foot Sharonville Convention Center, which works well for dance, billiards and table tennis; the CVB was even "looking at putting a cup-stacking competition in Sharonville," Sherlock said.
Bloomington: Basketball Heaven
Fifty miles south of Indianapolis, Bloomington is home to Indiana University's flagship campus, and the classic college town "pretty much doubles in size when school is in session," said Pete Nelson, sports sales and marketing manager for the Hoosier Sports Corporation, a division of Visit Bloomington. He said the city tends to host bigger tournaments in summer when school is out and the organization has more leeway with hotels.
Last fall, IU completed an 18-month, $45 million renovation of what has been renamed Simon Skjodt Assembly Hall; the 17,222-capacity arena is home to the legendary Hoosiers basketball team. The project remodeled the south lobby entrance, restrooms and concession stands, enhanced the floors, replaced seats and added a club level and state-of-the-art scoreboard. Also new and housed within the facility is the Mark Cuban Center for Sports Media & Technology. With five NCAA championships and its 1976 team still holding the title as the last undefeated men's basketball championship team, the IU Hoosiers are famous—and the fans are devout.
That devotion has trickled down to youth basketball, and Bloomington hosts upwards of 25 tournaments a year. More recently, its five-court Twin Lakes Recreation Center has welcomed the 2015 Amateur Athletic Union Girls Basketball Fifth Grade National Championships and many events for Midwest Youth Tournaments. Other tournament action is spread out into area schools. But no matter what, Nelson said, "Court space in Indiana is easy."
Although basketball is huge, softball is just as big. Bloomington typically hosts at least one major softball tournament every year. "In some way, shape or form we've been lucky enough to have 27 nationals in the past 25 years," Nelson said, listing just two: the 2016 ASA/USA Softball Girls' 18-Under Class A Fast Pitch Junior Olympic National Championships and this summer's USA Softball Northern Territory Girls' 12-Under Class A tournament. Four fields at the Twin Lakes Sports Park, six at the Winslow Sports Complex and two at Lower Cascades Park are enough that tournaments haven't yet spilled over into the university's Andy Mohr Field, a softball facility that opened in 2013.
The city works with IU to use its facilities whenever possible. For example, the USA Water Polo Champions Cup, a youth event scheduled for November, will be held at the Student Recreational Sports Center's Counsilman-Billingsley Aquatic Center. The 2017 Big Ten Baseball Tournament will be held at Bart Kaufman Field in May, and the Big Ten Wrestling Championships will be held at Assembly Hall this month.
Soccer is big in Indiana, but Nelson hopes to continue to grow it locally—along with lacrosse—to take full advantage of facilities like Karst Farm Park, which is located on the west side of town and features 12 grass soccer fields, eight of them lighted.
One of the biggest boons to the city's sports market is the expansion of Interstate 69 through the city, a project that will connect Bloomington to Martinsville without a single stoplight and shave significant driving time off the trip to Indianapolis or Fort Wayne. Nelson believes it will spur "a huge boom" on the west side of town.
Kalamazoo: 
Eclectic Scene
Even if they've never been, people still recognize the name: Kalamazoo. The southwestern Michigan city is located equidistant between Detroit to the east and Chicago to the west. With about 76,000 residents, the city with a funny name is also an eclectic community to visit.
"Visitors are always surprised at Kalamazoo," said Brian Persky, sports event development manager for Discover Kalamazoo. "When we get them here, they can't believe all we have going on." A flourishing arts scene, more than a dozen craft breweries, an airport that's competitive with bigger markets, restaurants that would appeal to any foodie and plenty of outdoor trails are just some of the options.
The city is also home to the NCAA Division I Western Michigan University, the Division III Kalamazoo College and Kalamazoo Valley Community College. All three imbue the city with a young vibe and youthful energy.
Local officials work with both WMU and Kalamazoo College to use the schools' many facilities. The National Intramural-Recreational Sports Association (NIRSA) Regional Basketball Championships were held in February at WMU's Student Recreation Center, which has a range of options that include eight full basketball courts, two multipurpose courts and three indoor tennis courts among its facilities.
Persky said that Kalamazoo College has "awesome facilities" as well. These include Stowe Stadium, the college's outdoor tennis complex, with 11 lighted courts and stadium seating for up to 3,500. Last year, it hosted both the NCAA Division III Tennis Championships and the U.S. Tennis Association Boys 18 & 16 National Championships.
In Kalamazoo, anything on ice finds a warm welcome, including curling, hockey and synchronized skating. Wings Event Center has three arenas, the largest of which can seat more than 5,100 spectators, and is home to the Kalamazoo Wings Hockey Club. It hosted the 2015 USA Curling National Championships and the 2016 U.S. Synchronized Skating Championships as well as the 2016 Tournament of Roller Hockey Services' 2Hot 4Ice National Championships and home bouts of the Killamazoo Derby Darlins. The center, which has benefited from several million dollars of improvements over the past five years, has also been chosen to host events of two locally emerging sports: the American Cornhole Organization's Kalamazoo Major in April and USA Pickleball Association's Great Lakes Regional Tournament in July.
Ten miles to the west, Wings West features two NHL-sized ice sheets. The venue is scheduled to host the 2016 American Collegiate Hockey Association Women's Division I & II National Championships.
Rosemont:
According to Plan
On paper, the village of Rosemont, Illinois, is a bit of a conundrum. The town covers only 2.5 square miles and has only has 4,300 residents, yet it's home to an 18,500-seat arena, a 4,400-seat theater, a nearly 1 million-square-foot convention center and some 6,000 hotel rooms, all factors that draw a couple million people to events in town every year. And one other convenience plays into the mix—its location just a mile east of Chicago O'Hare International Airport.
"It's a small big town," said Bill Anderson, general manager of the Donald E. Stephens Convention Center, adding, "We have 50,000 people go through our town every day."
The Donald E. Stephens Convention Center was Rosemont's first major facility, built in 1975 and named after the city's mayor of 51 years. (Watching him roll out his vision over the course of his five-decade tenure was, said Anderson, "like watching Walt Disney work.") It has six exhibit halls totaling 840,000 square feet and another 50 meeting rooms totaling 92,000 square feet of space. Although it is mostly used for trade shows, the convention center can also host karate, dance and cheer tournaments such as this month's Champion Super Group Super Nationals & Dance Nationals.
Allstate Arena followed in 1980 (opening as the Rosemont Horizon). The 18,500-seat facility is home to the American Hockey League's Chicago Wolves and the WNBA's Chicago Sky. The arena has long been home to DePaul University's basketball program, but the team will move to the new, 10,000-seat Wintrust Arena, being built south of downtown Chicago and scheduled to open this fall.
The 2,000-seat Stadium at the Ballpark at Rosemont opened in 2011 and is home to the Chicago Bandits, a National Pro Fastpitch softball team. Next to it, the 140,000-square-foot Dome at the Ballpark offers two baseball/softball diamonds that can be reconfigured for lacrosse, volleyball, basketball and football.
And construction is underway on a $56 million, 6,300-seat minor league baseball stadium scheduled to open in May 2018. The stadium will round out Rosemont's facility roster and be the final piece of the nearby MB Financial Park, the village's 200,000-square-foot entertainment district with restaurants, bars, a comedy club, movie theater and bowling alley. "The stadium will hopefully be the cherry on top of what is already a very successful entertainment district," said Shawn Hunter, managing partner with Rosemont Entertainment Group, the company that will own the team and operate the stadium.
The to-be-named team will play in the American Association of Independent Professional Baseball league and will represent the league's largest market, Hunter said. "We not only get to open a new venue," he said, "but we get to launch a team from scratch and build our brand."
The team will draw from the 3.9 million people living within a 15-mile radius of the stadium, but officials also plan to host other events there, including concerts, food festivals and untraditional sporting events such as outdoor hockey games. "We're looking forward to experimenting in our first couple years of operation," Hunter said. "Our goal, too, is to bid on events and tournaments at the college and pro level that are appropriate for our venue."
Green Bay:
Oversized Host
Green Bay, Wisconsin, has only 104,000 residents, but it enjoys the renown of a major metropolis due to the NFL's Packers, who have put the city on a national stage. "Although we're small in the Midwest as a sports destination, we compete really well because of the national spotlight that we get," said Brenda Krainik, director of marketing for the Greater Green Bay Convention & Visitors Bureau. "And because we're used to hosting really big—80,000-person—football games, we have the amenities here that a small town would not."
The Green Bay Packers' 81,435-seat Lambeau Field is a must-see site for visitors from around the world. It is open for tours, including one that allows visitors to walk through the players' tunnel and onto the field to the sound of roaring fans and game-day music. The remodeled Packers Hall of Fame has reopened with hands-on, high-tech exhibits, and the stadium's luxury suites and club seating areas are benefiting from a $55 million renovation that is scheduled to wrap up this year. In July, the 144-room Lodge Kohler is expected to open as the anchor tenant of the Packers' Titletown District, a 34-acre development immediately west of Lambeau Field. And in the stadium's east parking lot, crews are building Johnsonville Tailgate Village, a permanent tailgating and event structure that will be able to accommodate 500 for sit-down functions. From late July through August, the public can watch Packers training camp at the nearby Ray Nitschke Field.
Outside of professional football, the city's sports markets are fairly diverse—including ice hockey, soccer, running and bowling, the latter of which is a sport that's coming back to the Midwest in a big way, Krainik said. The city is in the midst of hosting the Wisconsin State Bowling Association's Open Championships, which began January 7, and are being held at Riviera Lanes and Ashwaubenon Bowling Alley. The event will culminate with several hundred people bowling every weekend by May 7. Ashwaubenon Bowling Alley has also hosted the 2015 U.S. Bowling Congress Masters, Queens, Senior Masters and Open Senior Championships as well as the 2016 Professional Women's Bowling Association Players Championship, which will return again in June.
Because Green Bay is located near the "bowling belt," the city has "a strong bowling community, and people came out in droves to support the event, which always makes the bowlers happy," said Greg Moore, senior director of tournament programming for the U.S. Bowling Congress.
The U.S. Hockey League's Green Bay Gamblers play at the 10,200-seat Resch Center, and hockey tournaments often use the three-sheet Cornerstone Community Center, which also welcomes figure skating and curling events to the arena. The Resch Center is also home to the University of Wisconsin/Green Bay's men's basketball team, the Green Bay Blizzard indoor football team and is the site of the girls' state basketball tournament, which is staged each March.
Krainik said that soccer keeps the city a year-round destination for sports. In 2015, the U.S. Youth Soccer Regional II Championships brought 214 teams and about 14,000 visitors to the greater Green Bay area and used the six-field Southwest Park in De Pere and the 15-field USA Youth Sports Complex in Appleton.
Great Lakes:
Great Events
In the Great Lakes region, visitors can be in a major metropolis one moment and the middle of nature the next. Cities offer brand-new stadiums and renovated arenas alongside cross-country skiing courses and award-winning park systems. Colleges and universities inject communities with energy, and the enthusiasm for collegiate sports often trickles down into amateur markets, which sometimes use the schools' facilities for spirited and well-attended events.