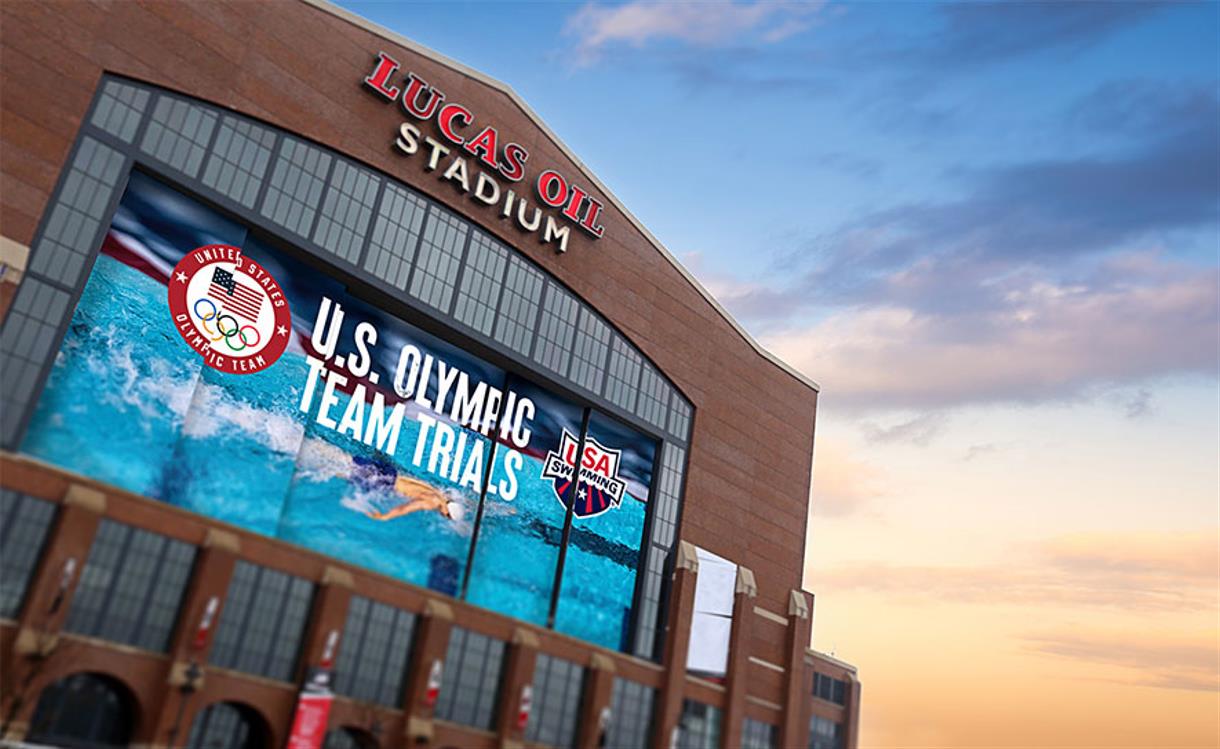 History will repeat itself when the 2024 Olympic Swimming Trials — which serve as the selection meet for the 2024 U.S. Olympic Swimming Team — converge in Indianapolis at Lucas Oil Stadium from June 15–23, 2024.
That event will mark 100 years since Indianapolis hosted the Olympic Swimming Trials for the 1924 Olympic Games in Paris. In 2024, the city will host the trials for Olympics that will also take place in Paris. Held every four years, the Olympic Trials rank as the most prestigious swimming event in the United States. Indianapolis last hosted the swimming Trials in 2000.
The Indiana Sports Corp has announced the Local Organizing Committee leadership for the Trials with OneAmerica's Scott Davison and Karin Sarratt serving as co-chairs for the LOC.
Three temporary pools — two 50-meter and one 25-meter — will be installed over the football field in Lucas Oil Stadium. The Indiana Convention Center, connected to the stadium, will feature USA Swimming's Toyota Aqua Zone, a fan activation area. USA Swimming House, a hospitality hub, will also return and USA Swimming and the Indiana Sports Corp expect to create a city-wide festival throughout the course of the nine-day event to celebrate the sport.
The Local Organizing Committee is comprised of seven divisions, with division co-chairs leading the efforts in those areas of event execution. The following community leaders will serve in this capacity:
Local Organizing Committee Co-Chairs
Scott Davison, chairman, president and chief executive officer, OneAmerica
Karin Sarratt, executive vice president, OneAmerica
LOC Chief of Staff
Lisa Hawkins, Vice President, Enterprise Strategy & Innovation, OneAmerica
Marketing & Sales Division
Doug Boles, president, Indianapolis Motor Speedway
Communications & Media Division
Brandi Davis-Handy, chief public relations officer, AES Indiana
Brad Rateike, founding principal, Bar Communications
Indy Experience Division
Becca Manolov, vice president of customer experience, Buckingham
Jenny Cash, vice president, The Parks Alliance of Indianapolis
Impact Division
Maggie Lewis, chief executive officer, Boys & Girls Club Indianapolis
William Knox, president, Legacy Sports Group LLC
Meet Operations Division
Arlene McDonald, event coordinator, IU Natatorium
Sandy Searcy, director of sports, National Federation of State High School Associations
Event Operations Division
Trena Roudebush, director, community & governmental relations, Geenex Solar
Jeff Bennett, deputy mayor of community development, city of Indianapolis Mayor's Office