Q&A with Mark Miles
The veteran sports executive oversees the Verizon IndyCar Series as well as the Indianapolis Motor Speedway and has plans to improve both ventures over time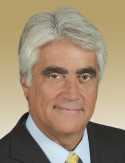 During his 15 years running the ATP men's professional tennis tour, Mark Miles mastered the ins and outs of growing a series. That experience has come in handy in his role since December 2012 as CEO of Hulman & Company, which owns the Verizon IndyCar Series as well as Indianapolis Motor Speedway. The series, which features 16 races this year, is now in growth mode, looking to expand internationally and gain on the momentum of increased television viewership. In addition to leading the ATP from 1990 to 2005, Miles has an extensive sports background that includes running the 1987 Pan American Games in Indianapolis as well as serving as president of the host committee for the city's successful Super Bowl in 2012.
In this interview with SportsTravel's Jason Gewirtz, Miles discusses the state of the series, the challenges of schedule expansion and the need to think of fans first.
How would you describe the health of the IndyCar series today?
If I think back to two years ago, there was a lot of sense inside the sport that the lack of television exposure was a life-threatening problem. And from 2013 to 2014, our television ratings and viewership grew by 25 percent. It's still a small base but we're really pleased with that gain in one year and believe that it will continue, maybe not quite the same amount from 2014 to 2015, but I think if we look at 2015 and 2016, we'll have additional impactful gains. And two years ago Izod was leaving us sort of abruptly as a title sponsor. Last year we signed Verizon as the series title sponsor and we're just so grateful and pleased about that relationship. They signed on for five years. That was a really informed decision on their part. Their interest in helping us develop and implement technology for the fan experience is really important. And not just for the obvious reasons. The fans that tend to gravitate toward the technology are younger, so it represents a targeting of a younger demographic as well.
To read the rest of this Q&A in the digital edition of SportsTravel, please click here.