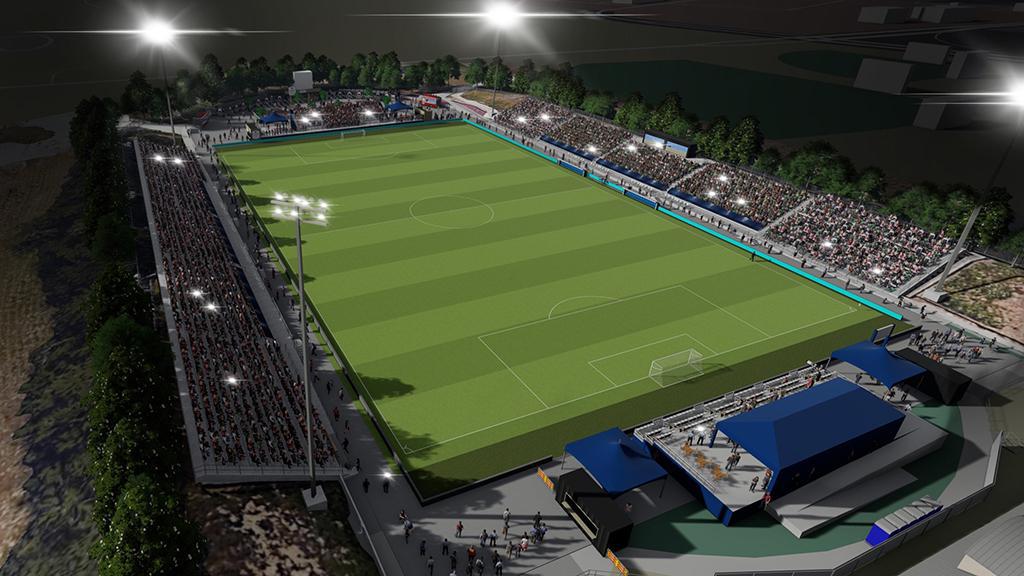 Monterey Bay Football Club, the newest addition to the USL Championship, has broken ground on the expansion club's new stadium on the campus of California State University-Monterey Bay and also announced that Cardinale Auto Group has agreed to a stadium naming rights deal as part of a multi-year partnership.
Cardinale Stadium will serve as the home venue for Monterey Bay F.C. as it joins the Championship for the 2022 season, as well as a home site for CSUMB games, graduation, festivals and events. Monterey Bay F.C. is investing over $11 million in renovations to the existing stadium and facilities on the campus of CSUMB.
"We are creating a place at Cardinale Stadium that will gather our community and celebrate the diversity and beauty of both the people and place that represent the Monterey Bay region," said Monterey Bay F.C. Chairman and Owner Ray Beshoff. "We know from listening to the community that what is most important to them was for us to create a club and stadium that is the greatest union of land and sea. We will have that in Cardinale Stadium."
Renovations and upgrades include new seating and stands that include hospitality and premium seating areas;, concessions and merchandise; renovated locker rooms; FIFA-approved turf and lighting for night matches. In addition, Monterey Bay F.C. and Alvarado Street Brewery are constructing one of the largest beer gardens for a USL stadium. HOK has led the design of the stadium, which is scheduled for completion in spring 2022. Cardinale Stadium is one of the more than 25 new stadiums expected in the USL over the next five years.
"When audiences watch Monterey Bay F.C. play on their home pitch, they will need no introduction to its star player – the Monterey Bay region," said USL President Jake Edwards. "This has long been a place for generations that celebrated and played soccer. Now this community has a professional men's soccer team to call their own."