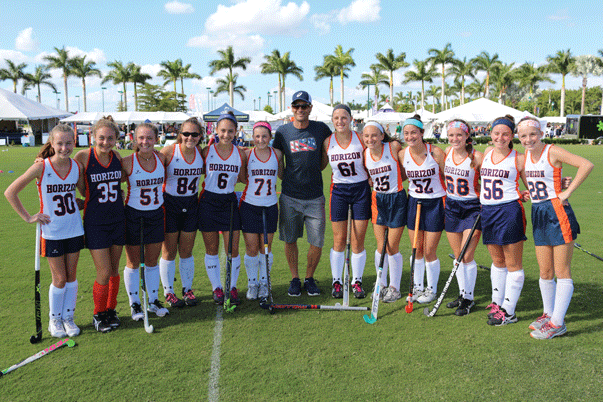 The 35th edition of the National Hockey Festival, held over Thanksgiving weekend, was a field hockey feast for all involved. The festival is one of the largest annual amateur sporting events in the country. More than 5,000 athletes, family members and friends attended the event at the International Polo Club Palm Beach in Wellington, Florida.
"We were very pleased with the event and the overall turnout," said Karen Collins, director of event logistics for USA Field Hockey, the sport's Colorado Springs–based national governing body. "This entire festival was up there with some of the best we've done."
With temperatures in the low 80s, more than 2,500 athletes on 169 teams representing 80-plus clubs from the United States and Canada competed in five divisions, from youth to adult.
"The field conditions were spectacular, and that's one of the things that really plays a big part in our success," said Collins, who is in her 28th year with USA Field Hockey. "The grounds crew at International Polo did an excellent job of making sure the fields were clipped real low and kept the grass that way throughout the week."
Festival participants can thank IPC Director of Facilities Ray Mooney and his crew for maintaining the fields at the 200-acre facility. Five of the club's nine polo fields were transformed into 26 field hockey pitches for the festival.
George Linley, executive director of the Palm Beach County Sports Commission, was extremely pleased. "This was a standout event for us," Linley said. "The event did provide a tremendous economic impact to the Palm Beaches. Without having all of the data yet, I can say that it was a welcome boost for our entire hospitality industry and at a great time for our hotel community, during what is still a traditionally slow time."
The festival featured a variety of ancillary events. Educational sessions included goalkeeping clinics and daily skills demonstrations, including one with five-time World Hockey Player of the Year Jamie Dwyer, 37, of the Australia men's national team.
About 250 players and parents attended College Information Night, presented by USA Field Hockey and Next College Student Athlete. Instructors got into the act in a College and Club Coach Game. And the National Coaches Meeting featured keynote speakers Craig Parnham, Team USA's head coach, and Simon Hoskins, USA Field Hockey's executive director.
After the games concluded, hundreds of high school athletes attended College Networking Night, a chance to chat with more than 100 college coaches.
Sally Goggin, USA Field Hockey's director of sport development, worked to add programming and events to the schedule. "This year's festival was a big success," she said. "We had several field hockey stars in attendance. It was an honor to meet these legends and for the kids to meet and learn from them."
"Being able to have this event take place in the Palm Beaches following an Olympic year, we're able to capture some of that Olympic spirit for our community," Linley said.
Collins said preparations are in the works for the 2017 National Hockey Festival, also scheduled for the International Polo Club. "We are in the process of analyzing all elements of the 2016 festival to see what worked and what requires improvement," Goggin said. "Feedback is helpful and valued."
USA Field Hockey conducted an online poll to collect attendee reaction, and "the results have been coming back very positive," Collins said.
To read the rest of this article in SportsTravel, please click here.