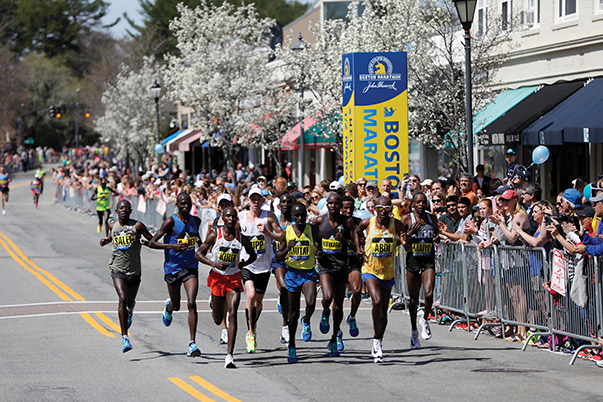 New England is steeped in American history, and that's no less true in sports than it is in politics. Both basketball and volleyball were invented in Massachusetts, the world's oldest annual marathon still runs the streets of Boston, and the first game of hockey in America was played in New Hampshire. But the region is also building on its history—investing in new facilities, welcoming new events and looking for new opportunities.
Boston: Big-Time Sports
Boston relies on its sporting history to help attract new events. "We have all these traditions with our facilities and our community that help generate business," said Patrick Moscaritolo, president and CEO of the Greater Boston Convention & Visitors Bureau.
The Boston Marathon and the Head of the Charles Regatta, two world-renowned events, serve as bookends for the city's annual sports calendar. Every April the marathon attracts 30,000 runners and another 500,000 spectators who generate $180 million for the economy, Moscaritolo said. The Head of the Charles, held on the Charles River every October, is the largest rowing regatta in the world, and the 2016 event drew some 11,000 rowers and 300,000 spectators. The two-day race generates about $55 million in economic impact.
In a major shift, some Boston landmark venues are crossing over into new events during the traditionally quieter months of winter. Fenway Park first outfitted its famous baseball field for hockey for the 2010 NHL Winter Classic, an event that returned to the region in 2016 at Gillette Stadium, home of the New England Patriots. Hosting hockey at the ballpark paved the way for Frozen Fenway, a two-week series of events when collegiate and other amateur teams skate in the shadow of the Green Monster. When the games are over, the ice is opened to the public.
Two years ago, the Boston College and Notre Dame football teams played at Fenway, and according to Moscaritolo, "it was such a success, they've actually booked three different football games in 2017," all set for November: Brown–Dartmouth, University of Connecticut–Boston College and University of Maine–University of Massachusetts. Polartec Big Air at Fenway in February 2016 was a snowboarding and freeskiing U.S. Grand Prix tour event that featured a ramp that was 140 feet tall. "The Red Sox are committed—these aren't just one-off events," Moscaritolo said. "Their plan is to bring in every year some kind of big event."
As home to more than 50 colleges and universities, Boston enjoys a collegiate sports scene that is big by definition. The 67,000-seat Gillette Stadium will welcome the 2017 NCAA men's and women's lacrosse championships over Memorial Day weekend, and the event will return in 2018. In March 2018, Boston College will host the NCAA Men's Basketball Tournament East Regional at the 18,600-capacity TD Garden, home to the NHL's Bruins and the NBA's Celtics.
The region has "also been very successful in bidding on some major golf events," Moscaritolo said, in large part because of The Country Club in Brookline, which hosted the Ryder Cup in 1999. The club will welcome the U.S. Open Championships in 2022, and the 2017 U.S. Senior Open will be staged in June at the Salem Country Club in Peabody, Massachusetts.
Connecticut:
Trail Blazing
The weather cooperated perfectly for the 2017 USA Cycling Cyclocross National Championships in Hartford, Connecticut. When riders took to the course in Riverside Park on the banks of the Connecticut River, they were greeted with rain, snow, ice and mud—just right for cyclocross riders.
"We had some pretty wild weather. Between the mud and the snow, it was just epic," said David Hoyle, executive director of Connecticut Cycling Advancement Program, a nonprofit that helped organize the event.
"The course was different every single day," said Bob Murdock, director of sports marketing for the Connecticut Convention and Sports Bureau. "The cyclists loved it."
Local clubs and programs like Hoyle's are why cycling is growing so rapidly in Connecticut. Success depends on "having people who are very excited about bringing high-level cycling to our state, whether it's on the road or on cyclocross courses," Murdock said.
The region is interested in bidding on national as well as world events, Murdock said. KMC Cross Fest, a UCI-sanctioned cyclocross race, moved from Providence, Rhode Island, to the Thompson Speedway Motorsports Park in Thompson, Connecticut, last year and will return again in August.
CCAP also organizes the New Haven Grand Prix, which will be in its third year in September. The event, which attracted 15,000 people last year, partners with a festival celebrating New Haven's famed Italian food, especially pizza. About 200 cyclists raced around New Haven Green, adjacent to Yale University's campus, during three races.
The Connecticut Convention Center in Hartford has 140,000 square feet of exhibition space. The 16,000-plus-seat XL Center is the state's largest arena, home to the University of Connecticut men's and women's basketball teams. UConn keeps basketball at the forefront, and the state is always a hub for ice hockey and figure skating. The World Junior Synchronized Skating team selection was held in February at the two-rink International Skating Center of Connecticut in Simsbury.
Now state officials are hoping to expand field sports events, such as lacrosse and soccer. The U.S. Lacrosse Women's National Tournament will bring more than 70 teams to Yale in May. For large events, some games are played at nearby sites like Loomis Chaffee School in Windsor and the Farmington Polo Club in Farmington.
The 6,000-seat Dunkin' Donuts Park, home to the Hartford Yard Goats minor league team, celebrated its long-awaited opening April 13. The sports bureau is interested in attracting events for the new stadium, including collegiate games, boxing and motor sports showcases such as Nitro Circus, which used the 5,300-seat Ballpark at Harbor Yard in Bridgeport last year and is interested in bringing an event to Hartford. The USSSA Fastpitch World Series National Championship Tournament in July will hold its opening ceremony at Dunkin' Donuts Park but primarily will use seven softball fields at the Pratt and Whitney Aircraft Club in East Hartford.
Roughly 400 people will compete in the Atlantic Regional Pickleball Tournament in October at the historic Governor William A. O'Neill State Armory in Hartford, a massive stone building with a wood-floored main space of about 50,000 square feet, featuring 100-foot ceilings with large skylights. Murdock is also eyeing dance or archery events for the armory.
Rhode Island:
Well Rounded
Rhode Island may be the smallest state, but it's the second most densely populated—and Providence is its largest city with nearly 180,000 people. In Providence, the Dunkin' Donuts Center arena is connected to the Rhode Island Convention Center, and the complex is the main downtown venue, said John Gibbons, executive director of the Rhode Island Sports Commission. "The Dunk," as locals call it, has 14,000 seats and connects to the 130,000-square-foot convention center, which attaches to the 564-room Omni Providence hotel, the Providence Place Mall and a large parking garage. Just across the street is the Hilton Providence, which has another 274 rooms.
The complex is a major player in Rhode Island's sports market and is key to big bids. The Dunkin' Donuts Center hosted first and second rounds games in the men's basketball tournament last year and was the venue for the 2017 NCAA Division I Men's Hockey East Regional in March. The Dunk is also home to the AHL's Providence Bruins hockey team and Providence College's Friars basketball teams.
Every January for more than 10 years, Athletic Championships' marquee tournament has been held in Providence at the convention center. U.S. Finals Cheer and Dance will bring 4,000 competitors and nearly 10,000 people total to the convention center in May. Another nearly guaranteed event for Rhode Island over Martin Luther King Jr. weekend every January is the Kennedy Memorial Hockey Tournament, which brings 170 teams from around the country to play "on almost every sheet in the state," Gibbons said. "They literally put the high school hockey season on hold for the tournament."
Providence College, University of Rhode Island and Brown University have many facilities that organizers can use for ice hockey, aquatics and field sports including soccer and lacrosse. Brown welcomes the annual Trilogy Lacrosse Tournament every July and hosted the NCAA Division I Men's Lacrosse Quarterfinals last May.
On the southern end of the state's peninsula, Newport will welcome the Volvo Ocean Race in May 2018, the second time the city has served as the event's only North American stopover. In 2015, the two-week event drew nearly 130,000 people. Newport is also home to the International Tennis Hall of Fame, where Dell Technologies just signed on as the sponsor for the Hall of Fame Open, held every July. "Newport has been synonymous with tennis since 1881," Gibbons said. That's the year Newport Casino hosted the first U.S. National Singles Championship, forerunner of the U.S. Open and the birth of tournament tennis.
State officials are always looking to attract nontraditional competitive events, including e-sports, drone racing and bridge. The convention center will host the American Contract Bridge League for the 2021 summer championships, having welcomed the league's fall championships (including bridge player Bill Gates) in 2014.
Maine:
Sports Oriented
In Portland, Maine, Cross Insurance Arena wrapped up a $34 million renovation and expansion in 2014, its first major update since it opened in 1977. The project touched every aspect of the multipurpose venue, owned by Cumberland County, including new seats, wider concourses, new loading bays and larger locker rooms. The 6,733-seat arena was home to the AHL Portland Pirates until last year, when the franchise was sold and moved to Springfield, Massachusetts. Arena trustees are now negotiating with two groups to bring an ECHL hockey team to the arena.
"The facelift made it more accessible and contemporary and there are people in the city and region working diligently on bringing a new hockey team to town," said Sheila Brennan Nee, strategic director for the Maine Sports Commission.
If a pro hockey team returns to Portland, it would join the Portland Sea Dogs, a minor league affiliate of the Boston Red Sox, and the Maine Red Claws, the D-League affiliate of the Boston Celtics. "It just speaks to how sports-oriented our region and state is," Nee said. "Because they're affiliated with New England pro teams, people feel like they're supporting the Celtics and Red Sox when they go."
The Red Claws play at the Portland Expo Building, which is actually five connected buildings with nearly 330,000 square feet of exhibition space. The Expo Building sits between the 7,368-capacity Hadlock Field ballpark, home to the Sea Dogs, and the 750-capacity William B. Troubh Ice Arena. The 6,000-seat Fitzpatrick Stadium, featuring a turf field and a track, rounds out the city's sports hub.
But Mother Nature provides many of Maine's most-used sports venues, from the mountain peaks to the Atlantic shores. "We have some unique events that happen in the mountains," Nee said—events like the North American Wife Carrying Championship and SCI Mountain Challenge, both at the Sunday River resort, and the Fat Tire Festival and Race at Sugarloaf Mountain. "Our large-to-small mountains are getting very proactive about welcoming sports to their trails," Nee said.
The fat bike event adds to the footprint of a sport that is already big for the state: cycling. "Cycling is huge here," Nee said, and that includes cyclocross, road races and triathlons. The Downeast Cyclocross races are held at Pineland Farms every year, and the Dempsey Challenge—started by actor Patrick Dempsey—is a two-day bike race held in Lewiston every October.
The Lobsterman Triathlon is based at the coastal Winslow Park in South Freeport, and the well-established Rev 3 triathlon, held at Old Orchard Beach on Saco Bay south of Portland, will be an Ironman event starting this year, a move expected to double the number of athletes to about 2,000. The TD Beach to Beacon 10K will celebrate its 20th running in August, while the first Casco Bay Island SwimRun—an island-to-island, European-style event—was held last August.
Concord:
Steeped in Tradition
In Concord, New Hampshire, ice hockey reigns supreme, and it doesn't matter if it's played on a smooth sheet or a bumpy pond. "Hockey is a big game here," said Tim Sink, president of the Greater Concord Chamber of Commerce. "There's a history of hockey in Concord that dates back a long way."
Concord is known as the "cradle of American hockey," and its hockey heritage dates back to 1883, when students at St. Paul's School played an organized hockey game—thought to be the first ever played in the United States—on the Lower School Pond. That history was the inspiration for the annual Black Ice Pond Hockey Championships at White Park, with more than 90 teams playing on eight half-size rinks on a large, man-made lagoon. "Hockey is such a big thing here, you'll go to these tournaments, and you suit up and look across and all of a sudden you're playing against our former governor, John Lynch," Sink said.
St. Paul's also has two indoor ice hockey rinks, and the 3,000-person Everett Arena becomes an ice rink from mid-September through mid-March. The Tri-Town Ice Arena in Hooksett has two NHL-size rinks.
In addition to hockey, Concord is known for motorsports and car racing, thanks to the New Hampshire Motor Speedway. With a seating capacity of 88,000, the speedway is the largest sports venue in New England. The track is open from April through October and hosts the annual Loudon Classic, which claims to be the longest-running motorcycle race in North America, as well as the NASCAR Cup Series New Hampshire 301 every summer. The track recently lost its September NASCAR racing weekend to Las Vegas. But the New Hampshire Motor Speedway continues to expand into non-motorsports events, including fun runs, bicycle races and car clubs. It may even add concerts as it continues "really trying to diversify," Sink said. The North East Motor Sports Museum also recently opened at the speedway, showcasing race cars and motorcycles.
Everett Arena sits near the banks of the Merrimack River, next to Bert Whittemore Boathouse, which is home to Concord Crew. "Crew is definitely on the rise here," Sink said. The river runs right through downtown Concord, giving people a view of any number of regional regattas and rowing races.
For indoor sports, Concord Sports Center is a new 23,000-square-foot facility with batting cages and turf fields that can be used for baseball, softball and soccer. Fieldhouse Sports in nearby Bow is an indoor complex with three professional-size turf fields and one multisport court that can be used for basketball and volleyball as well as indoor soccer.
Vermont:
Thinking Green
There are tons of outdoor opportunities to be had in Vermont, whether it's boating on Lake Champlain, skiing in the Green Mountains or biking past fertile farmland. "One of the biggest advantages is the outdoor recreation we have," said Megan Hood, sales manager for the Vermont Convention Bureau.
On the shores of Lake Champlain, Burlington is the state's largest city and home to the University of Vermont and Champlain College. UVM's facilities include Gutterson Fieldhouse, a 4,000-seat ice arena, and Archie Post Athletic Complex, a turf field and track venue with seating for 2,000. School officials have proposed building a new
$80 million arena next to Gutterson as the new home of UVM basketball, although the project isn't funded.
The nearby town of South Burlington also offers athletic fields and the 600-seat Cairns Arena with two ice rinks. USA Hockey's 2016 Girls Tier II National Championships brought about 40 teams to Burlington last spring and used Cairns and the Olympic-sized Gordon H. Paquette Ice Arena at Leddy Park. "That was a great success for us, and they may return as well," Hood said.
With the long shore of Lake Champlain stretching along the state's western border, summer watersports are big business—and a market that state officials want to grow. Burlington hosted the 2011 and 2012 USA Triathlon National Championships at Waterfront Park. "The lake has some of the best bass fishing around," Hood said, and officials want to host more fishing tournaments.
Ski resorts in the Green Mountains are welcoming major ski competitions and expanding into summer sports. The Audi FIS Ski World Cup for women's downhill skiing was held at Killington Resort in November, an event that hadn't been on the East Coast for many years. "The fact that we were able to hold the event here proved that Vermont was a viable option," Hood said.
Fat biking is gaining traction, and mountain resorts such as Stowe Mountain, which was just purchased by Vail Resorts, are expanding into mountain biking, fun runs, obstacle races and "anything that can utilize the mountains in their non-ski seasons." Resorts are also investing in downhill mountain biking. Sugarbush Resort has lift-served access to 37 trails across 18 miles, and Burke Mountain Bike Park has nearly 100 miles of trails, including three downhill trails and a range of single track, flow and jump trails.
But cycling isn't confined to the renowned Kingdom Trails or to ski resort mountains. The countryside is laced with "good roads for road biking," Hood said, a setting made all the more beautiful because the views of rolling hills and farmland are unmarred by billboards, which have been banned in Vermont since 1968. Major road races include the four-day Green Mountain Stage Race, the 100-mile Vermont Gran Fondo and the Harpoon Point to Point, which offers 100-, 50-, and 25-mile road races and a 20-mile mountain bike option.
New England:
Cradle of Sports
New England embraces all sports, new and old, indoor and out. The region has a longstanding love affair with ice hockey and basketball, but officials are always looking for new opportunities in unconventional sports.
New England's geography comprises all extremes, from triathletes swimming along the shores of the Atlantic Ocean to downhill skiers competing on the slopes of the Green Mountains. In New England, organizers and rights holders find people playing in every type of venue, whether it's a frozen pond or a multipurpose arena fresh from a multimillion-dollar renovation. There you'll find the history of sport—and also its future.