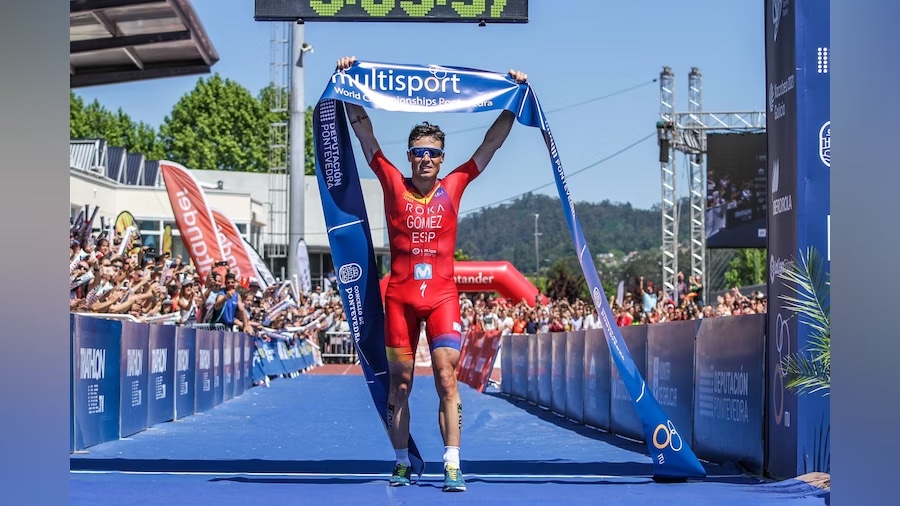 The Spanish city of Pontevedra will host the 2025 World Triathlon Multisport Championships, the international federation has announced.
The championships will see duathlon, cross duathlon, long distance triathlon, long distance aquabike, aquathlon and cross triathlon world championship racing organized together during a week-long festival. Pontevedra previously hosted the 2019 Multisport Championships and many Europe Triathlon events. The city will host the 2023 World Triathlon Championship Finals in September.
"We are really grateful to return to Pontevedra with another major event, only two years after celebrating this summer's Championships Finals and further proof that the city, the Spanish Federation and the local organisers are committed to our sport," said World Triathlon President Marisol Casado. "I am absolutely convinced that the combination of their experience in organizing events, the welcoming people of Galicia, the stunning setting and the combination of pristine beaches and wonderful nature will once again make the Pontevedra Multisport Championships one to be remembered."
The World Triathlon Multisport Championships made its debut in the World Triathlon calendar in 2017 in Penticton (Canada), followed by Fyn (Denmark) in 2018 and Pontevedra (Spain) in 2019. The event was cancelled in 2020 by the pandemic and in 2021 was split in three different locations: Almere (The Netherlands) hosted the Long Distance and Aquabike races, while the Duathlon World Championships were in Aviles, Spain, and the Cross Triathlon and Aquathlon  World Championships took place in El Anillo, Spain.
The 2022 World Triathlon Multisport Championships were also split, with Targu Mures (Romania) hosting the Duathlon, Cross Triathlon and Cross Duathlon, while the Aquathlon and the Long Distance Triathlon and Aquabike World Championships took place in Samorin, Slovakia. In 2023 the event will travel to Ibiza, Spain, while in 2024 the city of Townsville, Australia, will host.