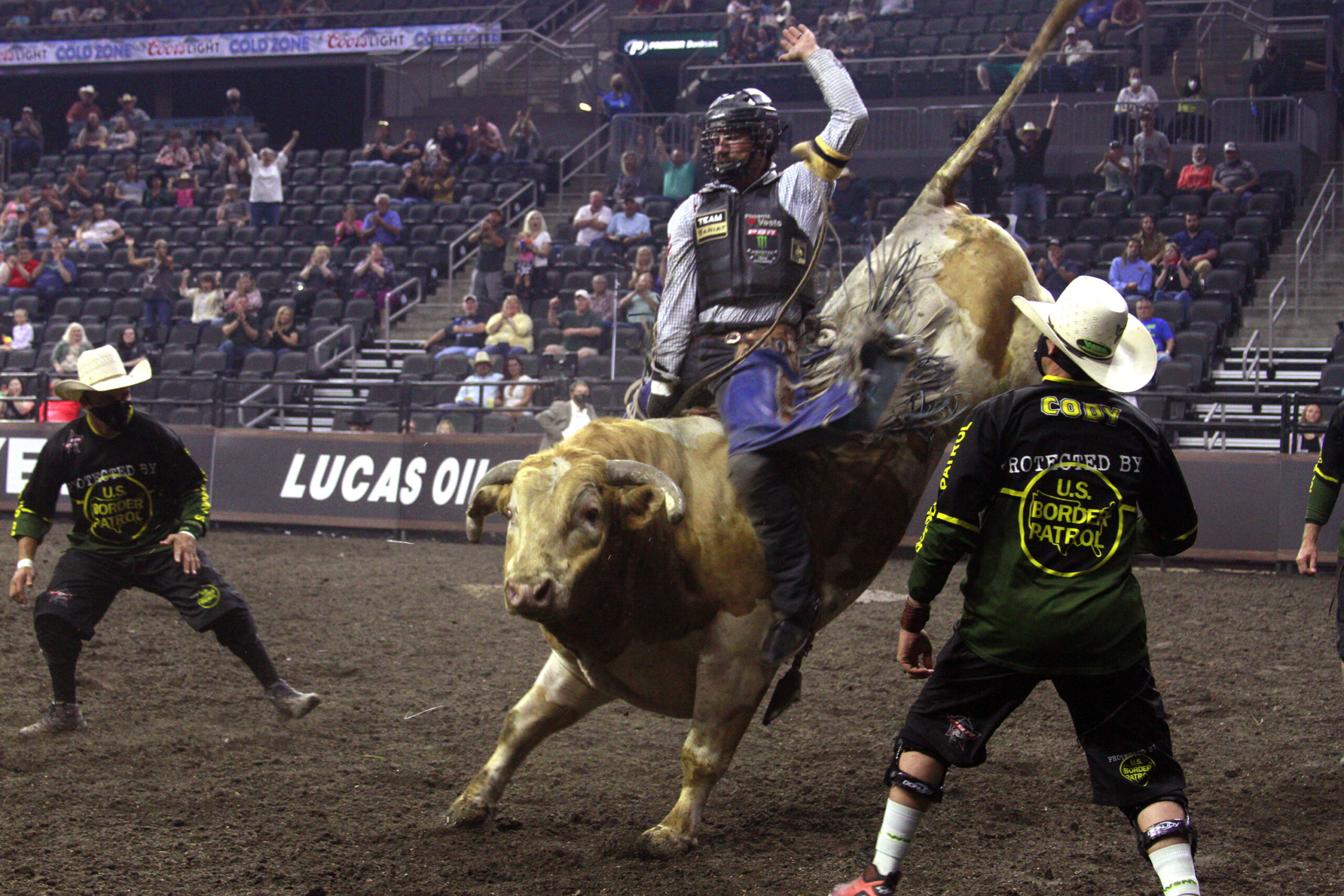 While perhaps not at the forefront of many sports fans' minds, the Professional Bull Riders were actually the first pro league in North America to have an event during the COVID-19 pandemic, starting up within six weeks of suspending action.
"It seems like a lifetime ago," said PBR Commissioner and CEO Sean Gleason during the Sports Business Journal AXS Sports Facilities & Franchises and Ticketing Symposium event. "COVID has turned minutes into hours, hours into days, days into weeks in terms of decision making and how to manage your business."
The PBR Tour's last event before the pandemic hit was March 14–15 in Gwinnett, Georgia, and then it took six weeks before resuming action April 25 with the first of three consecutive events in Guthrie, Oklahoma, where the health and safety policies in the state allowed the tour to have competition. "I've lived in an RV in a parking lot in Guthrie, Oklahoma, for three-plus weeks of my life this year," Gleason said.
During those events at the Lazy E Arena and Ranch, the PBR made sure that everyone involved was screened, checked and medically cleared to compete before they moved into RVs that remained on site with food and any necessities delivered to the venue. There were 140 people involved in the event spread out over two acres.
"I remember how concerned and scared all of us were for our health and well-being," Gleason said. "We went above and beyond and socially distanced and masked, and sanitized every segment of the complex."
The tour also made sure that it had several people taught in how to do contact tracing should anyone had tested positive. "We can look back at it now and say that was the right decision," Gleason said of competing. "There are no reported incidents of any cases of transmission from events in Guthrie or anywhere that we've been. We have not contributed to the spread of the disease."
Including the stay in Oklahoma, the PBR Tour has also held events in 15 different states. Gleason said events were held in markets where they could commit to having fans in attendance with health and safety protocols ensured and approved by officials including ingress and egress, mobile ticketing, food and beverage protocols, sanitation and social distancing among those in attendance.
"With weekly testing, we're getting more and more confident that we're able to catch COVID-19 before that asymptomatic spread can occur" of competitors and staffers, Gleason said. "We're testing everybody in their home market. Our staff and teams went out and made sure every single person associated with our event have an opportunity to get tested prior to getting on a plane or driving in a car — and if they (test positive), they're staying home."
To that point, Gleason said on Wednesday morning that he received a call from a staffer who said he's been exposed to somebody who since has tested positive for COVID and Gleason told them to stay home.
PBR announced on Wednesday a "PBR Air Force Reserve Cowboys for a Cause" event that will be held on the USS Lexington in Corpus Christi, Texas. The event will air on CBS on December 5 with the same safety protocols that the tour has been using for its spring and summer events. With the goal of finishing COVID-free up until and then through that event, Gleason said "then I'm going to count that as a huge success."