Toronto is one of the best examples of a destination that has embraced esports on all levels and in all facets of its community because of the way every from government to private industry and the tourism community work together, panelists described during one of the spotlight sessions from the 2023 EsportsTravel Summit.
"The Toronto Strategy," sponsored by ASM Global, told a record-setting crowd at this year's event about how they have all worked together to build a true esports ecosystem, which includes a dedicated citywide esports strategy and soon will feature one of the premier esports-specific arenas in the world.
"The organizations that we work with in the city of Toronto get it," said Scott Beck, president and chief executive officer of Destination Toronto. "At the heart of it was the community's recognition of the catalytic power of events. It's not just the day of the event … the long tail impact of an event, what it does to workforce development, what it does to job creation — it's bigger than just the day of the meeting."
Within the city government is making esports an emphasis for bringing in tourism business.
"We can strategize in a way that can expedite the growth of that industry while also achieving key strategic initiatives," said Marguerite Pigott, film commissioner and director of entertainment industries for the city of Toronto. "… If we're not investing in esports, we're leaving opportunities on the table that we absolutely should not."
"Being able to create Toronto as a destination hub for esports is really valuable," said Anthea Foyer, leader of Toronto's Creative Technology Office. "We see that continuing to grow."
One of the many esports organizations in the city is OverActive Media. Alyson Walker, chief commercial officer at OverActive Media, said the organization's goal is to contribute to the economic growth of the city and "there's a lot that is bigger than just the esports industry."
Walker and Brian Mirakian, global esports director and senior principal at Populous, also gave an update on plans for OverActive's new headquarters that would include a 6,000-seat arena for hosting more events — and not just in esports but other events as well. Plans are to break ground early in 2024 and open in 2027.
"We wouldn't be intrested in building a venue outside of the city," Walker said. "(Exhibition Place) really is a dynamic area of the city and so exciting to be a part of what it will be in the future."
"We look at the landscape of thinking of competitive gaming venues that can not only support the live event but the interactive media and content creation in a broader level," Mirakian added. "The vast majority of our projects are part of a mixed-use strategy. … It's really critical from an economic standpoint that we contemplate the secondary uses for a venue. When you bring those elements together, you have additional revenue streams."
And when all of those things come together, it can be music to a destination professional's ears.
"When your community is developing product that aligns with your goals as a destination professional, it is validation that the ecosystem works," Beck said.
Riot and Raleigh Examined
The session "League of Legends Case Study: Riot Games' Road to Raleigh" featured three of the people who have bridged the partnership between the organization and city. The League Championship Series took place in Raleigh in April 2023, with great success. The panel included Robert Dugan, Riot Games' event lead for the North American LCS; Loren Gold, executive vice president, Visit Raleigh; and Ed Tomasi, co-founder and managing director of Subnation.
Dugan explained that Riot wants to serve their fans, so they cross reference where League of Legends players are playing the game when looking for a host city. However, 43 percent of the 12,000 tickets sold to the event were from outside Raleigh. Riot made multiple trips to Raleigh, bringing a team of 26 people out to see the feasibility of the venue, hotels, etc. Riot likes to use local providers when it comes to vendors and locations for activations.
Gold noted how Raleigh started to jump into the esports space in 2018. The North Carolina esports grant — which is for $5 million a year — passed in late 2021. It was a game-changer for Raleigh as far as demand from esports companies. To market the LCS event, Raleigh ran a 30-second spot to promote the city to the gaming community. There were 1,350 room nights involved, with $2.7 million in direct visitor spending.
Tomasi said a lot of Subnation and Raleigh's homework on Riot was done months prior before Riot first visited Raleigh. He also pointed out they wanted to make sure local vendors and services were offered from the beginning, instead of the esports company having to look for those people. He said having inroads with your local and regional groups of gamers is important to make an event like that successful.
Focus on The Details
For destinations first getting into esports or those that are fairly far along, knowing what event organizers are looking for can be the key to a successful event — and for repeat business. Rhanee Palma, founder and chief executive officer of Rhanee Palma  & Co., and Matt Marcou, managing partner of Tryhard Consulting, discussed in the panel "What Event Organizers Want" what makes a venue successful as an esports event host, what cities need to know as to the needs of event organizers, the differences between hosting grassroots and professional events and breaking through any resistence to hosting esports compared to the traditional participatory sports. Palma and Marcou also took several questions from the engaged audience at the session, which was sponsored by Meet Boston.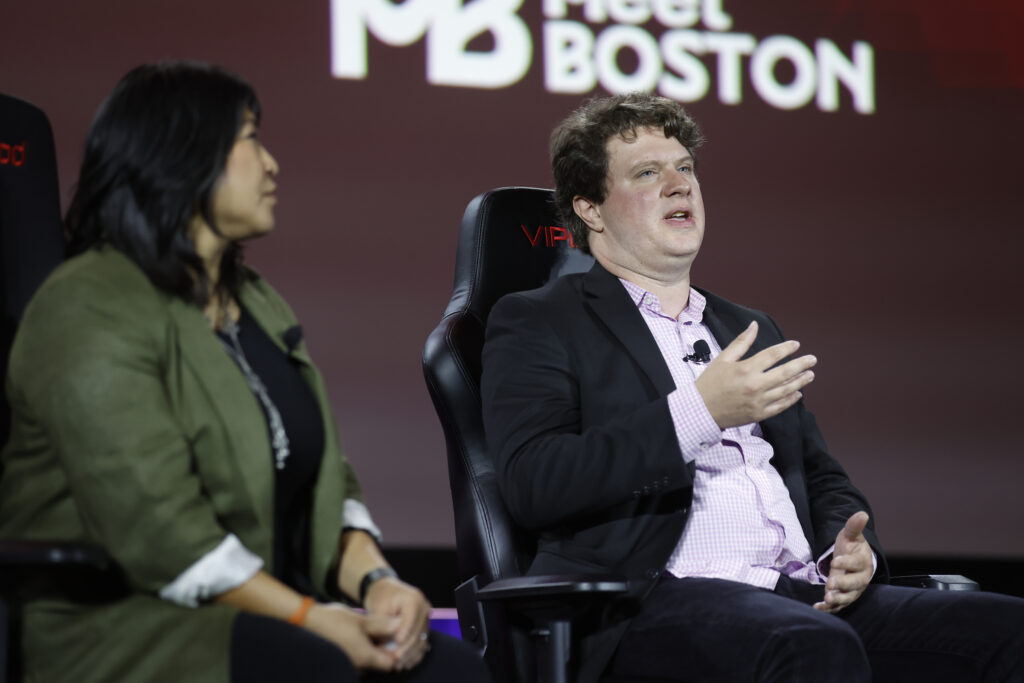 New research into the makeup of the esports fan revealed important data about what they seek in events, how far they are willing to travel and what they are looking for when they arrive at a tournament or event. Tyler Othen of ESL gave the latest research on the state of the esports industry, showcasing fans' high demand for merchandise at in-person esports events and the various opportunities that destinations have from an economic impact standpoint in hosting events. Othen also detailed what the principles for marketing and promoting an esports event should be for destinations at the session, which was sponsored by Meet Chicago Northwest.
A recent guest on the SportsTravel Podcast, Dr. Kris Alexander has built an esports powerhouse at Toronto Metropolitan University and his recent TED Talk on his own experience in esports has reached nearly 1 million views.
All Levels of Industry Discussed
To understand the esports ecosystem, it may be even more important to look closer at the base than at the top. The "Why Grassroots Esports Efforts Are Essential" session sponsored by Valley Forge Sports included Katie Briggs, president of LANFest; Melissa Burns, founder and chair of Esport Canada, and Gerald Solomon, executive director of the North America Scholastic Esports Federation.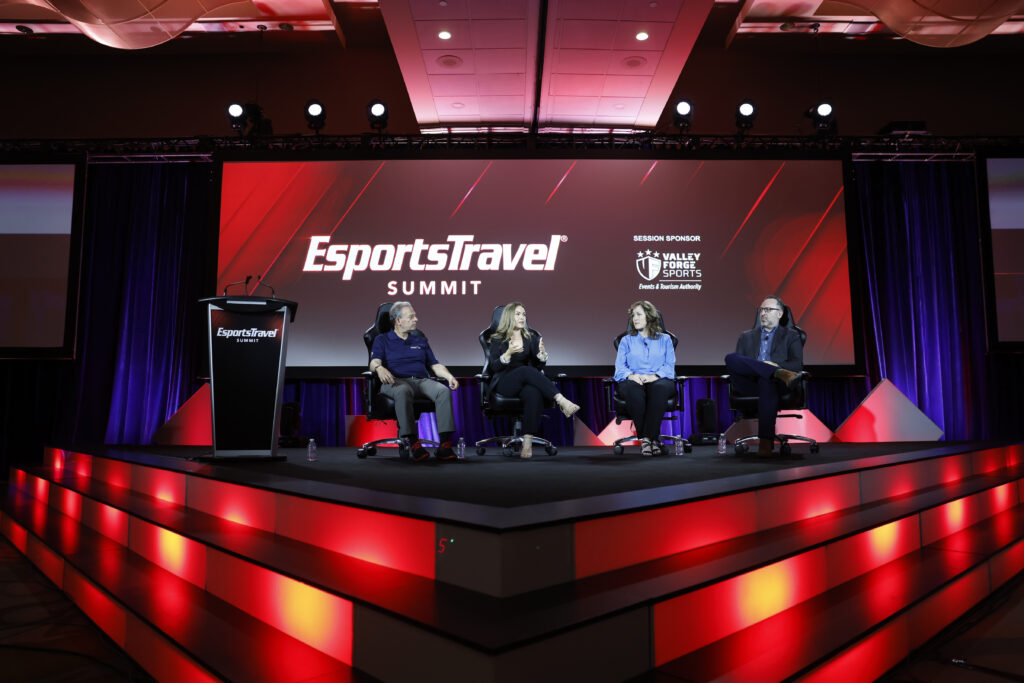 Briggs discussed the increased interest of esports and the competitors wanting to play in the same space and come together. LANFest has people who play games from all different walks of life, and although they don't fit the typical stereotypes for esports players, they want to come game to relax and play with their friends.
Burns explained there's been an increase in grassroots gaming in communities and what's unique about the grassroots area is that people come for the games but stay for the people they meet. They're then wanting to spend time and money to come together over esports, and that leads to passionate fanbases in communities.
Solomon said parents want to know what their child has to gain by playing esports, so it's NASEF's responsibility to build a curriculum that creates a pathway that adds value to what the field of esports is all about.
The Collegiate Esports session "The Rise of Collegiate Esports Venues," sponsored by the Dallas Sports Commission, featured panelists Brian Mirakian, global esports director for Populous; Geoff Lachappelle, manager of the Red Bull Gaming Hub, and Taylor McMillan, vice president of Toronto Metropolitan University's varsity esports association.
Lachappelle talked about the Red Bull Gaming Hub at TMU and how the room is used as a full competitive venue and as a classroom to teach students. It always comes back to community and events are the best way for people to experience live esports in person.
McMillan explained that TMU fields teams in all the popular collegiate leagues, while also cultivating an ecosystem of creating content. Having access to these facilities is almost overwhelming — in a good way — with all the possibilities it provides.
Mirakian discussed how investing in esports creates more than gamers, it's creating YouTubers who can go out and grow a fanbase, or the people who can go out and create the next big name video game after graduation.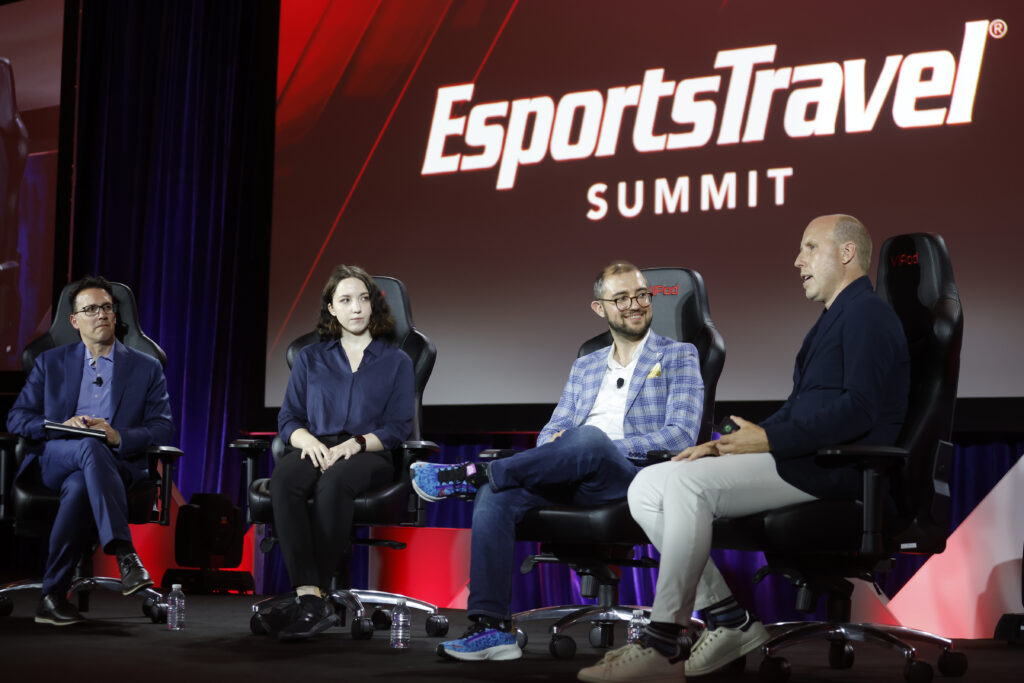 NBA2K League's Rise Examined
Several years into its experiment with esports, the NBA's 2K League has evolved into strong brands competing in their home markets as well as nationally. Panelists Bryce Eldridge, director of esports for Maple Leaf Sports & Entertainment; Jaycie Gluck, senior vice president at Wisdom Gaming; and Raptors Uprising coach Roy Krishnan discussed the league's rise in prominence within the esports industry and how MLSE uses esports to broaden its reach to convert gamers into fans of the Raptors. Other topics included the needs for a NBA2K League in terms of practice space, competition space and other support areas and Wisdom Gaming's work with T-Wolves Gaming in having the team move out to Wisdom's HQ at the Mall of America in Bloomington, Minnesota.
Destinations and venues looking to bring in esports events also had pre-scheduled appointments with esports organizers of all sizes and locations. Several esports event organizers also took to the stage to give updates on events for which they are seeking hosts, what direction their organizations are taking in the immediate future and what their vision of in-person events looks like in the years to come.
Attendees were also able to tour the headquarters of OverActive Media, which fields professional esports teams in the Call of Duty and Overwatch leagues, as well as the esports program at Toronto Metropolitan University, which includes the Red Bull Gaming Hub esports venue. The Opening Celebration sponsored by Destination Toronto was at the Hockey Hall of Fame, home to the sport's most prized artifacts, including the Stanley Cup.