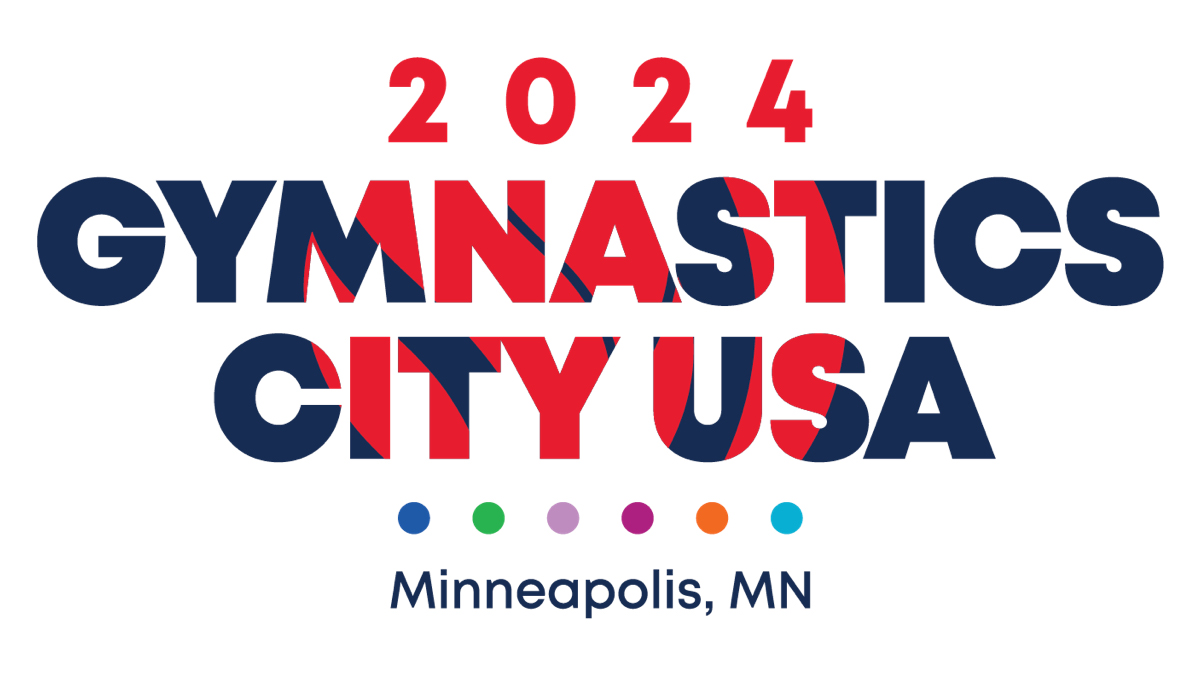 Minneapolis, Minnesota, will host the 2024 U.S. Olympic Team Trials – Gymnastics as well as multiple other USA Gymnastics events over the course of nine days in June 2024, the national governing body announced on Tuesday.
Beginning June 22, 2024, the Minneapolis Convention Center will be the site of the USA Gymnastics Championships featuring rhythmic gymnastics, acrobatic gymnastics, and trampoline & tumbling; the USAG National Congress and Trade Show; and the USA Gymnastics for All National Championships & Gymfest. The four-day Trials will follow those events from June 27–30 at the Target Center where at the conclusion of competition, USA Gymnastics will announce the 2024 Olympic Team for artistic gymnastics. The rhythmic and trampoline teams will be announced at the conclusion of the USA Gymnastics Championships.
"There is no bigger stage for gymnastics in this country than the Olympic Trials," USA Gymnastics President and Chief Executive Officer Li Li Leung said. "With world-class venues in a compact urban environment and an incredible track record of successfully hosting large-scale events, Minneapolis is an ideal location. We look forward to hosting fans from across the country for an unforgettable nine days of gymnastics competition and celebration."
In total, nearly 6,000 participants will flock to Minneapolis — which will take on the moniker of Gymnastics City USA — next summer. The USA Gymnastics Championships on June 22-26 brings together more than 1,500 elite and development athletes. The 2024 USA Gymnastics National Congress and Trade Show on June 27-29 welcomes more than 2,500 gymnastics professionals and exhibitors. The USA Gymnastics for All National Championships and Gymfest on June 22-26 features roughly 500 athletes in what is also known as group gymnastics, with competitive and non-competitive opportunities and a division for gymnasts with disabilities.
"We are thrilled that USA Gymnastics has selected Minnesota to host its 2024 U.S. Olympic Team Trials, the USA Gymnastics Championships, Gymfest, and the National Congress and Trade Show," said Wendy Blackshaw, president and chief executive officer for Minnesota Sports and Events. "Having so many incredible gymnastics events in the same city at the same time makes it a rare opportunity to celebrate and grow the sport throughout our diverse communities statewide."
The Olympic trials in 2021 was held in St. Louis with three athletes with Minnesota ties being part of the event including Suni Lee of St. Paul, who ended up winning the all-around gold medal at the Tokyo Games as well as a silver medal in the team competition and a bronze medal in uneven bars. Olympic Team silver medalist Grace McCallum is an Isanti native and Spring Park's Shane Wiskus was an NCAA champion while part of the University of Minnesota's men's gymnastics team from 2018-21.
"I am so excited and proud that Minneapolis has been selected to host the Olympic Trials," Lee said. "Watching the Olympians who came before me was such an inspiration when I was growing up and it means so much to know that the young athletes of Minnesota will have a chance to watch and be inspired by the best gymnasts in America. I can't wait for the Olympic Trials to be in my backyard."
Minnesota's gymnastics heritage also includes the first male three-time gymnastics Olympian, John Roethlisberger, who competed for Team USA at the 1992, 1996, and 2000 Olympic Games and was a three-time NCAA all-around champion at the University of Minnesota. His sister, Marie, was an alternate for the 1984 Olympic Team and their father, Fred, was the head coach at Minnesota from 1971-2004, was himself a 1968 Olympian and is a member of the USA Gymnastics Hall of Fame.
"There isn't a better place in the country for the Olympic Team Trials than Minnesota," John Roethlisberger said. "Minnesota is home to some of the greatest gymnastics in the world, from many of the best junior club programs in the country, outstanding collegiate gymnastics and of course elite and Olympic level gymnastics. I have no doubt the state will come out in force to support the most exciting event to come to the state in 2024."