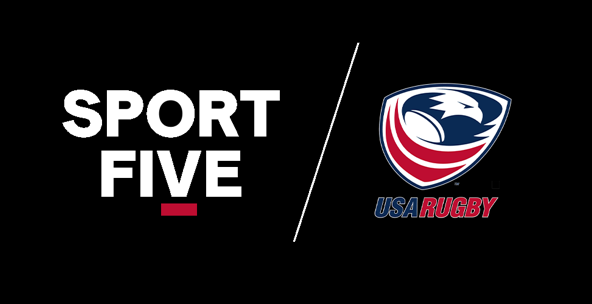 USA Rugby, has appointed SPORTFIVE as the national governing body's global sports marketing agency of record as the NGB embarks on an unprecedented bid to host the Rugby World Cup on both the men's and women's side.
Under terms of the deal, SPORTFIVE will provide USA Rugby with its extensive expertise, including insights and research, digital audience development and fan engagement, commercial and sponsorship development, media rights negotiations, and experiential marketing and live event production.
SPORTFIVE intends to leverage third party and proprietary research tools to develop a comprehensive understanding of USA Rugby's current fanbase and potential avenues for growth. The agency's digital team will also work with USA Rugby to develop and execute a social media and creative strategy across their digital channels.
In addition, SPORTFIVE's Media Division will provide strategy and marketing services for the NGB's media and content relationships in an effort to maximize the organization's audience.
"This partnership with SPORTFIVE is a game changer for us as we look to expand the footprint of rugby in America," said USA Rugby Chief Executive Officer Ross Young. "SPORTFIVE's proven expertise and track record will increase our ability to deliver value for fans, commercial partners and the rugby community across the spectrum. Their portfolio of clients and range of services across digital marketing, sales and public relations will complement the foundations we've built and allow us to build our positioning against some of the top brands in the U.S. sporting world."
USA Rugby recently announced it will bid to host the Men's Rugby World Cup in 2027 or 2031 and will also bid for the rights to host the Women's Rugby World Cup in 2029. It is the first time a country has bid on both events at once and if the men's event is awarded to the United States, it would mark the first time the competition has been held in North or South America. The NGB has identified 28 cities that have expressed interest in hosting rounds of the event, although fewer will eventually be needed.
"Rugby is a hugely popular global sport that is gaining a larger foothold in the U.S., and as the governing body for the sport in America, USA Rugby has tremendous growth potential," said Marc Tarozzi, executive vice president of Rooftop2 Productions and SPORTFIVE. "With SPORTFIVE's long history of driving the businesses of global sports properties, and with our extensive knowledge of sports like rugby, we're excited at the opportunity to help USA Rugby grow its business and fanbase."