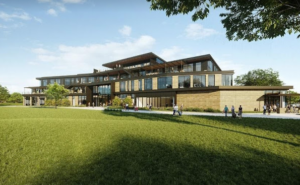 Construction has begun on the new corporate headquarters for the PGA of America in Frisco, Texas. Adolfson & Peterson Construction, Cushman & Wakefield and Page, have started construction the new 106,622-square-foot headquarters that will sit on 6.2 acres of a 660-acre PGA Frisco campus.
The project will also include two new championship golf courses, a 500-room Omni Resort and a golf entertainment district. The four-story headquarters building will initially house about 150 corporate employees, with three floors of office space, a top-floor conference room and outdoor terrace lounge space overlooking the driving range and golf course.
The headquarters, expected to open in 2022, is a public-private partnership between the PGA of America and Omni Stillwater Woods, a joint venture led by Omni Hotels & Resorts with Stillwater and Woods Capital; the city of Frisco and its Economic and Community Development Corporations; and the Frisco Independent School District.
"This is a historic moment for the PGA of America, as we see the vision for our new PGA Headquarters come to life," said PGA of America Chief Operating Officer Darrell Crall. "The Modern Home of American Golf at PGA Frisco is now within our sight, and we're delighted to break ground on our new state-of-the-art headquarters, which will serve as a destination for our nearly 29,000 PGA Members, and a catalyst for an inclusive and diverse workforce."