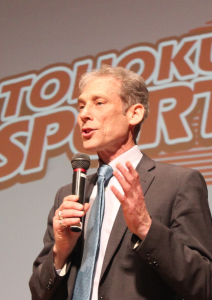 The World Olympians Association (WOA) has appointed Mike Miller as its first chief executive.
Bringing 30-plus years of experience to the new position, Miller will be responsible for the day-to-day operations of the organization and will oversee the delivery of its new strategic plan including the development of a new income-generation initiative. He previously served 10 years as CEO of the International Rugby Board.
"The WOA is setting out on a new course with a new vision and a renewed mandate to support Olympians around the world and help promote the values of Olympism. It is therefore important to have the right person to steer the WOA in this positive direction and we are delighted to bring on board Mike Miller to help achieve our important ambitions and implement the WOA's new programs and initiatives," said Joel Bouzou, WOA president.
Currently, Miller also sits on the advisory board of the World Academy of Sport and is a member of the SportAccord Multi-Sport Games Steering Committee.