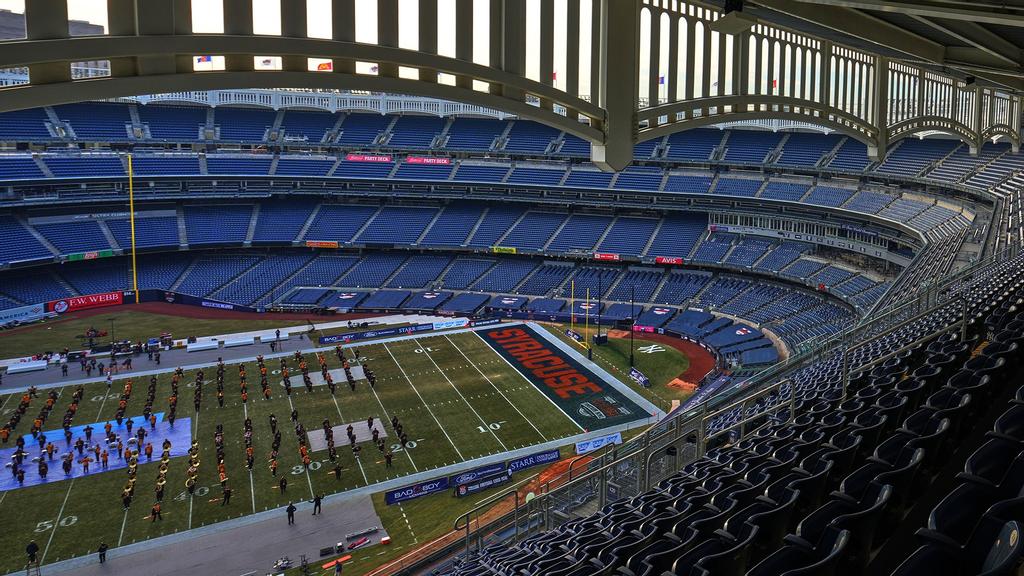 Yankee Stadium Events has announced that Yankee Stadium will host a college football matchup between ACC rivals Syracuse and Pittsburgh on November 11, 2023, celebrating the 100th anniversary of the first college football game played at the original Yankee Stadium in October 1923 won by the Orange over the Panthers.
Syracuse played in six games at the original Yankee Stadium, going 5-1. At the current Stadium, they are 2-2. Pittsburgh will be playing its fourth game at the home of the Yankees, having split their two games at the original Stadium. The Orange finished their 2022 campaign with a 7-6 overall mark, including 4-4 in the ACC. Pitt finished 9-4 overall and 5-3 in the ACC last season. Pitt and Syracuse have played every year since 1955, when both schools were independents. The teams have met 10 times as members of the ACC.
This year also marks the 100th anniversary of the opening of the original Yankee Stadium, which took place on April 18, 1923, with a 4-1 victory over the Boston Red Sox that included the building's first home run — a three-run, third inning shot by Babe Ruth.
"While we can't bring back Babe Ruth, who hit the first home run at the original Yankee Stadium in 1923, we can bring back Pitt and Syracuse to celebrate 100 years of college football at the home of the Yankees," said Mark Holtzman, Yankees vice president of non-baseball sports events. "Syracuse and Pittsburgh have brought tremendous fan and alumni support in their prior games at the Stadium, and the atmosphere should be fantastic at that time of the year. Based on both teams' strong outlooks for 2023, we are looking forward to hosting another classic matchup on our stage in the Bronx."