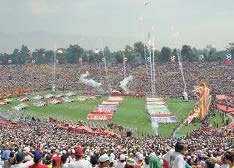 The 2026 FIFA World Cup bid committee representing the United States, Mexico and Canada has sent inquiries to 44 cities across the three nations to gauge their interest in hosting games should the bid be successful. Within those cities, 49 potential venues were identified, including every NFL stadium currently built or planned, except for the stadium in Buffalo, New York. Non-NFL cities on the committee's list include Orlando, San Antonio, Salt Lake City and Birmingham, Alabama.
Deadline approaching. The requests for information, sent to most major cities in the three countries, ask each destination to declare its interest by September 5. A short list of potential hosts is expected to be issued by late September, with the final bid expected to include 20-25 venues. If the North American bid is successful, it is expected that tournament matches would be staged in at least 12 locations, although other cities could still host aspects such as the international broadcast center, team base camps or the final draw ceremony. The North America proposal will compete against one from Morocco for the 2026 event. Formal bids must be submitted by March 16, 2018, with FIFA's final decision expected in June.
"The host cities included in our bid will be critical to its success—not only because of their facilities and ability to stage major events, but because they are committed to further developing the sport of soccer by harnessing the impact of hosting a FIFA World Cup—and look-ing beyond the game to make a positive contribution to our communities and the world," said John Kristick, the bid's executive director.
Bigger field. The 2026 FIFA World Cup will be the first tournament to feature an expanded 48-team format. All stadiums in the bid are required to have at least 40,000 seats for group-stage matches, and a seating capacity of at least 80,000 to be consid-ered for the opening match and the fi-nal. The final rounds are expected to be contested in the United States if the bid is successful.
If they decide to be part of the bid, city leaders will be asked to provide information about transportation infrastructure, past experience hosting major sporting and cultural events, available accommodations, environmental protection initiatives and venues. Potential host cities also must propose locations for training sites and team base camps, as well as hotels for teams, staff and VIPs. Sustainable event management and expected social impact from the event will also be considered.