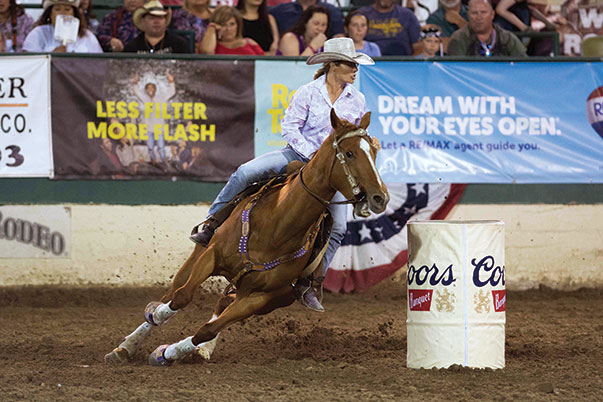 The Southwest boasts expansive skies and sprawling vistas, towering plateaus and wide-open spaces. Nature has created a wealth of venues for sports competitions, and the facilities built by the region's schools, cities and counties are equally impressive.
Reno, Nevada
Reno often finds itself compared to Las Vegas, its much-larger sister city to the south. But other than the presence of casinos, the two couldn't be more different. In geography and climate, Reno is more Northern California mountains than Southern Nevada desert, more small-town ski resort than sprawling Sin City.
"We are way more comparable to the NorCal vibe—we call ourselves NorNevers," said Shelli Fine, director of sports development for the Reno–Sparks Convention and Visitors Authority.
Reno is a road-bike friendly city that also boasts thousands of miles of trails in the surrounding mountains. "We are a cycling destination, and we've got a very avid cycling community here," Fine said.  Reno will host the 2018 USA Cycling Cyclocross National Championships in January at Rancho San Rafael Regional Park. The city also recently landed the Interbike trade show through 2022.
Reno is strong in indoor sports as well, thanks to the 500,000 square feet of exhibition and event space at the Reno–Sparks Convention Center. Basketball, volleyball, martial arts, fencing—"any indoor sport you can name, we can do," Fine said.
On the collegiate level, Reno is in the last year of a three-year deal to be the neutral host site for the Big Sky Basketball Championships, held at the 7,000-seat Reno Events Center. Fine hopes the NCAA will change its rules that prohibit holding games in states where gambling is allowed "because every state has gambling," she said. "To keep Nevada off the list of eligibility is old-school."
Reno attracts a large number of girls' volleyball tournaments, including events for USA Volleyball and the Northern California Volleyball Association, which holds its Girls' Far Western National Qualifier at the convention center every April.
Baseball and fastpitch softball are big markets, and most events use the all-turf Golden Eagle Regional Park and Sports Complex in Sparks. Eighty-five teams played there this past summer for Athletx's annual Youth Baseball Nationals.
"We love the destination because of what the area has to offer," said Jim Haddaway, Athletx co-founder and CEO. "Our event is centered around creating a weeklong vacation destination."
Lake Tahoe is a short drive away, and Athletx partners with Wild Island waterpark to provide weeklong passes to coaches and players. The casino resorts also provide entertainment for all ages.
Beaumont, Texas
The 221-acre Ford Park Entertainment Complex puts Beaumont, Texas, on the sports-event map. But organizers also come to Beaumont, 85 miles east of Houston, because "we're famously good for sports," said Freddie Willard, director of sales for the Beaumont Convention & Visitors Bureau. "We're fan-friendly, and we're ready for the teams to come. We know what they're looking for, and we're very accommodating."
Ford Park offers facilities, including Ford Fields, Ford Arena and Ford Midway, which hosts the annual South Texas State Fair. Ford Pavilion is a 14,000-seat covered outdoor amphitheater.
When the United States Baton Twirling Association brought more than 2,000 people to Beaumont in July 2015 for its national championships, the group held competitions in the arena, used the midway for warmups, hosted social functions in the exhibit hall and set up vendors in the front concourse.
Willard just updated the CVB's convention calendar and realized "every weekend we have a softball or baseball tournament, and some weekends we're hosting two," she said. The city will host the USFA state tournament over two weekends next summer at Ford Fields, while the USA Softball of Texas 8-Under Pixie Tournament will use the Beaumont Athletic Complex.
USSSA baseball plays in Beaumont every year, and the Southeast Texas Baseball Academy brings its world series to the city for a week in late June. The city also attracts adult tournaments, such as the Southern Black Softball Association, which brings in about 80 teams for its World Tournament every July.
Beaumont Athletic Complex is key in the city's fastest-growing sport: tennis. The complex has 24 lighted tennis courts, including four that are covered. Those facilities, which the city now calls the Beaumont Municipal Tennis Center, have "allowed us to host more tennis tournaments, specifically more USTA-sanctioned tournaments," Willard said, such as the USTA's JTT Section Summer Track Championship, which drew 350 athletes in June.
The Cris Quinn Memorial Soccer Complex and Babe D. Zaharias Park offer space for field sports such as soccer and lacrosse. Beaumont has welcomed cheer, dance, basketball and mat sports in the Beaumont Civic Center.
Stillwater, Oklahoma
Although Stillwater, Oklahoma, has only about 50,000 residents, it punches above its weight thanks to Oklahoma State University. College students make up about half of the city's population, which "keeps us young and keeps us a fun, fast-paced community," said Cristy Morrison, president and CEO of Visit Stillwater.
OSU is a big player in the Big 12 Conference, and the school draws plenty of NCAA events as well as other regional and national competitions "because of the level of facilities," Morrison said. "Everything is newly renovated or going through the process."
The city has welcomed the USTA Pro Circuit Collegiate Series for the past two years at the Michael and Anne Greenwood Tennis Center, which opened in 2014 and was key in landing the NCAA Division I Men's and Women's Tennis Championships in 2020.
The city will welcome the NCAA Division I Men's and Women's Golf Championships at Karsten Creek Golf Club in May; the men's regionals will return in 2021 and the women's regionals in 2022. The golf course also has hosted the American Junior Golf Association PING Invitational since 2006.
Of OSU's 51 NCAA team national titles, 34 are in wrestling. OSU's head wrestling coach, John Smith, won two Olympic gold medals in the sport. Morrison said, "A lot of folks like to say they've wrestled in Gallagher-Iba Arena," OSU's 13,611-seat facility.
Cross-country is another major sport, and the 81st annual Oklahoma State Cowboy Jamboree raced on OSU's course in September. OSU will welcome an NCAA Division I Men's and Women's Cross Country regional in 2019 and the championships in 2020.
OSU's Cowgirl Soccer Complex is undergoing a $20 million renovation that will include a new 3,500-capacity stadium when it's complete in fall 2018.
The new indoor Gameday Sports Complex has 17,500 square feet of synthetic turf, two bullpens and two hitting lanes for youth and high school baseball.
Frisco, Texas
Frisco, Texas, is about 30 miles north of Dallas, and although "we are part of a larger metropolitan area, we have our own stuff going on up here—we're not just another suburb," said Josh Dill, Visit Frisco's director of sports and events.
Frisco was "built with sports being a true pillar of our community," he said. "We've made conscious decisions to make sure we're making sports offerings available up here."
And that's part of why Frisco is home to five professional sports teams: the NFL's Dallas Cowboys train at the new Ford Center at The Star; FC Dallas of MLS play at Toyota Stadium; the Frisco RoughRiders are the Double-A affiliate of the Texas Rangers and play at Dr Pepper Ballpark; the Dallas Stars of the NHL practice at Dr Pepper StarCenter; and the Texas Legends, the G League team to the NBA's Dallas Mavericks, play at Dr Pepper Arena.
The city also is strong in youth markets. The annual U.S. Youth Soccer National Championships fill up the 17-field Toyota Soccer Center, which is attached to FC Dallas' 20,500-seat Toyota Stadium. The stadium also hosts the annual NCAA Division I Football Championship Series national championship. Toyota Stadium allowed the city to attract the Frisco Bowl (formerly the Miami Beach Bowl) for three years starting this December.
The stadium's south end is being renovated to add four new locker rooms and the National Soccer Hall of Fame, a project that should be complete in late 2018.
As for city-owned facilities, Warren Sports Complex has 14 soccer fields, and the 74-acre Northeast Community Park opened this summer with eight multipurpose fields and a skate park. Its second phase calls for four more multipurpose fields along with courts for tennis, basketball and sand volleyball.
Frisco is also home to one of the two facilities of the World Olympic Gymnastics Academy (WOGA), whose annual meet is held in Frisco in February.
The 90,000-square-foot Frisco Conference Center has a 41,000-square-foot ballroom. Because the 10,316-seat Dr Pepper Ballpark is across the street, "we end up using it like a piece of the conference center," Dill said.
Rio Rancho, New Mexico
As a bedroom community just outside Albuquerque, Rio Rancho has to compete with its larger neighbor to attract events. But the community is used to competing (and winning). Its two high schools are both powerful presences on the state championship circuit, and Rio Rancho "has tremendous sport facilities between what the city has and what the schools have," said Noah Trujillo, manager for Visit Rio Rancho.
In any given year, Rio Rancho will host competition for as many as 10 state championships for the New Mexico Activities Association. In November, the state volleyball championships were held at the Santa Ana Star Center, which can seat 6,000 for sporting events. The center will host the state wrestling championships in February and, in March, part of the state basketball championships, which the city shares with Albuquerque. 
Visit Rio Rancho also works closely with its two high schools—Rio Rancho and V. Sue Cleveland—on invitational events throughout the year. Rio Rancho High School's annual Jalene Berger Allstate Holiday Hoops Classic draws several teams from outside the city, "and we work closely with them to make sure they're staying in our hotels and eating in our restaurants," Trujillo said.
The CVB is seeking events that would do well in the Star Center, which has hosted sports ranging from youth wrestling to senior volleyball. Having a multipurpose arena is a resource many cities don't have, and "if there's some downtime at the center that we can help fill, we will," said Trujillo.
Tucson, Arizona
In Tucson, Arizona, visitors will find "quite a change going on," said Jeffrey John, sports manager for Visit Tucson. Downtown is thriving with local businesses opening and modern hotels going up, and "the city is making progress to move into the new era," he said.
Soccer is a major sport from youth to professional leagues. Every January and February, Tucson is home to MLS preseason games at Kino Sports Complex, which covers 155 acres and is divided into North and South Complexes. The north side has one lighted soccer stadium with grandstand seating for 3,000, a lighted grandstand field that can seat more than 1,000 spectators and six additional soccer fields. The South Complex is geared to diamond sports and anchored by the 11,000-capacity Kino Veterans Memorial Stadium.
Tucson's legacy as an MLB spring-
training city keeps baseball at the forefront. Former spring-training facilities are still maintained to MLB standards, including Kino and the 9,500-capacity Hi Corbett Field. Additionally, the seventh annual Vamos a Tucson Mexican Baseball Fiesta was held this summer at Kino stadium.
Tucson recently dove into the rugby scene, and 2017 marked its second year hosting the Pac-12 Rugby Sevens Championship in November at Kino. This year, the USA Rugby Women's Premier League National Championships were also held the same weekend. Kino also hosted the 2016 and 2017 USA Rugby Emirates Airline Club National Playoffs.
"We think we're going to run with it [rugby] and see what we can do with it," John said. "We're definitely going to go after more."
At the Tucson Convention Center in downtown, the Tucson Arena is home to the AHL Roadrunners hockey team, and the center's 90,000 square feet of exhibit space can be used for tournaments, such as the Club Cactus Classic Invitational volleyball tournament. Visit Tucson is looking for more indoor sports—fencing, juggling, badminton, table tennis, martial arts—that could use the space.
Big Games, Big Names, Big Venues
The Southwest certainly has the space to spread out, and organizers can do the same in the region's big sports facilities. The Southwest has an array of geography and climates, from arid deserts that offer refuge from winter cold to mountain ranges that are popular skiing destinations. The region has an equally impressive variety of sports venues: professional stadiums and collegiate venues, former MLB spring training facilities and outdoor turf complexes where rain is rarely an issue. In the Southwest, rights holders for sports of all kinds will find a warm welcome.