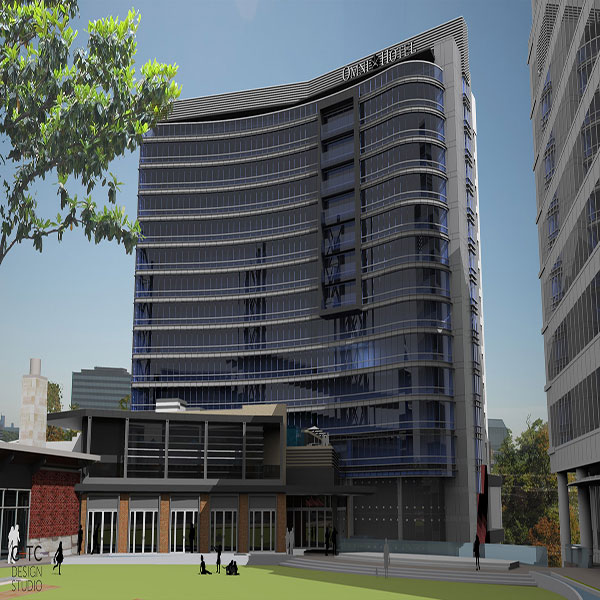 The Atlanta Braves and Omni Hotels & Resorts have partnered to develop the Omni Atlanta Hotel at SunTrust Park, a new property in the mixed-use development adjacent to the under-construction SunTrust Park in Cobb County, Georgia. SunTrust Park is being developed by the Braves in partnership with Cobb County, the Cobb-Marietta Coliseum & Exhibit Hall Authority and the Cumberland CID, and is expected to be complete in 2017.
"Our unique brand of hospitality is a big part of the experience of attending an Atlanta Braves game, and we're thrilled to have a partner that embodies that same feeling with their guests," said Terry McGuirk, Atlanta Braves chairman and CEO. "Omni Hotels & Resorts only builds and operates iconic properties in premier destinations. Its presence in this community further enhances our belief that this will be a destination unlike anything in professional sports."
The 16-floor Omni Atlanta Hotel at SunTrust Park will feature approximately 260 guest rooms, close to 12,500 square feet of meeting space, an elevated pool deck and bar, and a signature restaurant.
"It is an honor to partner with a franchise as successful as the Atlanta Braves, and we know this collaboration will attract millions of visitors to Cobb County and SunTrust Park for years to come," said Mike Deitemeyer, president of Omni Hotels & Resorts. "This new property will visibly reflect the region—everything from the rooms, food, design, décor and amenities."
The new hotel will serve meeting groups, business and leisure travelers, as well as visitors attending Braves games and other events that are hosted at the 60-acre development site. Construction is expected to begin later this year.