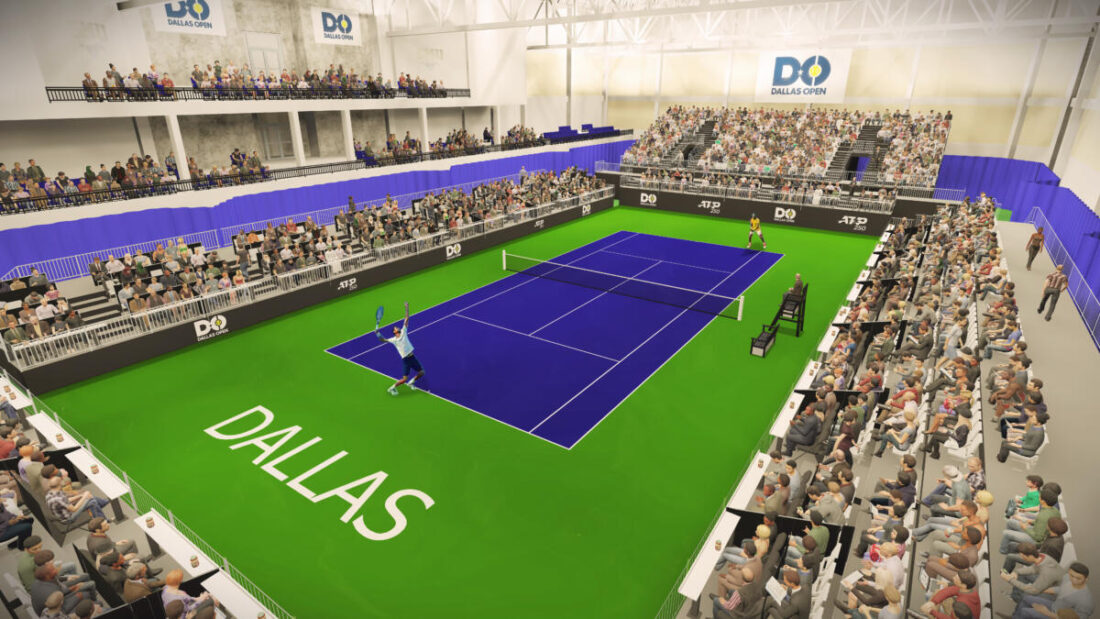 The ATP Tour will return to Dallas for the first time in more than 30 years next year when the only indoor tour-level event in the United States moves from New York to the Styslinger/Altec Tennis Complex at Southern Methodist University.
The Dallas Open, scheduled for February 6—13, will be the first ATP event in the market since the World Championship of Tennis Finals was held in Dallas from 1971–1989. The tournament was held at SMU's Moody Coliseum from 1971—1979 before moving to Reunion Arena in 1980.
The event will move from the Nassau Coliseum in Uniondale, New York, where it has been since 2018 after replacing the Memphis Open, which was held from 1975–2017. It will be one of 10 ATP Tour events in the United States. The tournament has a storied history with former champions including legends John McEnroe, Pete Sampras, Andre Agassi, Andy Roddick, Michael Chang and Andy Murray.
"The Dallas Sports Commission is incredibly proud to partner with GF Sports & Entertainment and ATP to launch the 2022 Dallas Open," said Dallas Sports Commission Executive Director Monica Paul. "We are excited to host world-class play at the premier Styslinger/Altec Tennis Complex, as the tournament grows roots in Texas and provides fresh opportunities for players and fans."
The Dallas Open and GF Sports & Entertainment will have a year-round presence in Dallas including community events and initiatives, partnerships with local business and tennis organizations, as well as support for local youth athletics. The Isner Family Foundation, established by John Isner and his family, will serve as a non-profit partner for the event.
"I am excited to have an ATP Tour event in my home city and to show off Dallas to the other players on the Tour," Isner said. "The Styslinger/Altec Tennis Complex is a premier venue. The players are really going to enjoy playing there in front of a knowledgeable tennis crowd. I am also proud to have the Isner Family Foundation be one of the non-profit partners for the Dallas Open and I am looking forward to the positive impact the event will have on the local community."
The Styslinger/Altec Tennis Complex opened in 2015 and has both indoor and outdoor courts as well as a training center.
"GF Sports & Entertainment is proud to bring the Dallas Open, an elite ATP Tour tournament, to the premier Styslinger/Altec Tennis Complex in Dallas," Tournament Director Peter Lebedevs said. "The Dallas Open will shine a global spotlight on the city and be much more than a one-week tennis tournament. In addition to entertainment programming and unique experiential opportunities throughout the tournament, our partnership with SMU and commitment to the community will be year-round and include business, community, tennis initiatives and events."