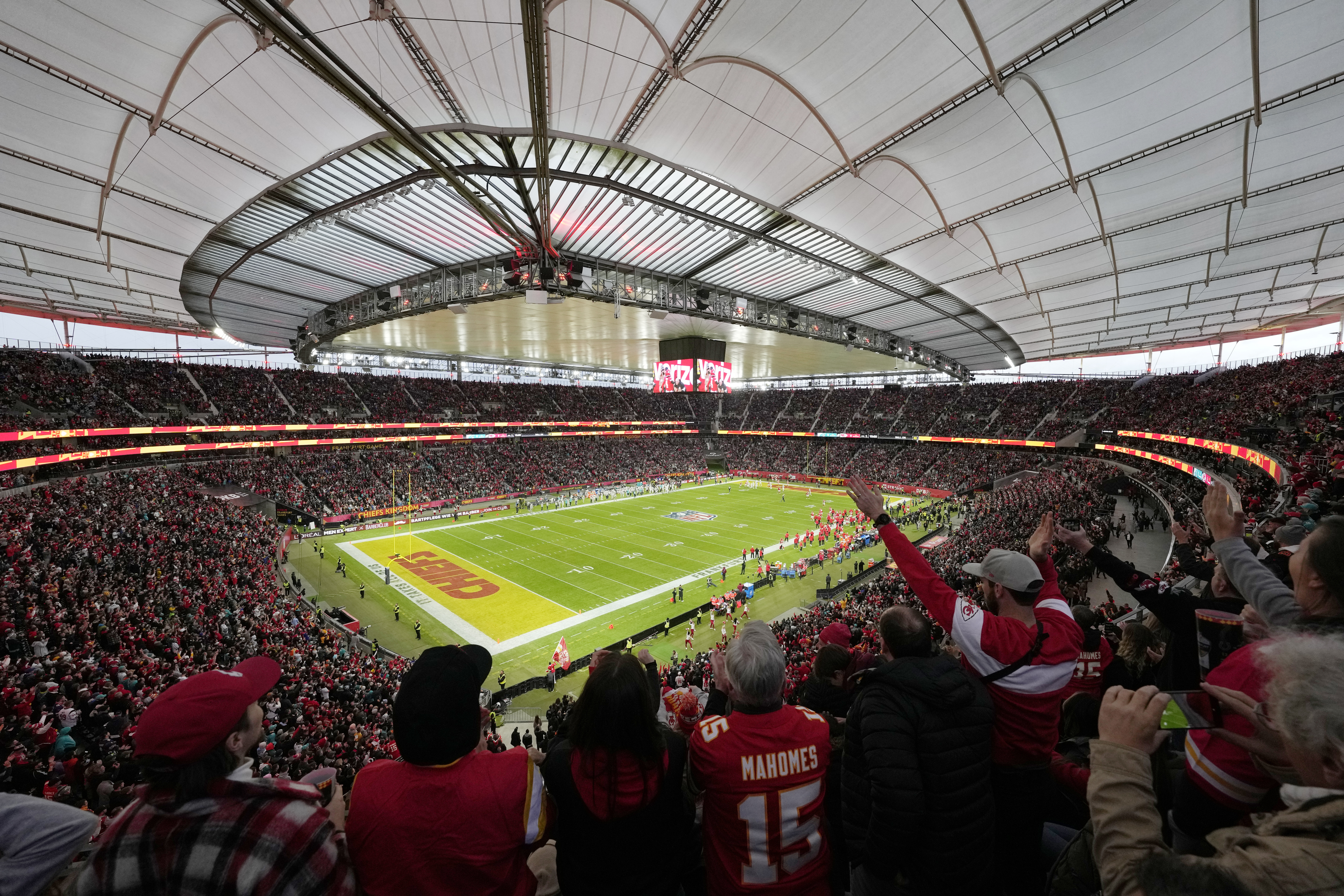 In the midst of its first doubleheader of games in Frankfurt, Germany, NFL Commissioner Roger Goodell said Saturday Berlin has shown "a lot of interest" in hosting a game as the league plans to extend its agreement to play in Germany beyond 2025.
"Düsseldorf, Berlin — there's been a lot of interest there — so I think they're all possibilities," Goodell said Saturday.
Frankfurt hosted the Kansas City Chiefs and the Miami Dolphins at Deutsche Bank Park on Sunday, a 21-14 Chiefs victory. Next week, the New England Patriots face the Indianapolis Colts at Deutsche Bank Park, the home of German soccer club Eintracht Frankfurt.
The first regular-season game was played last year in Munich. The NFL's current deal calls for one game next season in Munich and another in 2025. Düsseldorf, Frankfurt and Munich were all finalists before the NFL selected its host cities. Berlin didn't apply.
"The more that people see the opportunity, we see fans rallying around the event and the city coming to life and backing the sport," NFL UK General Manager Henry Hodgson said earlier this year at TEAMS Europe. "Last year we saw it in hyper-speed in Germany where we had a great event that was really embraced by the public. I think showing what can be done and showing the passion for the sport that exists outside the U.S., the momentum really starts going along once people get to see that."
Goodell told a mostly German audience at a downtown hotel on Saturday the league has considered playing a "prime-time" game in London but has no current plan to base a team in Europe. Instead, the strategy is playing more games abroad. The NFL added a 17th game to the schedule to facilitate that and is reviewing Spain and Brazil as future hosts.
Germany is a core part of the NFL's international strategy. The Tampa Bay Buccaneers beat the Seattle Seahawks 21-16 at Allianz Arena in Munich last year in what the NFL said was the league's most successful international game in terms of viewership and merchandise sales.
"We have every intention to continue to play here," Goodell said Saturday. "You've been an incredible part of our growth, you've been part of our history of growing our game globally. We're going to continue to play here in some fashion."
In August 1990, the Chiefs played a preseason game against the Los Angeles Rams at Olympic Stadium in West Berlin after the Berlin Wall fell and just before reunification. Media reports said there were 55,000 fans.