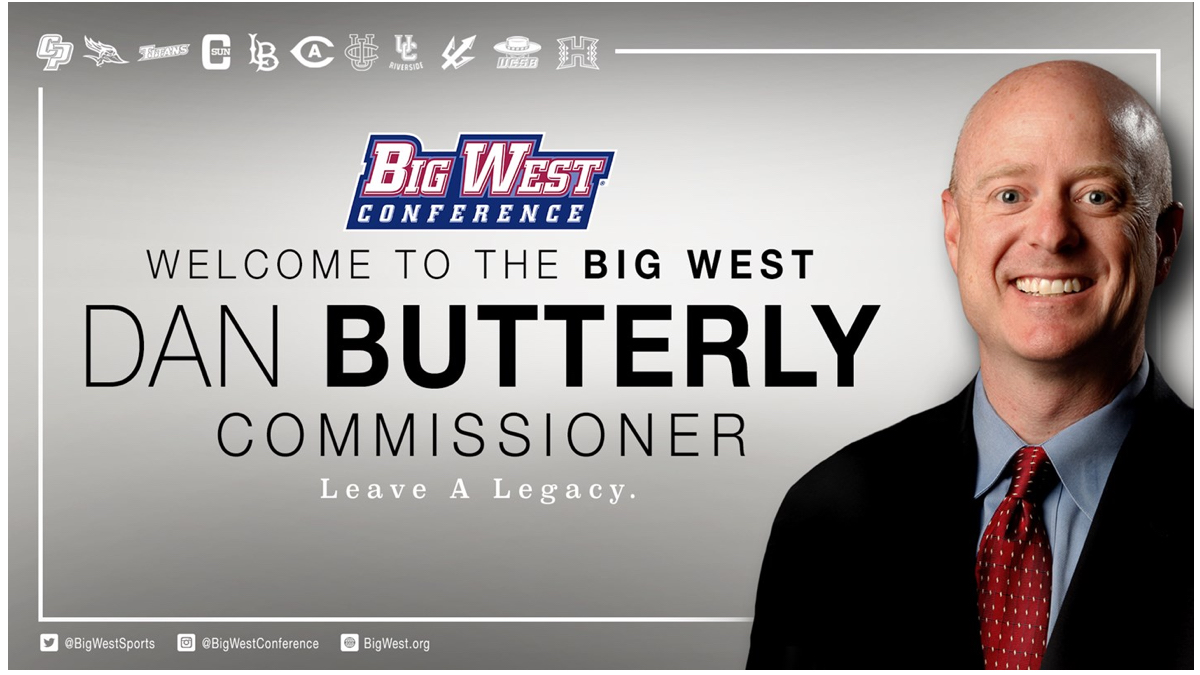 Dan Butterly, who during his time as Mountain West Conference senior associate commissioner worked on NCAA committees for men's basketball, football and helped create the brand image for the College Football Playoff, will become the new commissioner of the Big West Conference after Dennis Farrell retires on July 1 after 28 years in charge of the league.
Butterly has worked for the MWC for 21 years and has served as the primary sport and championship administrator for men's basketball. He is currently the chair of the College Football Playoff licensing committee and has also served on the NCAA Division I Men's Basketball Issues Committee, NCAA Football Promotions and Brand Marketing Committee and the branding committee to name and create the image for the new College Football Playoff.
"The Presidents and Chancellors of the Big West universities look forward to working with Dan Butterly," said Jane Close Conoley, president of California State University Long Beach and chair of both the search committee and Board of Presidents and Chancellors. "He is visionary, highly respected and experienced, and his strong commitment to academic and athletic success makes him a great match with our conference's values."
The Big West currently has nine members and will welcome two new members on July 1 in Cal State-Bakersfield and UC-San Diego. It sponsors 18 sports between men and women.
"I am honored to be selected by the Big West Conference leadership to serve as its next commissioner," said Butterly. "College athletics face significant challenges and I look forward to working with the Big West Conference staff and our institutional leaders to develop a direction that puts our student-athletes in the best position for success, both in the classroom and in competition."
Butterly's experience includes working with all Mountain West broadcast entities on the development of the basketball schedule and member institutions on non-conference schedule strategy and improvement. He also has handled tournament manager duties for four separate NCAA Tournament sites, as well as the 2012 NCAA Women's Final Four at Pepsi Center in Denver.
"Dan Butterly is one of the most organized, detail-oriented and driven collegiate administrators I've worked with," said Mountain West Conference Commissioner Craig Thompson. "He leaves nothing for chance and is meticulous in his actions whatever the project, whether that's running championships, scheduling or television negotiations. I have appreciated all his efforts and contributions to the Mountain West Conference for the last 21 years."
Butterly previously worked six years with the Missouri Valley Conference, rising to assistant commissioner in 1998. His duties included the league's corporate sponsorship efforts, overseeing the merchandising and licensing program and administering marketing and promotions for all conference championships. He also coordinated the league's schedule and officiating for men's basketball and served as tournament manager for the MVC men's basketball championship from 1994–99 and game management director for the 1998 and 1999 NCAA Men's Tournament Midwest Regionals hosted by the league in St. Louis.