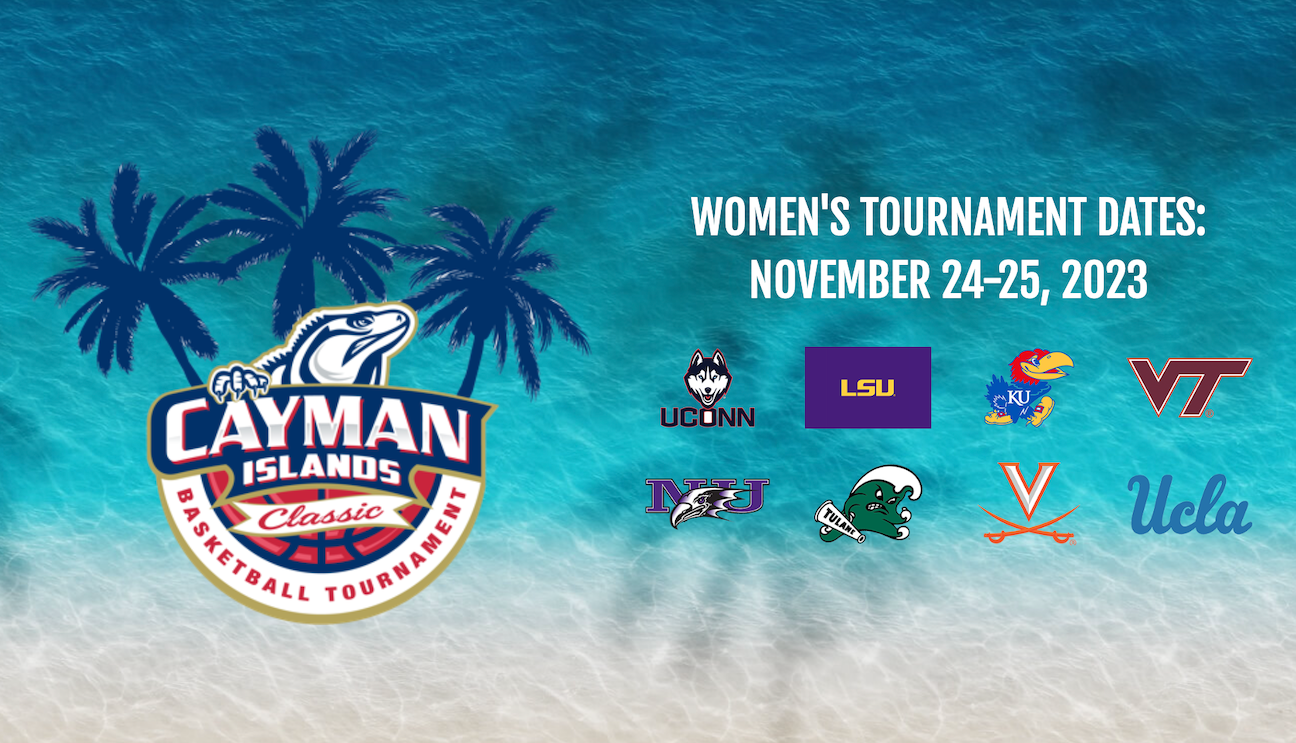 The inaugural 2023 Cayman Islands Classic women's college basketball tournament features a loaded field, headlined by newly crowned national champion LSU.
LSU defeated Iowa 102–85 in the championship game of the NCAA Women's Tournament, with the game averaging 9.9 million television viewers for the most-watched women's college basketball game ever. Joining LSU as headliners include fourth-ranked Virginia Tech, which also played in the Final Four, along with No. 9 UConn and No. 13 UCLA, plus Kansas, which captured the WNIT championship.
LSU beat Virginia Tech in the Final Four 79-72 before its victory against Iowa to claim the national title. It was the fourth championship in as many title game appearances in Kim Mulkey's coaching career as she became the first women's basketball coach to win NCAA championships at multiple schools.
"We are excited to showcase these incredible teams," said Joanne P. McCallie, executive tournament director. "The development of this inaugural tournament speaks to Caymax Sports and their commitment to the spirit of Title IX while featuring the very best in women's basketball competition."
UConn, under Hall of Fame coach Geno Auriemma, is the most successful women's basketball program in the nation, having won 11 NCAA championships. Virginia Tech's run to the Final Four was its first in program history along with its first NCAA Tournament top seed and an ACC championship. UCLA reached the Sweet 16 this season in the NCAA Tournament before losing to South Carolina and Kansas' WNIT championship was the first in program history
"The Cayman Islands is very proud to be the host destination for the prestigious women's D1 basketball tournament," said the Honorable Kenneth Bryan, minister of tourism for the Cayman Islands. "This tournament brings elite U.S. women's college basketball teams to our shores and the Department of Tourism recognizes the event's magnitude for attracting new visitors to the country."
Niagara, Tulane and Virginia round out the field — each team received invites to the WNIT this season. The eight-team tournament will be held November 24–25 at John Gray Gymnasium, presented by Caymax Sports Ltd.
"The quality and rich tradition of these participating teams will make this inaugural edition of the Cayman Islands Classic the premier preseason women's college basketball tournament this year," added Joe Wright, chief executive officer for Caymax Sports Ltd.