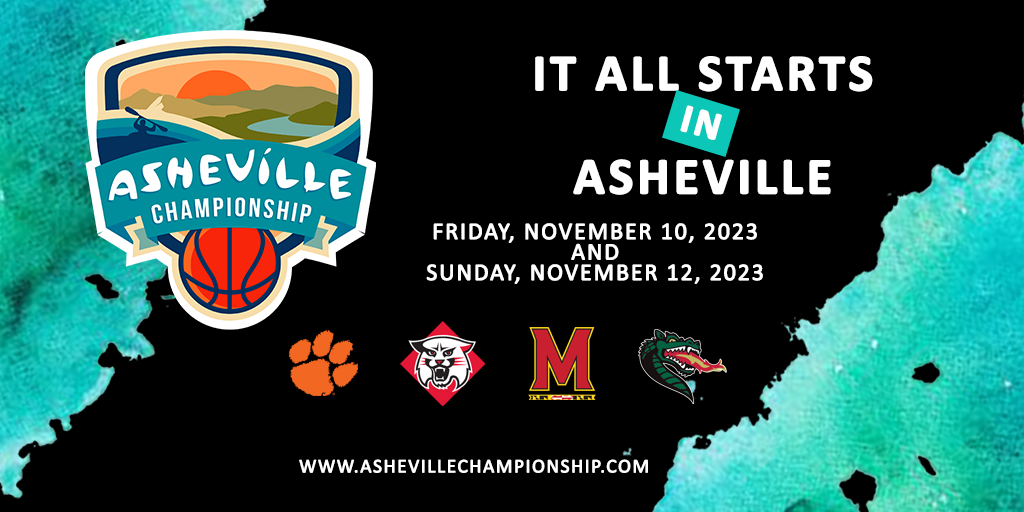 Clemson, Davidson, Maryland and UAB will headline the 2023 Asheville Championship men's college basketball tournament from November 10–12 at the Harrah's Cherokee Center in Asheville, North Carolina, in the third year of the early-season event.
The four programs participating have a combined 73 NCAA Tournament appearances, making this year's field the strongest yet. Tickets for the general public will go on sale starting April 17.
Clemson has reached the postseason in five of the past seven years. Davidson will be under the direction of second-year coach Matt McKillop, son of Bob McKillop who had previously led the Wildcats for 33 years. Maryland heads to Asheville after this season it advanced to the second round of the NCAA Tournament and UAB finished the 2022–2023 season with a 29-10 record as the NIT runner-ups.
Roy Williams, former Hall of Fame coach at North Carolina and an Asheville native, is the official ambassador of the Asheville Championship. Coach Dave Odom will again serve as the official chair of the event. The former National Coach of the Year and three-time ACC Coach of the Year at Wake Forest has overseen tournament relations for the Asheville Championship since its inception and the Maui Jim Maui Invitational since 2009.
"In the two years that we've come to Asheville to kick-off the college basketball season with the backdrop of the Blue Ridge Mountains, we've brought new fans, stronger programs and more excitement each time," said Odom. "The Championship has also started gaining a reputation for buzzer-beater finishes and with the field of teams we have coming ready to battle it out, this year could be our best one yet."
Minnesota won the inaugural title in 2021 with a double overtime victory over Princeton. Louisiana took home the trophy in 2022 after defeating East Tennessee State by four points.