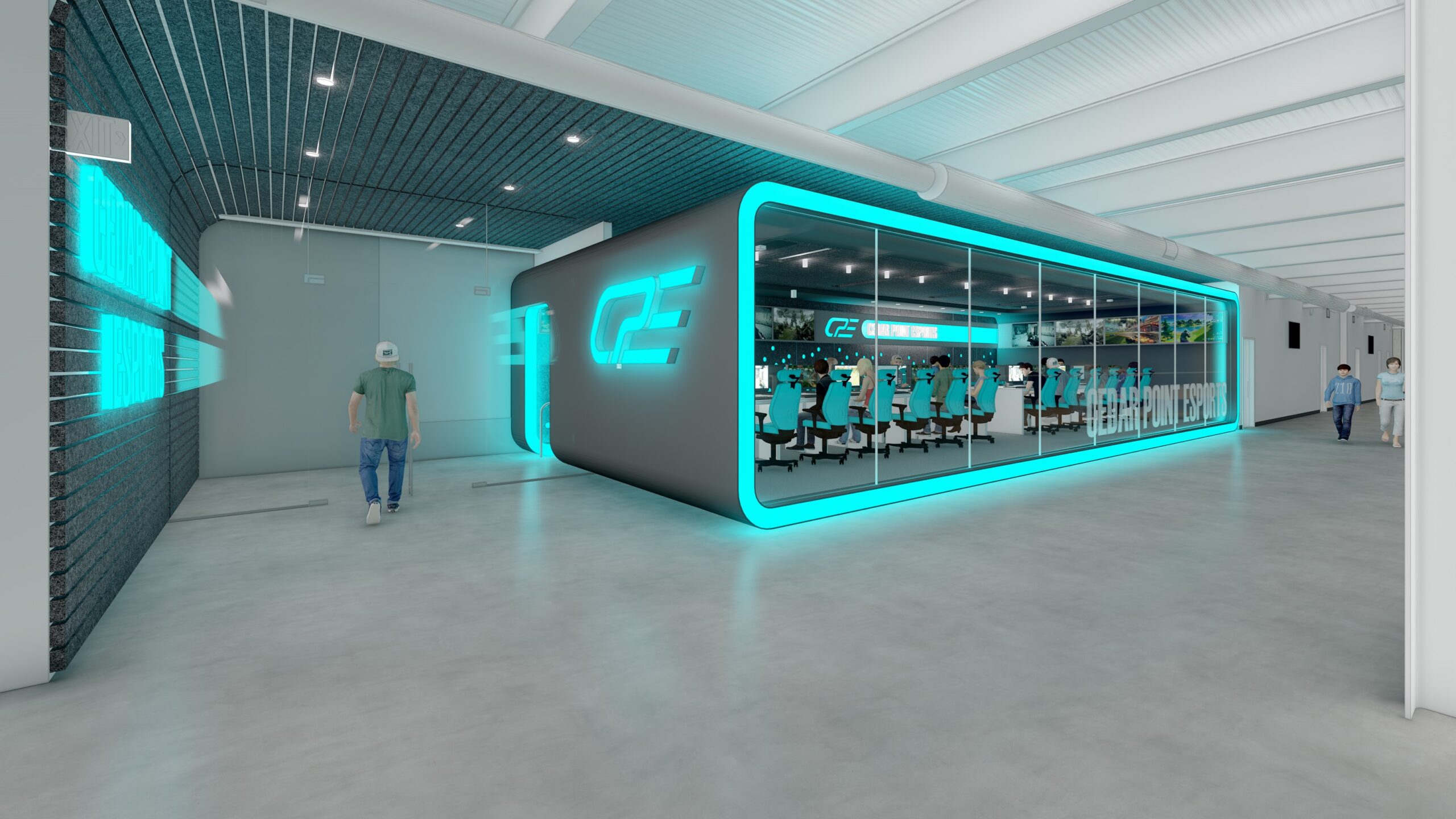 Cedar Point Sports Center in Sandusky, Ohio, has announced details for the first phase of a planned competitive gaming development at the sports complex. The project is expected to open in May.
The new gaming venture will be called Cedar Point Esports and the first phase calls for a 1,000-square-foot space that will house a full-service gaming area with the capability to broadcast and produce livestreams and content. The project will include 32 competitive gaming setups against the backdrop of multimedia video displays that have the flexibility to connect for larger events. Professional gaming stations and equipment will be used throughout the first phase for practice, competition and extra-curricular play.
The vision of the complex is to create Northern Ohio's premier immersive gaming experience for leagues, camps and clinics. The venue will also serve as a practice site for local high school and collegiate esports teams. The project will eventually serve as a gateway from the Cedar Point Sports Center to an upcoming larger second-phase expansion. Future development is expected to include food, beverage and a larger competition space.
"Cedar Fair's long-term strategy is focused on delivering immersive entertainment experiences that differentiate our parks and create an environment where guests want to come back again and again," said Richard Zimmerman, president and chief executive officer. "The opening of the Cedar Point Sports Center in 2017 was consistent with this strategy and has proved to be a huge draw for amateur sports teams and other large groups. Given the booming popularity of competitive gaming, we believe there is an opportunity to tap into its rapid worldwide growth, while providing a natural tie-in to all that Cedar Point has to offer."
Cedar Fair will partner with North Coast Entertainment to develop and run the venue.
"We believe Cedar Point Esports will be the region's premier destination for daily video game play, highly anticipated competitive gaming events and tournaments, and gaming-related experiences," said Scott Norcross, founder and chief executive officer of NCE and a 15-year veteran of the esports industry.
Norcross started in the early 2000s representing professional esports and traditional athletes and assisting with the startup and running of esports franchises. NCE has developed local area network (LAN) centers, gaming venues and live events throughout the East Coast, including spearheading esports for Destination Sport Miami. Norcross also is a partner at the law firm, Kohrman Jackson & Krantz, where he chairs the firm's Esports, Media & Entertainment Group.
Cedar Point Esports is the latest project at the $50 million Cedar Point Sports Center, which is managed by the Sports Facilities Companies. The full complex includes Sports Force Parks and its 10 multi-purpose outdoor turf fields, as well as a 145,000-square-foot indoor venue with 10 basketball courts.