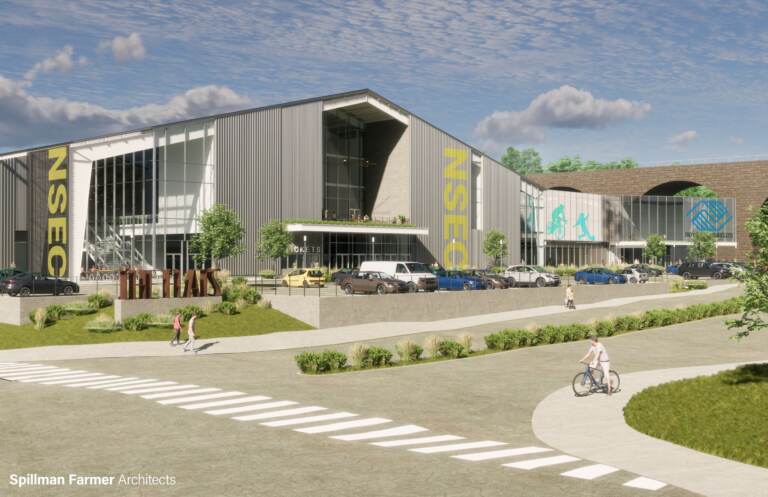 The city of Coatesville, Pennsylvania, plans to build a $50 million multipurpose sports and events complex.
Plans for the National Sports and Events Center — on 26.3 acres of commercial property on West Lincoln Highway — were first presented in March 2021 by builder IDG Development LLC. The site was formerly known as the Flats.
"All of these amenities and different uses for it is just going to be a tremendous asset for the city of Coatesville," City Manager James Logan said.
In addition to sports and events spaces, the center would have an indoor velodrome, which the company says is a "first" on the east coast. The goal is to have the climate-controlled bicycle track act as a hub for Olympic-level competition. The project also includes a retail space, a sports medicine provider, and a 150-room hotel.
"The Boys and Girls Club has committed to bringing a clubhouse to the facility that is 15,000 square feet," said Crosby Wood, a project manager for IDG Development. "That's a critical component as we look to bring the next generation of Coatesville and Chester County residents into the facility to be able to be exposed to all the different activities throughout the facility."
Home to more than 13,000 people, Coatesville is 44 miles from Philadelphia and houses the longest operating steel mill in the United States. The National Sports and Events Center is one of 34 active development projects in Coatesville, including a train station scheduled to open in 2025.
"We're just kind of behind on the times and we're finally starting to come out of the shadow of other communities that have made it. So, I think we're starting to see our day in the sun, and it feels great," Logan said.
The Coatesville City Council passed a resolution in April 2021 in a 6-1 vote approving the sale of the property the project will be built on, which was previously owned by the Coatesville Redevelopment Authority.