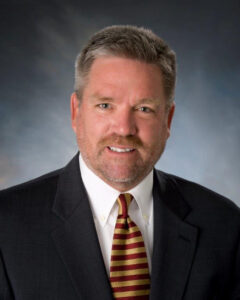 The Colorado Springs community is mourning the sudden passing of Tom Osborne, the CEO of the Colorado Springs Sports Corporation who played a key role in some of the city's largest sports events and was a leader in the Olympic and State Games movements at the local and national levels. He was 65.
"He was an incredible man, a great leader and a friend," said Dave Palenchar, chairman of the Colorado Springs Sports Corporation. "Tom loved The Sports Corp, he loved the community and he touched an unbelievable number of people personally and through Sports Corp events in the last 18 years. We're grateful for all that he did for our organization and the Colorado Springs community. He was more than one in a million – he will be deeply, deeply missed."
Osborne was the founder of the Big Sky State Games in Montana, where he graduated in 1978 from Montana State University-Billings with a bachelor's degree in physical education. He served as the executive director of that event from 1985 to 1993, growing it to the largest State Games competition in terms of athlete participation per capita.
Osborne would later serve a decade as executive director of the National Congress of State Games from 1993 to 2003. In that role, he helped create and organize the State Games of America, managed the national office and was directly involved in fundraising, sponsorship, and grant solicitation. He was elected president of the National Congress of State Games in 2003.
After arriving in Colorado Springs, Osborne played a leadership role in several organizations, serving as a member of the U.S. Olympic Committee Board of Directors and as a member of the then USOC's Executive Committee from 1996 to 2000. In 2003, he became president and CEO of the Colorado Springs Sports Corporation, where he oversaw the Rocky Mountain State Games. Under his watch, the event grew to offer more than 20 sports with 10,000 participants, up from 14 sports and 2,000 participants when he began. Colorado Springs hosted the State Games of America a record three times, in 2005, 2007 and 2009.
In addition to his role at the city's sports commission, Osborne also served on the board of directors for The Broadmoor World Arena, Visit Colorado Springs and The Broadmoor Pikes Peak International Hill Climb – both as chairman and vice chairman.
"He will be remembered for his ability to attract sporting events to the Pikes Peak region, from the Warrior Games, to premier cycling events, the Colorado Classic and the USA Pro Challenge," said Doug Martin, chief operating officer of the Colorado Springs Sports Corp. "Tom's love of this city and the sporting venues it offers was the catalyst in bringing new events, tournaments, and national governing bodies to Colorado Springs."
Timothy Schneider, chairman of the Sports Division for Northstar Travel Group and the founder of SportsTravel, praised Osborne as a significant supporter of the sports-event industry through his roles with the NCSG and his leadership in Colorado Springs, in the Olympic movement and beyond. "Tom was a true partner and was always supportive of our efforts with the magazine, the TEAMS Conference and our annual SportsTravel Road Trip," Schneider said. "He never hesitated to extend himself on behalf of the sports-event industry. His leadership, his engaging personality and his willingness to forge partnerships made Tom a cherished, irreplaceable friend."