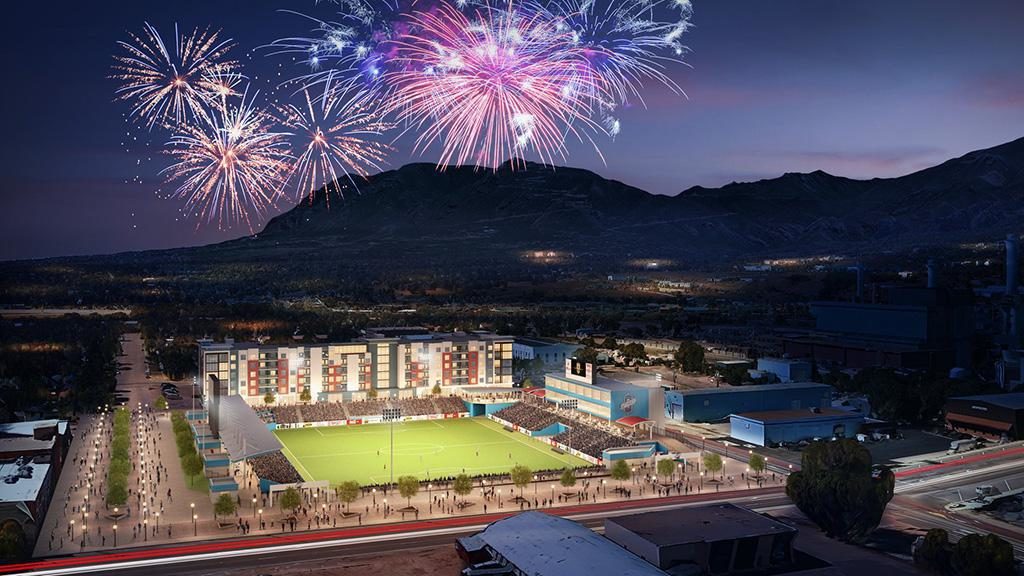 It will be a new stadium but a familiar name for the Colorado Springs Switchbacks of the USL Championship.
The team's new 8,000-seat stadium in the downtown district will be named Weidner Field when it opens for the 2021 season, extending a sponsorship with Weidner Apartment Homes that exists already with the team's current home field.
"It's a special day as we are commemorating this stadium as Weidner Field," said Switchbacks President Nick Ragain. "The value that Weidner Apartment Homes team brings to this development, to the franchise and to the city goes far beyond our walls. We're very excited to officially name this Weidner Field."
The stadium is part of Colorado Springs' City of Champions project, which includes the U.S. Olympic & Paralympic Museum that opened in July. The new stadium will have 3,000 more seats for fans.
"On behalf of Dean Weidner and the 1,800 team members of our company, we are thrilled to extend our stadium naming rights sponsorship with the Switchbacks FC at the USL Championship's newest stadium right here in Colorado Springs," said Weidner Apartment Homes Vice President of Government Affairs Greg Cerbana. "Weidner Field will be one of the most exciting places in all of Southern Colorado to experience live sporting events, attend business meetings, dine on exceptional local cuisine and host private events."
The stadium will be the highest elevated professional stadium in the USL Championship and the United States at 6,035 feet above sea level.