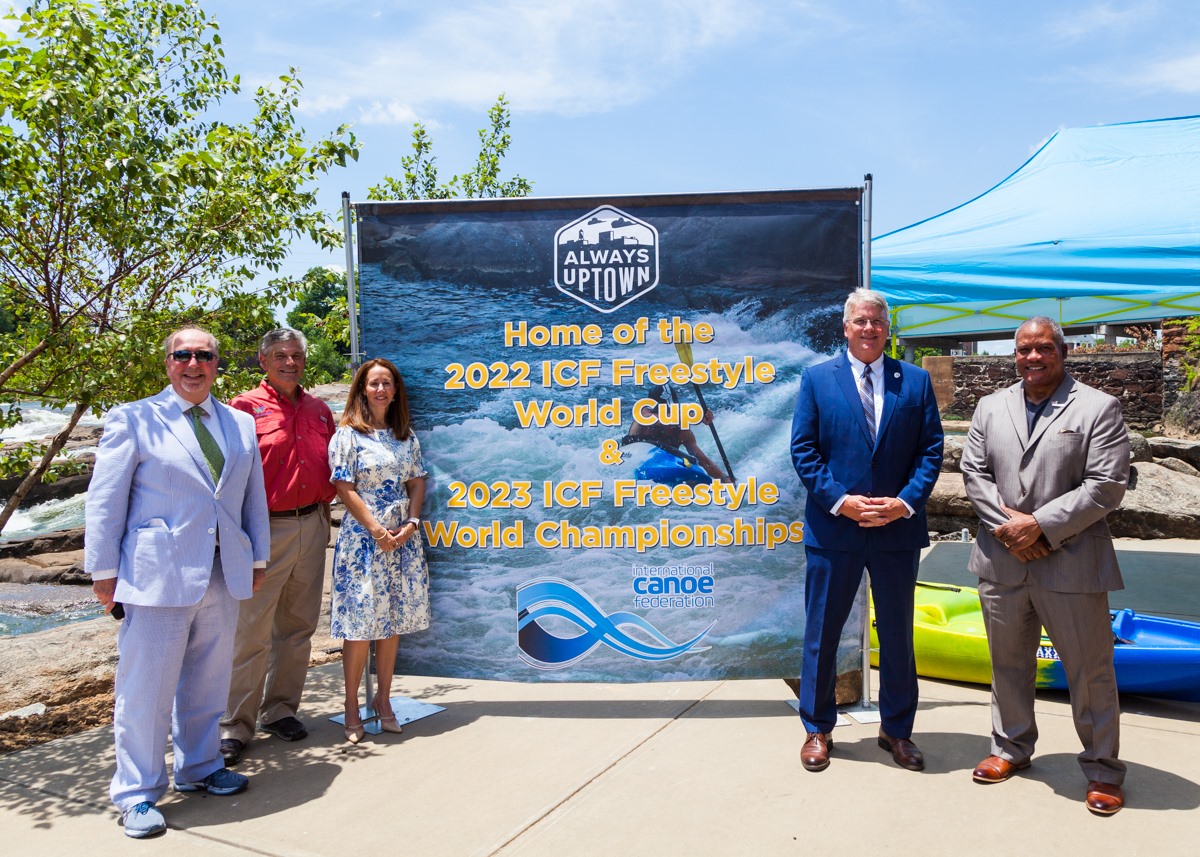 Columbus, Georgia, will be hosting many of the world's best kayakers when the 2022 World Cup and 2023 World Championships come to the destination to compete on the Chattahoochee River between Columbus and Phenix City.
The announcement was made by Columbus Mayor Skip Henderson, Phenix City Mayor Eddie Lowe and Uptown Columbus.
"I don't think we can fully comprehend how big this is," Henderson told attendees. "To have the world cup and the world championships here for two years in a row — yes it's going to bring economic development. … But we are already the site of the longest urban-setting whitewater rapids in the world. Can you imagine how that notoriety is going to grow as the world tunes in to see some of the most talented competitors you've ever seen, right here in Columbus, Georgia?"
The competitions are sanctioned by the International Canoe Federation. The World Cup will take place October 3–9 with two different competitions and the World Championships — the first in the U.S. since 2013 — will take place June 27-July 1, 2023. Columbus and Phenix City will be following the competition planned next year in Nottingham, England.
"We are thrilled to bring this Olympic caliber event to the area," said Helena Coates, chair of Uptown Columbus, Incorporated. "It is a great honor to be selected by the International Canoe Federation to host these prestigious events and serves as the capstone of an eighteen-month effort by local leaders to bring the competitions here."
Columbus' whitewater course has previously hosted world-class kayakers as part of the USA Freestyle Kayaking National Championships. The Chattahoochee River annually brings around 50,000 visitors to the region.
"Attracting an international sporting event that will generate 11 days of world-wide attention on Phenix City and Columbus is a huge feather in our cap," said Lowe. "We plan to leverage these events to gain a competitive advantage in our economic development efforts to attract and retain more businesses and talented people to the region."
The World Championships should attract over 300 competitors from over 30 countries.
"Our mix of world-class whitewater features within walking distance to hotels, shops, restaurants and other attractions offer a compelling setting for the World Cups and the World Championships," said Ed Wolverton, president of Uptown Columbus Inc. "We hope to deliver the best environment that ICF competitors have ever seen in terms of water features and access to amenities."