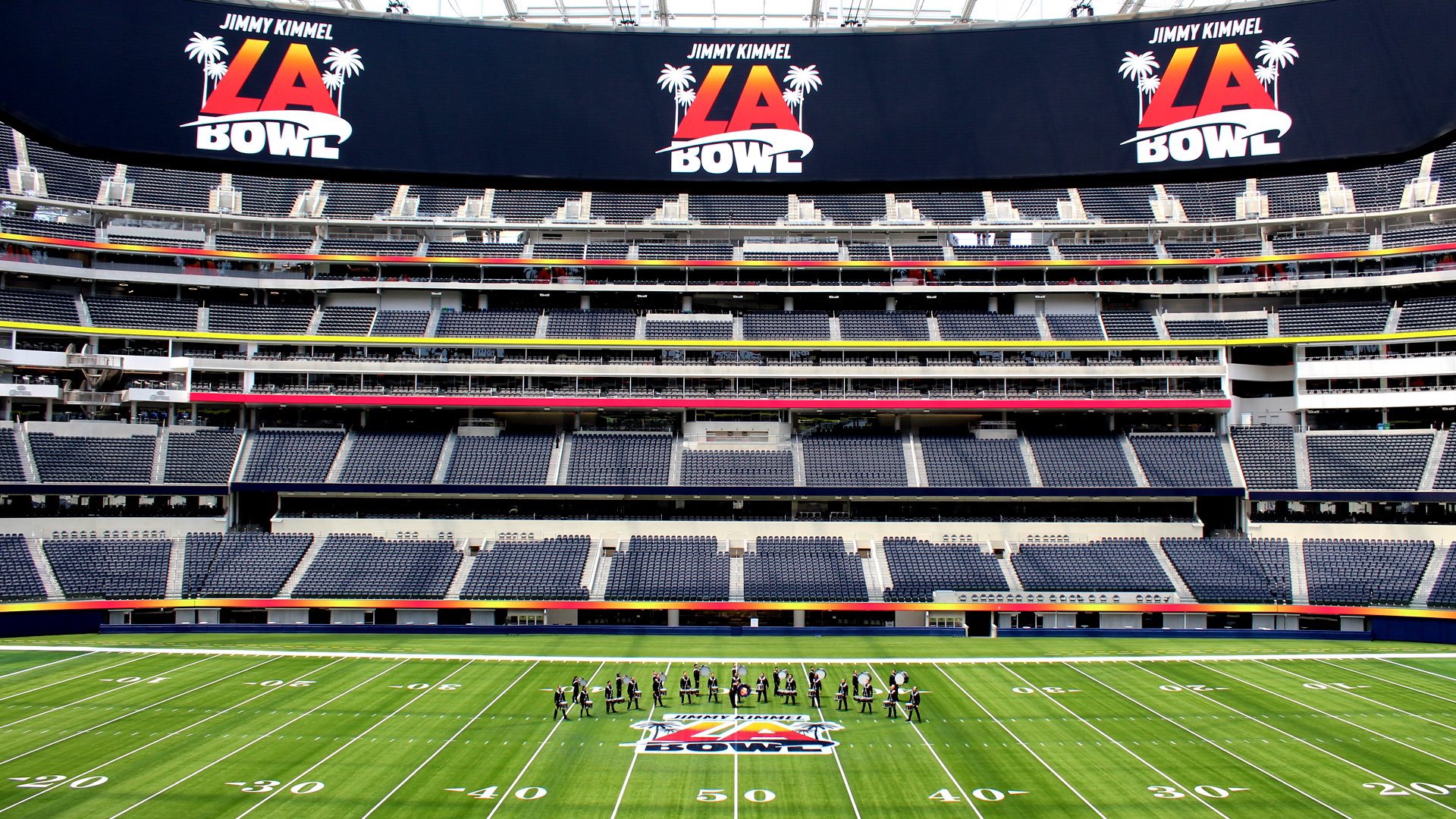 No, this is not a joke.
SoFi Stadium and Jimmy Kimmel have entered into a multi-year partnership to appoint the late-night host the official naming rights partner of LA Bowl, renaming the collegiate bowl game the Jimmy Kimmel LA Bowl.
Held at SoFi Stadium in Inglewood, California, the Jimmy Kimmel LA Bowl will feature Mountain West's No. 1 selection versus Pac-12's No. 5 selection. The game was scheduled to be held in 2020 but was canceled because of the pandemic. The 2021 game will be December 18 on ABC at 4:30 p.m. PT.
Finally, a college football bowl named after a human being…the inaugural Jimmy Kimmel LA Bowl on December 18th at @SoFiStadium pic.twitter.com/SylNjHUPK2— Jimmy Kimmel (@jimmykimmel) June 17, 2021
"We cannot think of a better way to bring sports and entertainment together than by collaborating with celebrated late-night host and comedian Jimmy Kimmel on our collegiate bowl game," said Jason Gannon, executive director of the game. "Jimmy Kimmel LA Bowl will not only bring an incredible game day experience to fans, but it will also focus on supporting our community 365 days a year."
Kimmel will work with several community partners throughout the year leading to the game, including Inglewood's One For All to support youth through social programs that emphasize the importance of personal growth and community involvement; with the Boys and Girls Clubs of LA Harbor and LA Metro by helping to end food insecurity in those communities; and with additional Los Angeles charities.
"Never before has a bowl game been named after a human being (as far as I know, I didn't check)," Kimmel said when announcing the partnership on his Wednesday night show. "On December 18, my dream of being forever enshrined alongside orange, rose, cotton and peach comes true."