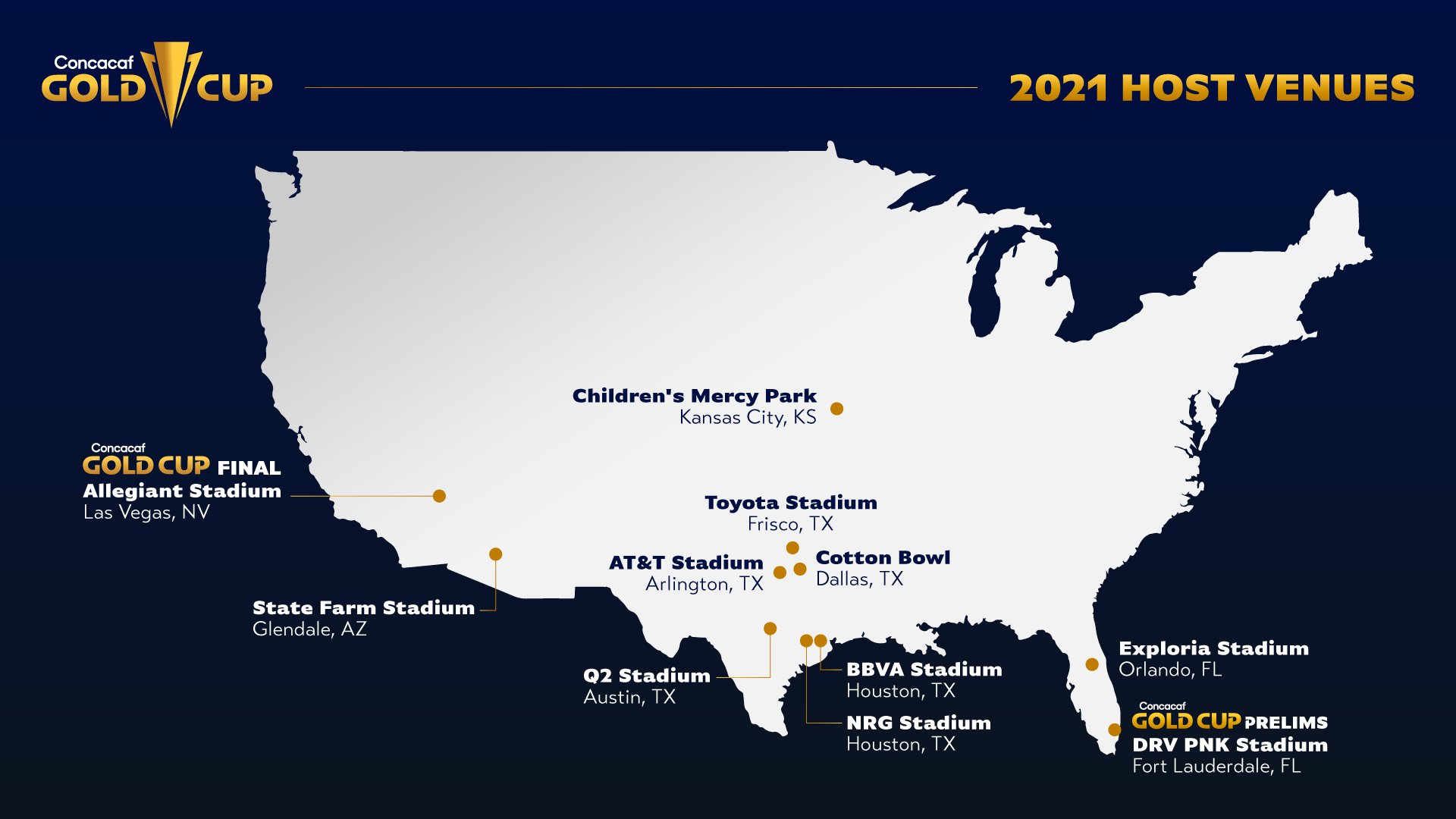 CONCACAF has announced the nine stadiums in six destinations that will host group, quarterfinal and semifinal matches in the 2021 Gold Cup leading to the August 1 final at Allegiant Stadium in Las Vegas.
"The announcement of these outstanding venues moves us a step closer to what is sure to be a great Gold Cup this summer," said CONCACAF President Victor Montagliani. "It is fitting that in our 60th anniversary year we will use a number of stadiums with a rich history of hosting CONCACAF football, while also making history with new venues that will host Gold Cup matches for the very first time."
Six of the nine stadiums are in Texas along with one apiece in Florida, Kansas and Arizona. CONCACAF has not yet announced a ticket policy for the games but each of those states has been among the most open to having larger capacity for its outdoor events.
The stadiums that will host group and knockout stage matches are, in alphabetical order (previously hosted Gold Cups):
AT&T Stadium, Arlington, Texas (2009, 2011, 2013, 2017)
BBVA Stadium, Houston, Texas (2013, 2015, 2017, 2019)
Children's Mercy Park, Kansas City, Kansas (2011, 2015, 2019)
Cotton Bowl, Dallas, Texas (1993)
Exploria Stadium, Orlando, Florida (first-time host)
NRG Stadium, Houston, Texas (2005, 2007, 2009, 2011, 2019)
Q2 Stadium, Austin, Texas (first-time host)
State Farm Stadium, Glendale, Arizona (2009, 2015, 2017, 2019)
Toyota Stadium, Frisco, Texas (2015, 2017, 2019)
"We are a major sports destination with the best fans in the nation," said Harris County—Houston Sports Authority Chief Executive Officer Janis Burke. "The fact that we have two fabulous venues capable of successfully hosting multiple Gold Cup matches is a true testament to how special our community has become in the global sports realm. Houston is a host candidate for the 2026 FIFA World Cup and being a cornerstone in this marquee international tournament supports our bid efforts."
"On behalf of our stakeholders within the Greater Orlando sports ecosystem, we want to welcome CONCACAF back to Orange County and downtown Orlando's Exploria Stadium for this summer's Gold Cup competition," said Jason Siegel, president and chief executive officer of the Greater Orlando Sports Commission. "Events like the Gold Cup provide the residents of our community and those traveling to our destination a wonderful opportunity to celebrate the beautiful game, and we look forward to welcoming international teams to our region as we continue our pursuit of the 2026 FIFA World Cup."
The group stage featuring 16 national teams will begin on July 10 and will be played in a hub-city format, reducing team travel to prioritize the safety of all involved. Which groups will play in which areas has not been announced yet.
Group A: Mexico, El Salvador, Curacao and Winner Prelims 9
Group B: USA, Canada, Martinique and Winner Prelims 7
Group C: Costa Rica, Jamaica, Suriname and Winner Prelims 8
Group D: Honduras, Panama, Grenada and Qatar.
In a significant development to the format, for the first time all the Gold Cup's final group stage matches will be played simultaneously. The preliminary rounds will be July 2-6 at DRV PNK Stadium in Fort Lauderdale, Florida, to determine the final three spots in the field.