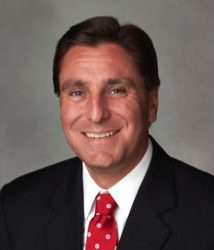 Olympic sports veteran Daryl Seibel has been named chief brand and communications officer for the Federation of International Lacrosse, weeks after the International Olympic Committee gave provisional recognition to the sport. Seibel, the former communications director for the U.S. Olympic Committee, was hired by FIL Chief Executive Officer Jim Scherr, who is the former CEO of the USOC. He will begin the role in mid-January 2019 and be responsible for working with the FIL board, staff and stakeholders to develop and implement strategies that support the continued growth of lacrosse worldwide, including the introduction of a new brand platform for FIL. The Federation of International Lacrosse has 62 member nations and is responsible for the international governance and development of the sport.
"Darryl is held in high regard in the Olympic movement and he brings an impressive record of success in strategic communications, brand development, marketing and broadcasting to FIL," said Scherr. "His understanding of international sport, vast network of professional contacts and expertise in designing strategic communications programs that support brand growth and revenue generation will be of great value to our organization."
"This is an exciting moment in time for the Federation of International Lacrosse and the sport globally," Seibel said. "With visionary leadership, a rapidly growing base of participants and the contributions of dedicated volunteers, FIL is poised to write one of the great success stories in international sport. I'm honored to have the opportunity to play a part in shaping that narrative and in supporting the continued growth of this wonderful sport around the world."
Seibel served as chief communications officer/director of communications for the British Olympic Association (2009–2014) and the USOC (2003–2009). He also directed the strategic communications program for World Sailing at the Rio 2016 Olympic Games and was a press officer for the USOC at the Barcelona 1992, Lillehammer 1994 and Salt Lake City 2002 Games. From 1992–1999, he also served as director of communications for USA Hockey.
Seibel also served as deputy director of athletics at the University of Nevada, Las Vegas (UNLV) from 2014–2017 and most recently was chief brand and communications officer for the Mountain West Conference.