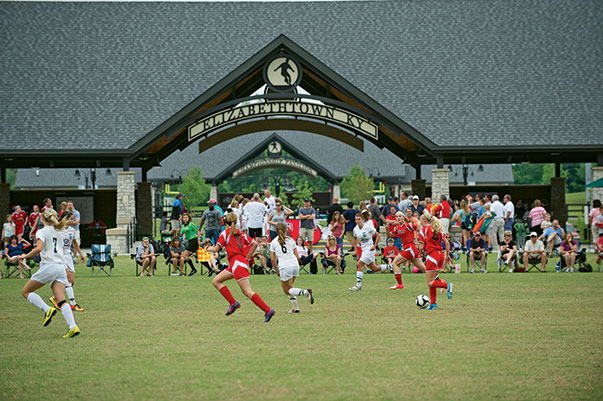 The South is fiercely proud of its traditions, whether it's sweet tea, Sunday school or sports. College towns like Knoxville, Tennessee, revel in school pride. Elizabethtown, Kentucky, has a sprawling sports complex that draws major youth tournaments. Tuscaloosa, Alabama, though famous for college football, also is a haven for triathlons at its downtown riverfront. The Mississippi Gulf Coast turns competitions into vacations, and Rogers, Arkansas, is making a name for itself in the cycling world. New Orleans is a major player for major events, consistently on the roster for the Super Bowl and Final Four.
Whether it's college cities or small suburbs, beach towns or the Big Easy, these Southern destinations offer rights holders mild weather, world-class facilities, easy access and a Southern passion for sports.
Elizabethtown, Kentucky
Which comes first: the sports tourism or the venue? In Elizabethtown, Kentucky, the answer is certainly the Elizabethtown Sports Park. The complex opened in June 2012 and has since generated enough tourism to drive community development.
"If you compare what was going on in Elizabethtown then and what is going on in Elizabethtown now, there are several areas where we've seen a boom," said Janna Clark, sports and sales director for the Elizabethtown Tourism & Convention Bureau. "We're excited about having our community development catch up to our park development."
Downtown is hopping with restaurants, shops and entertainment, including the new Kentucky High School Basketball Hall of Fame. American Legion Water Park opened last summer, a new nine-screen movie theater is scheduled to open next summer, and a new indoor trampoline park is in the works. But perhaps the biggest boom has been in hotels. Three new hotels are under construction and more are planned. "We knew we needed to start with a facility," Clark said. "After we took care of that, it created more visitors."
Elizabethtown's major sports are those that fit the sports park, which has 12 diamonds and 12 multiuse fields (two synthetic). Maryland-based Elite Tournaments was the park's first soccer client, and the company organizes three annual events there: two showcases in April and the annual Elizabethtown Fall Invitational in September, said Matt Libber, Elite's vice-president of business operations.
Kentucky's central location works well for Elite, and the facility "is fantastic, probably one of the best facilities we use in the country," he said. The staff is so accommodating that "the service we get there is over the top."
The field crew and support staff also keep Game Day USA coming back every year, and the facility itself "is one of the best that we've experienced," said Don Flynn, Game Day's vice-president of business development. The company runs four baseball tournaments there.
The park has also hosted ultimate, lacrosse and field hockey tournaments, as well as cross-country meets that use the natural areas of the 158-acre complex. When the park first opened, the city had no local lacrosse at all, and now it has high school and club teams. The park "has been kind of an incubator" for the sport, Clark said.
Knoxville, Tennessee
Knoxville often surprises visitors. "People come here with a preconceived notion of what Knoxville will be, and they leave thinking it's awesome," said Parker Medley, sports sales director for the Visit Knoxville Sports Commission.
USA Cycling's 2017 Professional Road Championships drew about 200 cyclists to the city in June, and the event will return in 2018 and 2019. "The town really embraced it, and the attendance was awesome," Medley said.
Three miles from downtown, Knoxville's Urban Wilderness is 1,000 acres of forested waterfront where bikers, hikers and runners will find more than 50 miles of natural-surface trails, including the challenging Devil's Racetrack downhill trail that opened last year. The sports commission is hoping to partner with Legacy Parks Foundation to attract trail running, mountain biking and cyclocross events. The city also is planning to build a BMX track.
Indoor sports are a major market thanks to the 500,000-square-foot Knoxville Convention Center. Last fall, the sports commission bought sports courts for the convention center so organizers don't have to rent them. The Ozone Invitational, an annual youth gymnastics meet, draws about 3,000 athletes to the center.
John Tarleton Park, with five fields, is a venue for the city's two largest youth football events: the Battle in Rocky Top, a national tournament held every November, and the National Youth Football Kick-off Classic in August.
Visit Knoxville partners with the University of Tennessee to bring events to campus, and key venues include the 21,678-capacity Thompson-Boling Arena, the recently renovated Tom Black Track at LaPorte Stadium and the Allan Jones Aquatic Center.
Rogers, Arkansas
Tucked into the northwest corner of Arkansas, Rogers is about four hours from Oklahoma City and five hours from Dallas. Bentonville—home to Walmart headquarters and the Crystal Bridges Museum of American Art—is just northwest of Rogers. In Rogers, visitors will find fine dining, meeting space and concert venues, and nearby are lakes, forests and state parks. The University of Arkansas is just down the road in Fayetteville, and the Double-A Northwest Arkansas Naturals, a Kansas City Royals affiliate, play in nearby Springdale.
"I tell people the possibilities are endless in Rogers," said Kelly Parker, sports and tourism marketing manager for Visit Rogers. "You can be hiking in the morning and go to a concert that night."
Cycling is popular, in part because of the efforts of Northwest Arkansas Trails and the Walton Family Foundation, which has donated millions of dollars to develop trails. Bentonville hosted the International Mountain Bicycling Association's World Summit in November 2016, which included an event at Rogers' bike park, the Railyard.  "The word is getting out there that little ol' Rogers, Arkansas, is a great place to come for cycling," Parker said.
The sprawling Beaver Lake has been host to an annual Fishing League Worldwide tournament for more than a decade, and although the FLW is trying out new waters next year, "their plan is to come back at some point," Parker said. The lake curves around Hobbs State Park, site of the annual War Eagle Trail Running Festival, which attracts about 700 runners.
Rogers has an active field sports scene as well. Several USSSA tournaments use Rogers Regional Sports Park, which has six softball/baseball fields. In July, Senior Softball USA's Midwest Championships drew nearly 50 teams from 10 states. Veterans Memorial Park has two baseball fields, two softball fields, one grass football field, one turf multipurpose field and four grass multipurpose fields, all fresh from an overhaul in 2015. The multipurpose fields have been used for soccer and rugby, as well as the region's fastest-growing sport: lacrosse.
Parker is also looking for ways to tap the potential of the John Q. Hammons Convention Center, which is attached to the 400-room Embassy Suites. The center's main ballroom is 41,550 square feet and would work well for indoor events such as boxing matches and table tennis tournaments.
Tuscaloosa, Alabama
The University of Alabama's football tradition means "you don't have to spend that time explaining where Tuscaloosa is," said Don Staley, CEO of Tuscaloosa Tourism and Sports. "We have great history and tradition, but we're so much more."
People are familiar with Alabama football, but they might not know what else Tuscaloosa has to offer. The city is undergoing a riverfront renaissance on the banks of the Black Warrior River. Visitors will find the Tuscaloosa River Walk, Amphitheater and River Market along with other restaurant, residential and retail development.
Tuscaloosa Tourism and Sports collaborates with the university to book events at the school's facilities. The state high school football championships are played every other year at the university's football venue, Bryant-Denny Stadium, and feature eight games in 72 hours, including a flag-football game for students with intellectual disabilities. Fun fact: Bryant-Denny Stadium can seat 101,821 people, which is slightly more than the city population of 99,500.
Downtown is ideal for road and water sports. The city is "pretty darn good at doing triathlons," which usually center around the 8,000-seat riverfront Tuscaloosa Amphitheater and use the river for the swim and Jack Warner Parkway for cycling. USA Triathlon keeps returning to Tuscaloosa, most recently in April for its 2017 Collegiate Club and High School National Championships.
The university's 3,940-seat Rhoads Stadium is home field for the softball team and has hosted several regional NCAA tournaments, SEC championships and the 2016 National Pro Fastpitch Championships. Sokol Park South has eight lighted fields, and Sokol Park North has another four. Bowers Park features eight recently renovated diamonds.
Gymnastics meets often use the 15,383-seat Coleman Coliseum, which is home to the school's basketball teams.
Mississippi Gulf Coast
Visit Mississippi Gulf Coast represents 13 communities in three counties along the state's scenic coastline. Calm waters, mild weather and seafood are all big reasons people flock to the area, but event organizers are equally drawn to the region's sports venues.
"It's a great destination for youth to come down here and spend a week," said Craig Mackay, sports development manager for Visit Mississippi Gulf Coast. For the Gulf Coast Youth Baseball Nationals in July, Athletx Sports Group drew nearly 70 teams to the Ocean Springs Sports Complex, which has four softball fields, five baseball fields, four soccer fields and two football fields. The A.J. Holloway Sports Complex in Biloxi has three soccer fields, four softball fields, one adult baseball field and five youth baseball fields.
The new D'Iberville Sports Complex is scheduled to open this fall with four lighted multipurpose fields and four lighted baseball/softball fields.
In Gulfport, the 250-acre Gulfport Sportsplex is expanding to add six new synthetic turf baseball fields, bringing the total of diamonds to 15, and two additional stadium-style grass soccer fields for a total of six soccer and multipurpose fields.
Visit Mississippi Gulf Coast represents 12 casino hotel properties, and American Star Field at MGM Park in Biloxi is home to the Biloxi Shuckers, the Double-A affiliate of the Milwaukee Brewers. The park served as the finish line and festival grounds for the inaugural Mississippi Gulf Coast Marathon in December.
Also in Biloxi, the Mississippi Coast Coliseum and Convention Center has 400,000 square feet of meeting and exhibit space and an 9,000-seat arena. The center hosts a variety of indoor sporting events, such as the 2017 National Veterans Golden Age Games, which drew 783 contestants to compete in air rifle, pickleball, badminton, table tennis, bocce, shuffleboard, horseshoes, basketball and nine-ball pocket billiards.
The coast "is a venue itself because you can do all kinds of cool stuff" such as beach volleyball, open-water swims and fishing tournaments, Mackay said. The 2017 Mercury Southern Kingfish Association National Championship will be held in Biloxi in October.
New Orleans, Louisiana
In 2018, New Orleans will celebrate its tricentennial. A strong sense of history, combined with the city's venues, make New Orleans a sports destination, according to Jay Cicero, president and CEO of the Greater New Orleans Sports Foundation.
"We have more history with major events, and we have the infrastructure that every other city tries to imitate," he said. "The fans want to come here, and the sponsors want to come here."
Over the past 30 years, efforts to develop infrastructure to support major events have come to fruition. Today the city has 20,000 downtown hotel rooms within walking distance of the 55-acre district that's home to Mercedes-Benz Superdome, the Smoothie King Center, Champions Square festival plaza, the Ernest N. Morial Convention Center and the famed French Quarter. "You combine all these assets together, you've got something special," Cicero said.
In New Orleans, "football is king," he said. The Superdome is home to the NFL's New Orleans Saints. The city has hosted the Super Bowl 10 times, and officials are hoping for 11. The Superdome is also the venue for the Sugar Bowl, the Bayou Classic and the R+L Carriers New Orleans Bowl. It also will welcome the 2020 College Football Playoff championship game. Tulane University has Yulman Stadium on campus. "There's a lot of football that happens in our town," Cicero said.
As part of the city's tricentennial celebration, the Superdome will host five days of events for the 2018 WWE WrestleMania 34. In 2014, more than 75,000 WWE fans filled the Superdome for WrestleMania 30.
The NBA's New Orleans Pelicans call the Smoothie King Center home. The 17,000-seat arena also hosted the 2017 NBA All-Star Game. The city will welcome the NCAA Final Four for the sixth time in 2022 and the Women's Final Four for the fourth time in 2020. College baseball "is very big in south Louisiana," Cicero said, and Tulane and the University of New Orleans "both have wonderful on-campus facilities."
The Triple-A New Orleans Baby Cakes, a Miami Marlins affiliate, play at the 10,000-seat Shrine on Airline park.
Southern Charm
In the South, it pays to look beyond the familiar tradition to discover everything that its destinations have to offer—a place may be famous for one thing, but that doesn't mean that's all it can do. These cities have a plethora of facilities, including new and expanding sports complexes, modern convention centers, major arenas and professional stadiums, as well as plentiful natural resources.