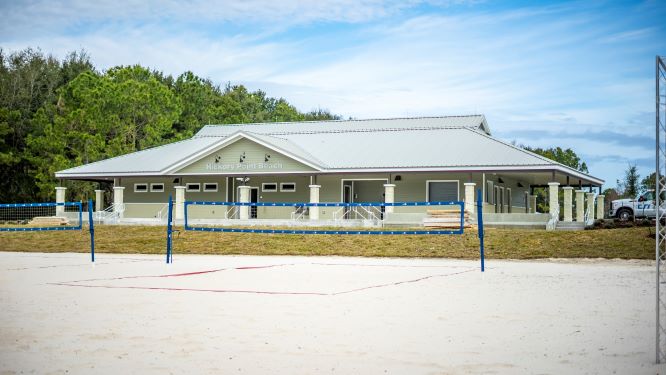 The Florida Region of USA Volleyball has announced that Hickory Point Beach in Tavares, Florida, has been approved to become the first Beach ParaVolley Development Center in the world, after a designation by World ParaVolley.
Beach ParaVolley is under consideration for inclusion in the 2028 Paralympic Games in Los Angeles. With the designation, Hickory Point Beach will serve as a center for upcoming competitions, events, clinics, camps and training/education opportunities for athletes, coaches and officials.
"History has been created with the World ParaVolley Hickory Point Beach Development Center being approved by the Board," said Dr. Stephen Giugni, World ParaVolley assistant sport director for beach. "This is the first beach paravolley development center and will serve as a focus for training and development and events in the future as we strive to promote beach paravolley as an important discipline of World ParaVolley."
Chair of the WPV Beach Commission Chris Seilkop said, "I am very pleased that the Center has been approved and I look forward to the many benefits that will flow for the athletes as we work towards ensuring that beach paravolley will be on the sport program for LA2028."
Hickory Point Beach opened in July 2014 with 21 professional-grade courts and lights through a public‐private partnership with Lake County, Florida, through their Tourism Development Tax program. In 2019, the county added a 4,000-square-foot Athletic Center to support the regional, national and international events that take place at the complex each year.
This year, the county is adding a grand entrance along with wheelchair-grade sidewalks to accommodate the beach para athletes. Since opening, the complex has welcomed guests and competitors from over 100 cities in Florida, 25 states and 15 countries and has generated an estimated $11 million in economic impact.
"This designation showcases Hickory Point Beach's commitment to accessibility and inclusivity, and we could not be prouder to have this state‐of‐the‐art facility right here in Lake County," said Brandon Matulka, executive director for Lake County's Economic Growth Office. "We are excited for the many opportunities the Center will create for adaptive athletes and the beach ParaVolley community."