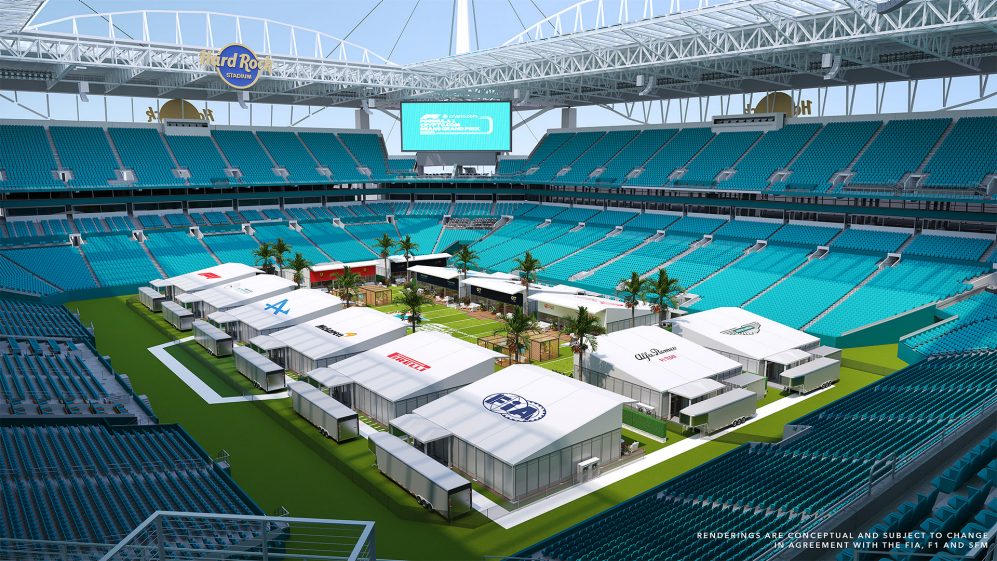 Organizers of the Miami Grand Prix have announced several major changes are being made on and off the track at the Miami International Autodrome ahead of the second running of the race in 2023.
Miami's Formula 1 debut in 2022 delivered a sellout with almost 250,000 spectators visiting the South Florida venue based around Hard Rock Stadium over the course of the weekend.
For the 2023 edition scheduled to take place May 5–7, a series of upgrades are being worked on, headlined by a paddock expansion and circuit resurfacing. Circuit designers Tilke Engineers & Architects will oversee a repaving of the entire 3.36-mile layout, promoting closer racing and opening up overtaking opportunities.
"After an incredible debut race, we have been working flat-out to ensure the 2023 event is an even greater experience for everyone visiting the Miami International Autodrome," said Tyler Epp, president of the Formula 1 Crypto.com Miami Grand Prix.
A new "Team Village" will be located on the field inside the stadium, housing the hospitality units for all F1 teams and freeing up space in the original paddock. Fans who purchase general admission Campus Pass tickets will be able to access the 300 level of Hard Rock Stadium and look directly into the village.
"Stephen Ross and Tom Garfinkel are committed to making May's event a best-in-class experience that is unlike any other Formula 1 race in the world," Epp said. "With new and enhanced hospitality experiences, the creation of the F1 Team Village directly on the football field and increased capacity, we are expecting our second race to be even bigger and better for the fans, the teams, drivers, partners and everyone in South Florida."
In addition to the paddock and track surface changes, a new, permanent three-tiered Paddock Club building — which can house more than 6,000 guests in premium suites and a luxury rooftop club — will arrive above the team pit garages, along with additional hospitality experiences and space.