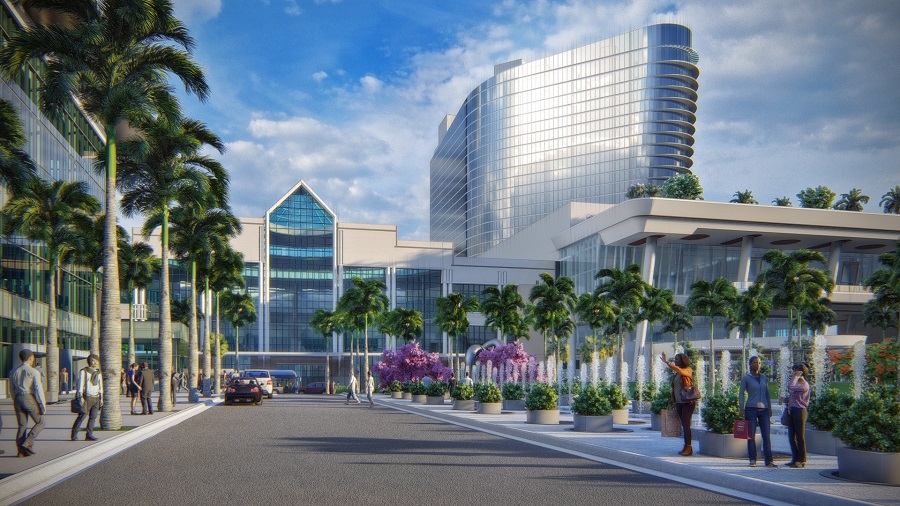 The newly expanded Greater Fort Lauderdale/Broward County Convention Center in Florida has reopened with the improved venue boasting 800,000 square feet of space, including 350,000 square feet of contiguous exhibit space. While the latest expansion has opened, more work remains, with total planned renovation expected to finish out at 1.2 million square feet by late 2025.
The new additions include an eastside building with waterfront ballrooms, meetings rooms and kitchen facilities, and a five-acre outdoor waterfront plaza with three restaurants and an amphitheater in a park-like setting.
Future plans also include an 800-room upscale headquarters hotel interconnected with the convention center. Details for that project are still being finalized.
The total cost for the convention center expansion and new hotel is estimated at $1.1 billion.
"The convention center expansion with a new 65,000-square-foot waterfront ballroom, along with our expanded exhibit hall and other new features, makes Greater Fort Lauderdale highly competitive in the national convention landscape," said Stacy Ritter, president and chief executive officer of Visit Lauderdale. "The expansion is key to our continuing evolution as an upscale, cosmopolitan and diverse tourism and meetings destination."