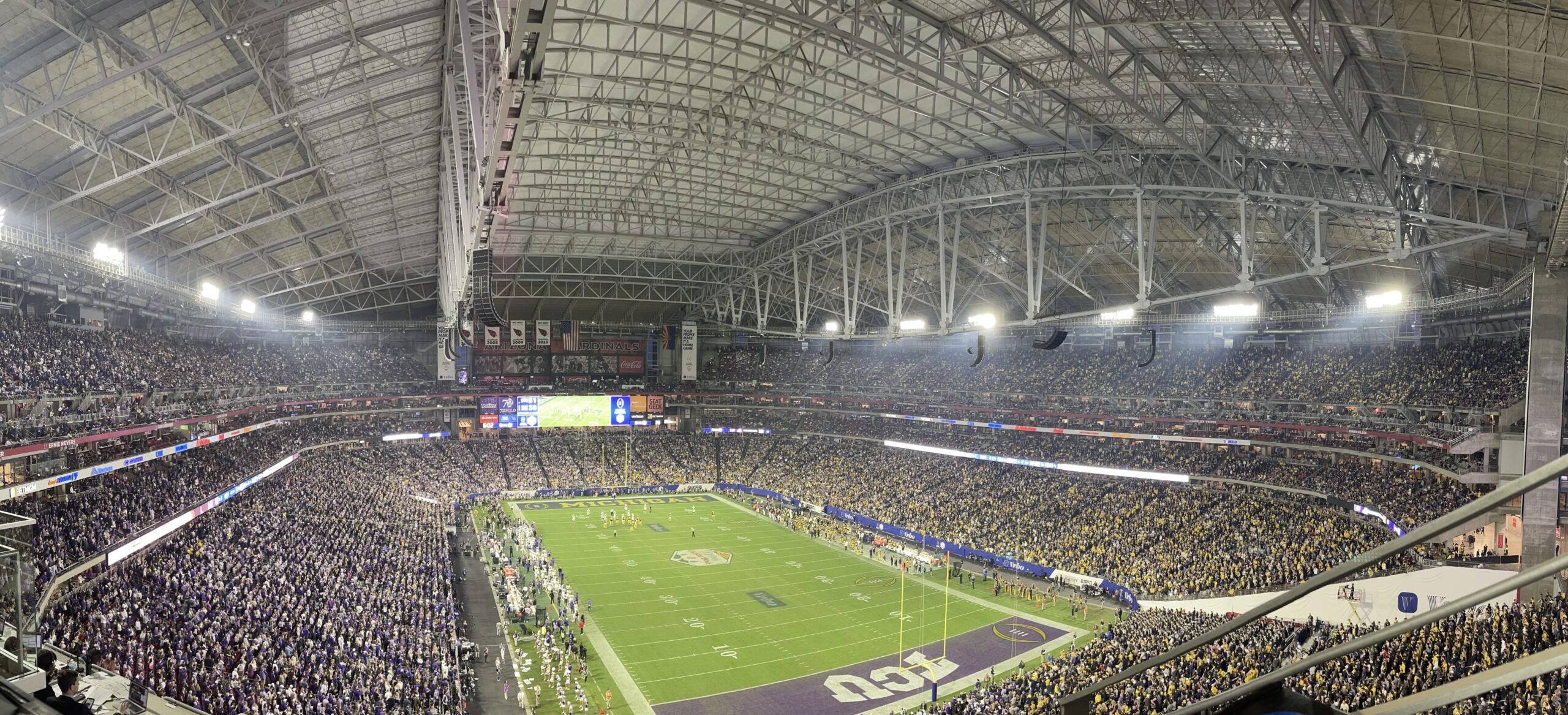 Glendale, Arizona, sits 10 miles northwest of Phoenix, but the city is creating its own brand as an entertainment oasis that has boomed in recent years into one of the top sports tourist destinations in America.
The Fiesta Bowl hosted an epic College Football Semifinal on December 31, as State Farm Stadium in Glendale welcomed fans from TCU and Michigan for what would turn out to be a 51–45 upset win for the Horned Frogs. But that large event was merely an appetizer for the area as attention turns to hosting Super Bowl LVII on February 12.
"The city of Glendale uses every opportunity to improve our ability to manage large-scale events such as the Fiesta Bowl and Super Bowl," said Rick St. John, Glendale deputy city manager. "With every mega event held in Glendale, our team is tasked with scanning for opportunities to improve so that we are even more prepared for the next event. The Fiesta Bowl was no different. In a similar fashion, this February we will not only focus on managing a great Super Bowl experience, but we will also be looking for ways to improve for the next large-scale event. We are committed to continual improvements."
It would be a boon for any city to host the Fiesta Bowl or Super Bowl in a given year. But to have both within six weeks shows that Glendale has become an epicenter for major sporting events and committees are taking notice.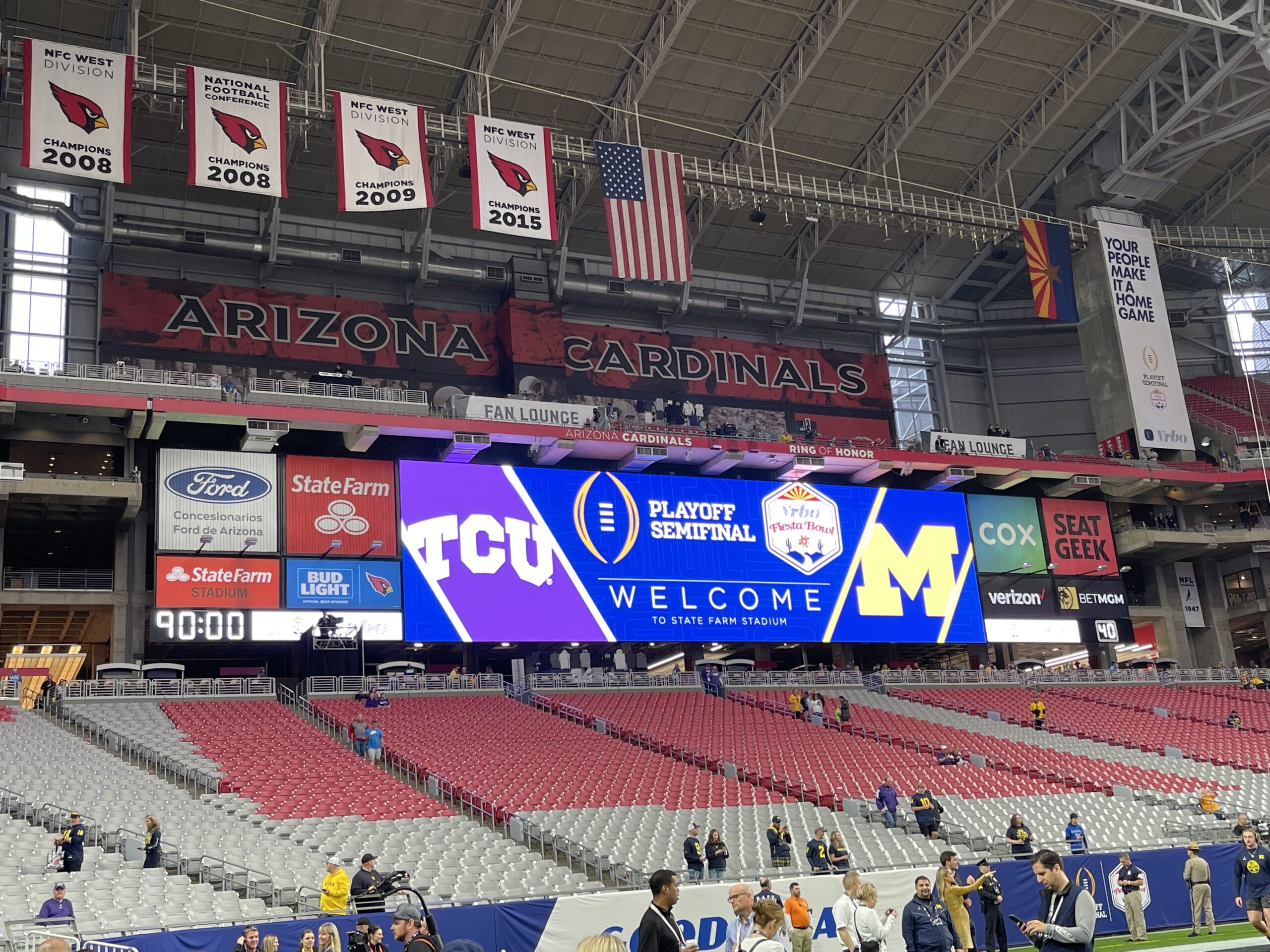 "We love all the action that takes place in Glendale," said Danielle Dutsch, Glendale Convention & Visitors Bureau administrator. "Our small but mighty team is well adept at providing destination and tourism experiences for a College Football Playoff like the Fiesta Bowl and turn right back around with a wide pivot for a mega event like the Super Bowl. We've got everything here within walking distance for fans and visitors to enjoy. From restaurants to nightlife to epic concerts as well as Desert Diamond Casino."
The Glendale Entertainment District features the Westgate Entertainment District, State Farm Stadium and Desert Diamond Arena. State Farm Stadium, home of the Arizona Cardinals, has hosted the Super Bowl in 2008 and 2015. It has hosted 16 Fiesta Bowls, international soccer, the NCAA Men's Final Four in 2017 and will do so again in 2024.
The city has also doubled its hotel inventory in the area with 12 this year compared with six in 2008 — with an additional four more scheduled to open by 2024. The Renaissance Phoenix Glendale Hotel & Spa is one of the crown jewel hotels in the Westgate area. It was the choice for TCU and Michigan fans throughout game week and into New Year's Eve.
The economic impact the Glendale area has contributed to Arizona tourism has been on a rapid ascent for the past decade. According to a city of Glendale spokesperson, the economic impact from Westgate, the Tanger Outlets connected to Westgate and State Farm Stadium since the 2014 fiscal year has tripled to $34 million. And the impact of hosting the Super Bowl this year reaches beyond football; the state of Arizona saw an estimated $719 million economic impact in 2015 and the Super Bowl Host Committee anticipates Super Bowl LVII to fuel the economy again in 2023.
As Glendale creates a larger footprint in the sports world, it continues to add more to the fan experience. Opening late 2023, VAI Resort will be the largest resort in Arizona. The $1 billion property will feature a $40 million concert venue that seats 8,000 people, a six-acre swimming area, a man-made party island, 1,200 rooms and 12 restaurants.
"VAI sets a bold new standard that sets Glendale apart with a first-of-its-kind, 60-acre oasis of entertainment and luxurious, tailor-made fun that brings the beach to the heart of Arizona," Dutsch said. "Glendale will be a multi-attraction, experiential destination that takes visitors on a customizable excursion all within Glendale's Sports & Entertainment District."
Also coming soon is the Mattel-branded theme park Mattel Adventure Park, the first of its kind in the world.
Westgate Entertainment District has it all
State Farm Stadium isn't the only sports venue in the Westgate Entertainment District. Desert Diamond Arena sits across the parking lot, north of the massive football structure.
Desert Diamond Arena will celebrate its 20th anniversary in December 2023, but the venue hardly looks that old. The 18,000-seat arena hosted the NHL's Arizona Coyotes until the team left before the start of the 2022–2023 season. But that hasn't slowed down Desert Diamond Arena General Manger Dale Adams and his staff.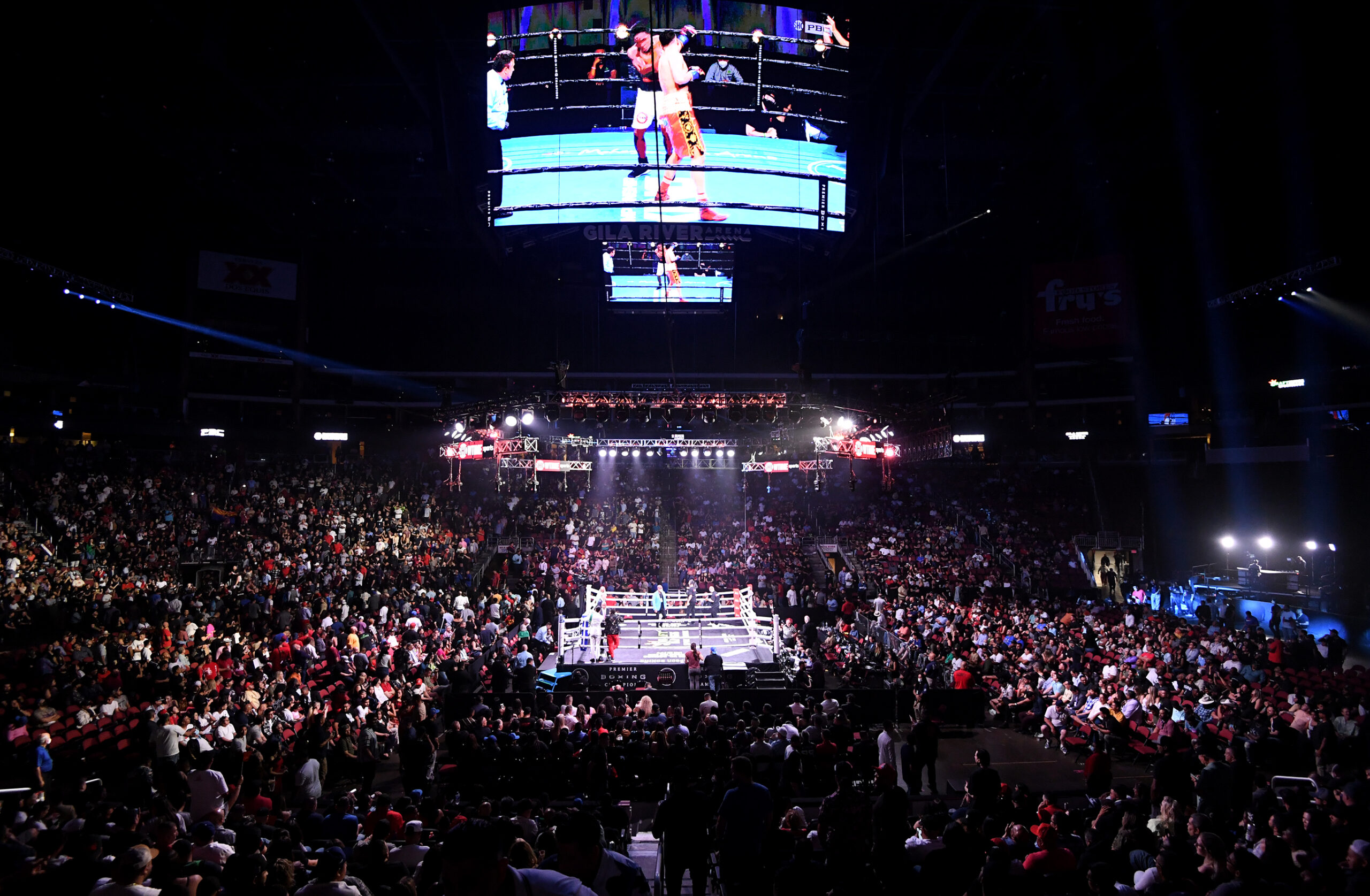 "Unfortunately, the Coyotes left, but that has opened up more dates for us to be able to host other events," Adams said. "We loved having the Coyotes here and we miss having them here, but now we're open to any type of sporting event that makes financial sense and will bring people into this area."
The arena has hosted many other sporting events including college basketball, the Harlem Globetrotters, boxing, MMA and Professional Bull Riding. It recently was the site of Jake Paul's boxing match with UFC legend Anderson Silva and has an ESPN Top Rank boxing championship match scheduled for February 3. Adams, who has been general manager since 2016, says the venue hosts around 70 events per year.
"We have a good relationship with Westgate and this whole area has been booming," Adams said. "This is not an arena out in the middle of nowhere — it's probably the most vibrant area around an arena in the entire world."
The Westgate area has nearly 40 food and drink options and continues to grow. In the next year, more big-name attractions will be added including Tiger Wood's Popstroke, Chicken and Pickle and Sugar Factory.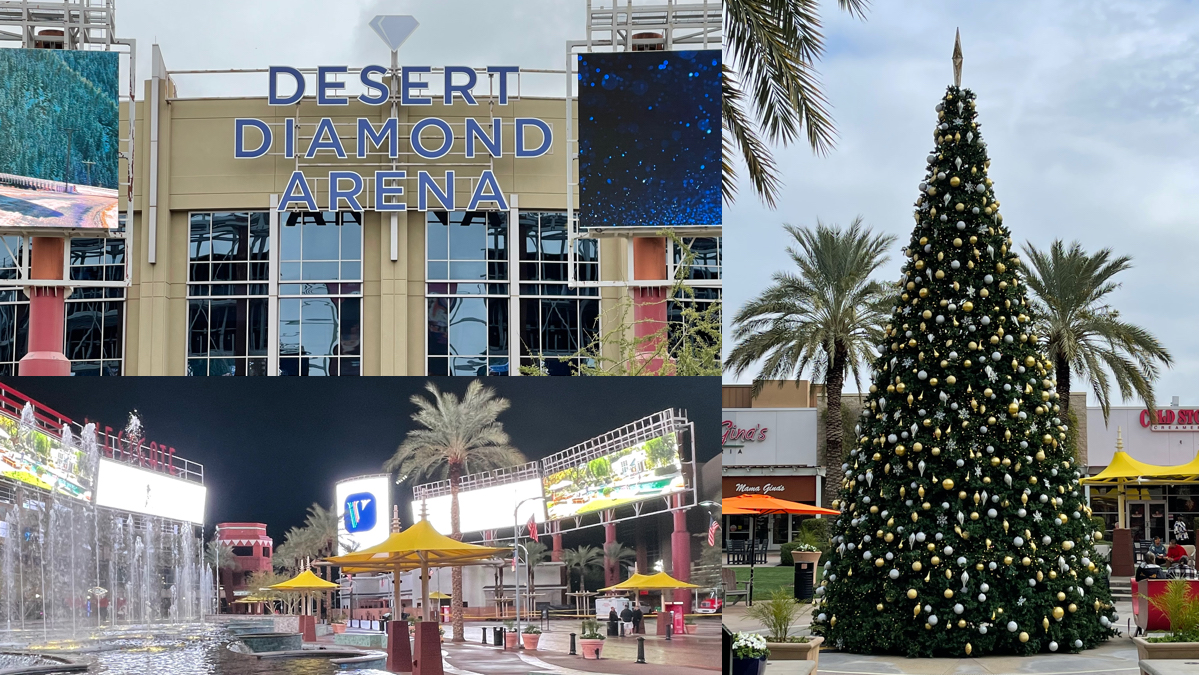 "A lot of committees for events are focused on downtown Phoenix, but everything is happening here and I think we're going to get more events as we continue to grow," said Adams, who added that the area will focus on bringing in more NCAA sporting events in the coming years and the venue is exploring a remodeling this summer.
"The building is still in great shape, so the remodel will focus mainly on fan-facing opportunities," he said. "We had a very successful year in 2022 and are looking forward to an even bigger 2023. We want people to have a great time at Westgate before and after the event, but when they're in our arena, we want to create a special experience."
Baseball in the desert
A few miles west of State Farm Stadium and the Westgate District sits a baseball paradise.
There are 15 Major League Baseball teams that make their spring training home in the Phoenix region. Glendale has teams from two of the three biggest sports markets in the country: The Los Angeles Dodgers and Chicago White Sox share Camelback Ranch, a 141-acre complex that features 118,000 square feet of major and minor league clubhouse space, 13 full baseball fields and three half-fields.
"Camelback Ranch has the largest fixed seating compacity in the Cactus League," said Camelback Ranch President and General Manager Matt Slatus. "We have just over 10,000 fixed seats and then room for more than 3,000 out on the lawn."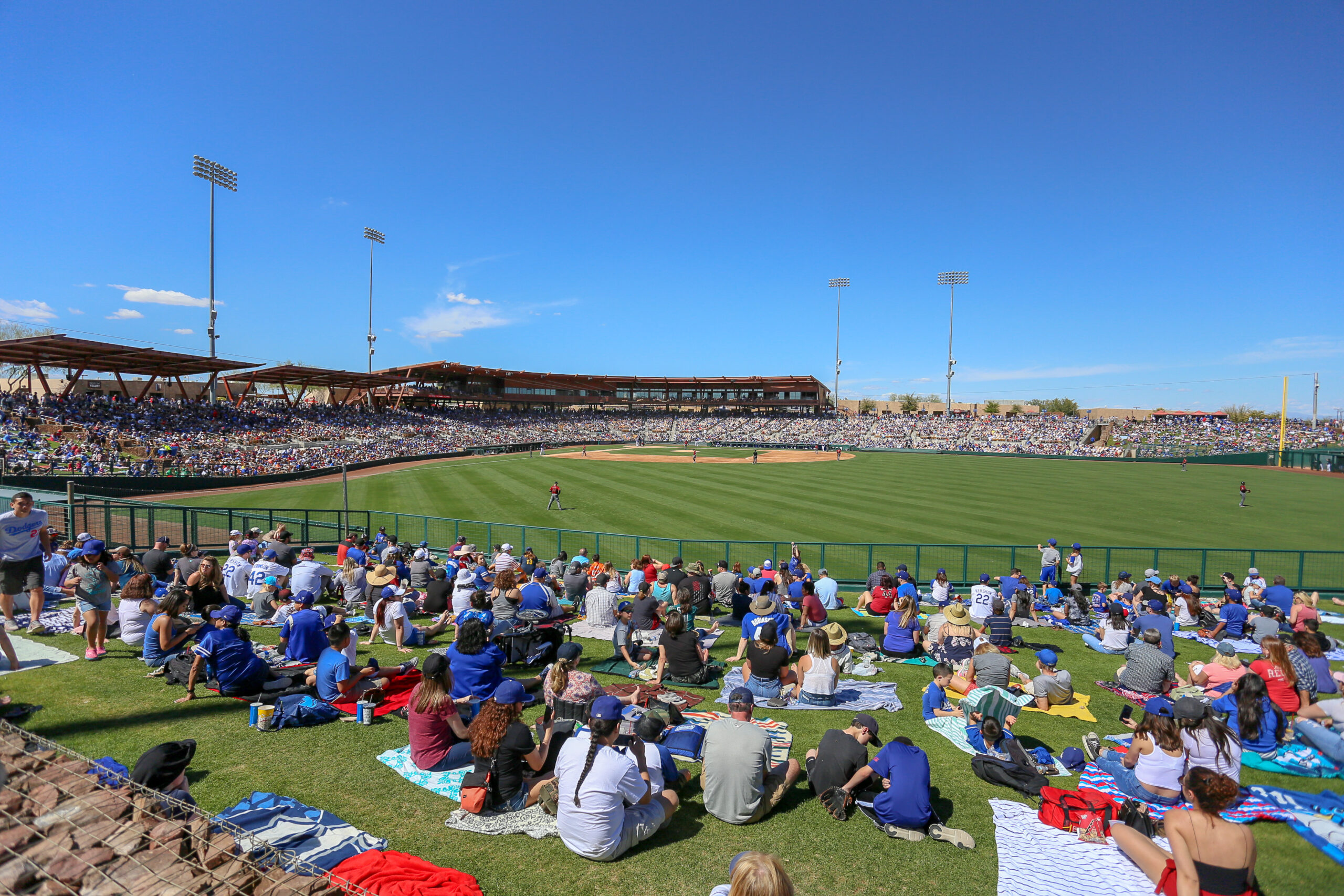 In addition to the main field, there are replicas of Guaranteed Rate Field and Dodger Stadium, so the teams' players can gets reps on fields that are the exact dimensions as their home stadium.
"We have professional players here pretty much 365 days a year," Slatus said. "The facility is used for extended spring training for players who didn't make the pro team. The Dodgers and White Sox use this for rehabbing injured players. So, we might see a Clayton Kershaw here during the season for a week while he's rehabbing."
Both professional teams draw large crowds during the month of spring training games that start at the end of February. The Dodgers routinely have more than 10,000 fans at every spring training game, with the White Sox not far behind.
"This place is hopping for all 30 days of spring training, but that doesn't take into account all the other things going on here the rest of the year," Slatus said of the complex, which hosts a team in the Arizona Fall League as well. "The venue is diverse and can be used in many ways including weddings, bar mitzvahs, 5K runs, major and minor league baseball, beer and wine festivals and even an esports championship. We've also hosted high school and Division I college baseball here in the past."
Camelback Ranch adds a lot of local flavor during spring training, whether through regional cuisine or local Three Amigos tequila company products.
"We want fans from out of town to experience what Glendale has to offer," Slatus said. "The Cactus League as a whole is 65% out of town and 35% local business. It gives fans the chance to see Major League Baseball at a lower price than the regular season and it also helps the local hotels and restaurants as well. The ballpark and the hundreds of businesses at Westgate support each other."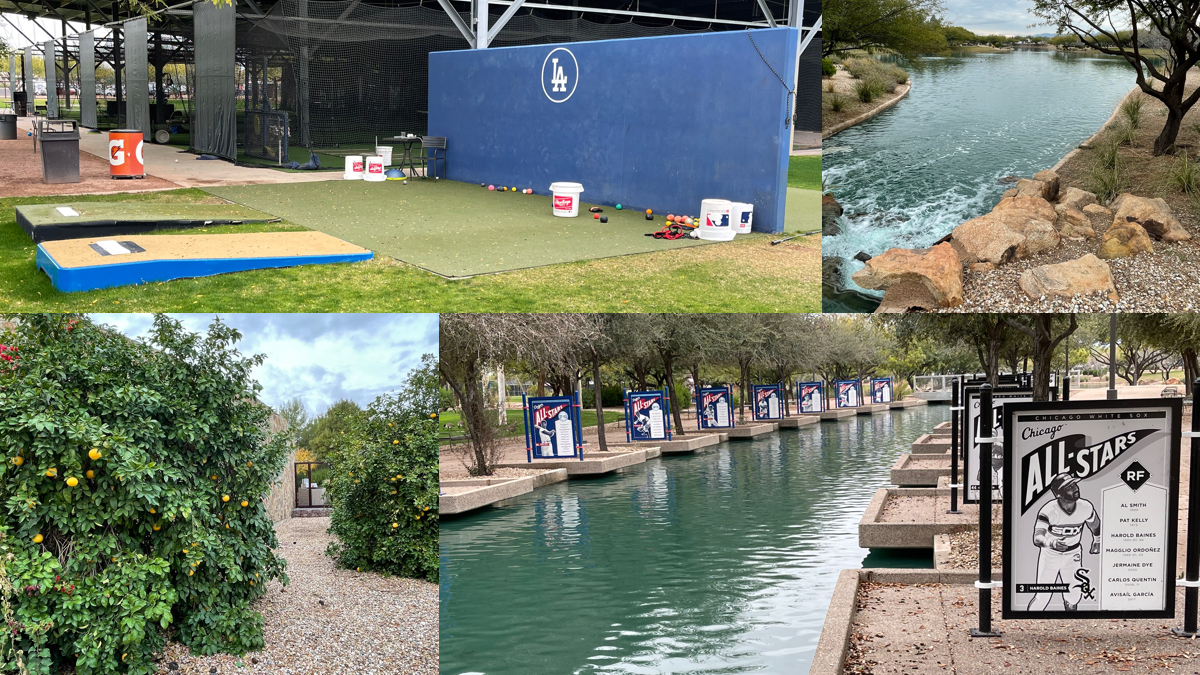 The business the Cactus League brings to Arizona is substantial. The last economic impact study, done in 2018, showed the Cactus League generated an estimated $644.2 million. The Camelback facility is also sustainable in the desert thanks to the neighboring five-acre lake of reclaimed water used to irrigate the baseball fields.
In addition to the beautiful views the stadiums offer, there are life-sized bobbleheads of Frank Thomas and Tommy Lasorda that offer great picture opportunities. The grapefruit, orange and lemon groves that dot Camelback Ranch create a unique environment that feels more like a community park than a sports venue.
Cars and Candy in Glendale
While most of the action in Glendale centers around the Westgate Entertainment District and Camelback Ranch, there are several gems around town that tourists can enjoy.
The Martin Auto Museum is a must-see and you don't have to be a car aficionado to appreciate the collection of rare automobiles it features. Founded in 2008 by owner Mel Martin, the museum features more than 160 vehicles, including classic cars and hot rods, as well as one of the largest collections of auto memorabilia, antique gas pumps and signage in the world.
The cars range in age from an 1886 Benz Motowagon, the world's first piston-powered automobile, to flashy sports cars form the 2010's, including a replica of the Bumblebee Camaro that was featured in the Transformers movies. If you're lucky enough to catch Martin himself at the museum, he just may give you a special story about one of his classic cars.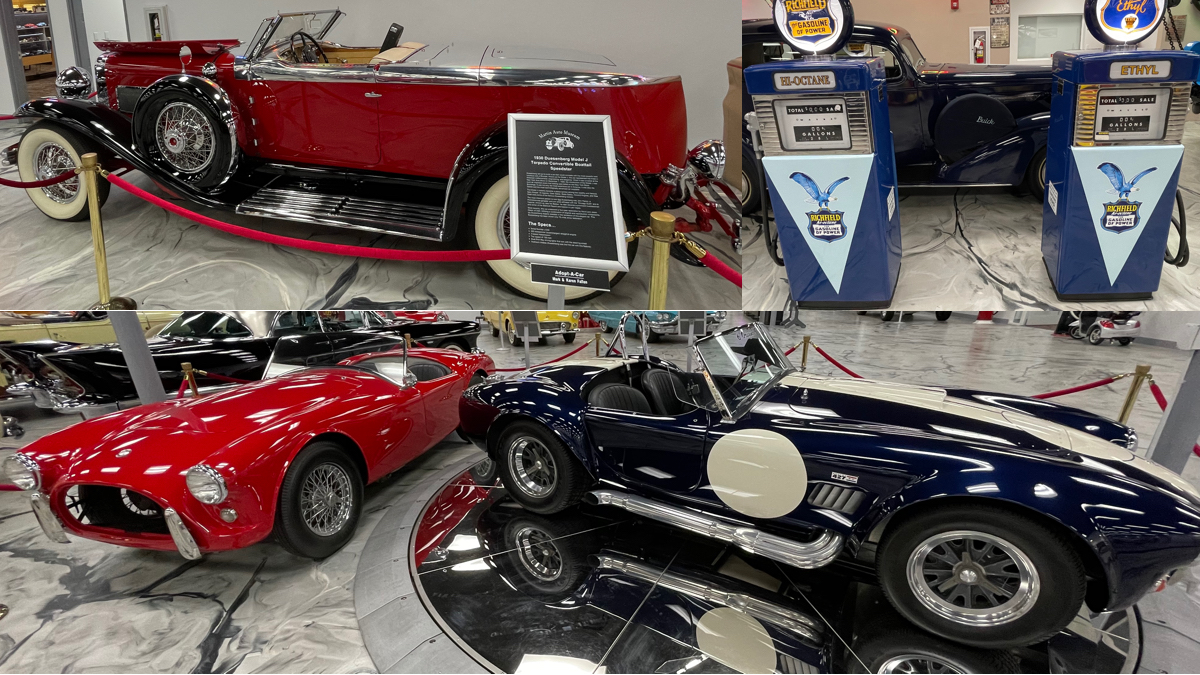 There are two rides in the museum that stand out above the rest when it comes to rarity and value.
The 1930 Duesenberg Model J Torpedo Convertible Boattail Speedster is a must see. Less than 500 Duesenbergs were handmade between 1928 and 1937; less than 400 are still accounted for today worldwide. There's also a 1965 Shelby AC Cobra that has only six original miles on it and features the signature of legendary car designer Carroll Shelby on the dash. Both of these cars are valued at several million dollars.
Need a sugar boost while in town? The Cerreta Candy Company has been located in Glendale for 57 years and churns out some the best tasting chocolate and taffy in the country. The family business now has four generations overseeing the production of a variety of sweet treats.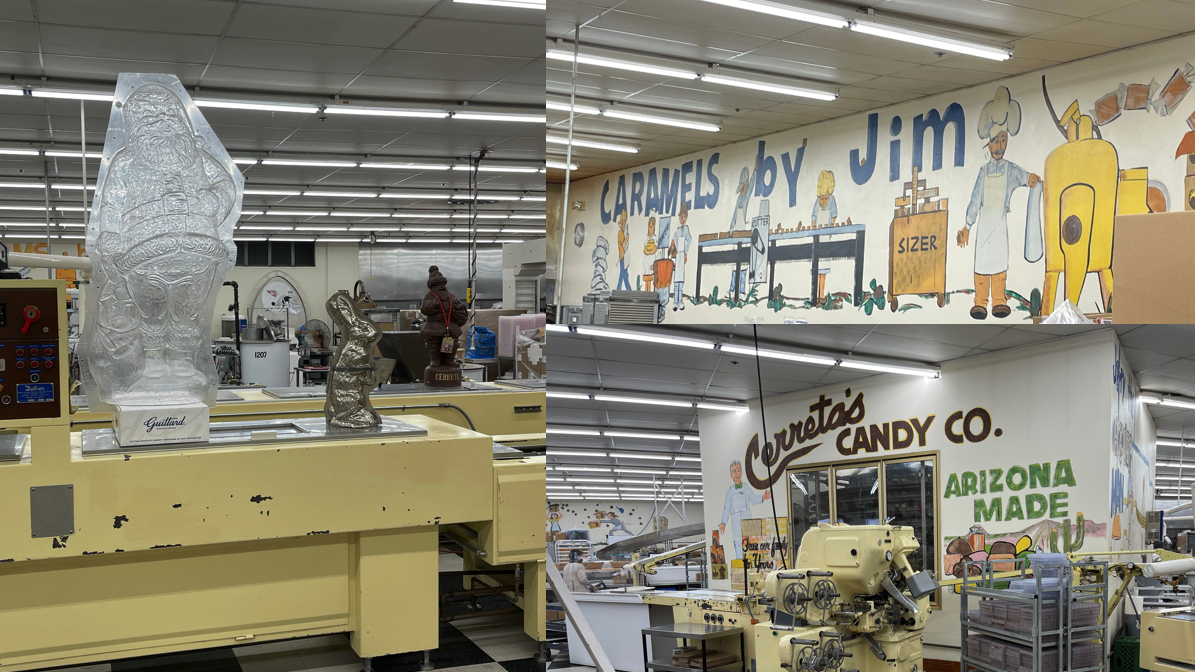 A tour is offered each hour, which includes some history of the factory, as well as samples of the product that has made the Cerreta brand famous.
The company also offers special, custom-made chocolate confections, which include a 500-pound Santa and a 300-pound football that can be used for the Super Bowl. It's the perfect place to order from with Valentine's Day coming up, as there's a wide range of gifting options.