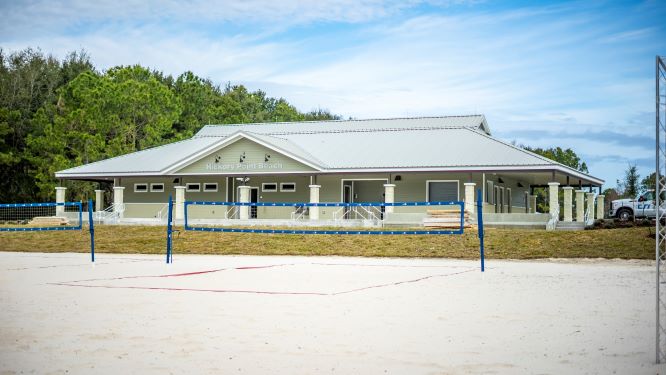 The Hickory Point Beach Athletics Center in Tavares, Florida, will be unveiled February 23 at a ribbon-cutting ceremony hosted by the Lake County Board of Commissioners, Visit Lake and the Florida Region of USA Volleyball. The $1.8 million venue is designed to attract additional tournaments to Lake County and boost sports tourism in the area.
"Hickory Point has become the sporting destination we envisioned four years ago," said Lake County Commissioner and Tourist Development Council Chairman Tim Sullivan. "This athletics center will pay for itself many times over, attracting athletes and their families to enjoy sporting in Lake County and encouraging them to discover why we are 'Real Florida. Real Close.'"
The athletics center is fully funded through Lake County's tourist development tax and will support Florida's largest permanent sand volleyball complex, which is home to 21 professional sand volleyball courts located on the 68-acre Hickory Point Recreational Complex. The Hickory Point Beach Athletics Center also features a clubhouse, locker rooms, meeting space, a training room, an officials' room, concessions and public restrooms.
"We will be able to build on the momentum established since the sand volleyball complex opened in July 2014 and enhance our future local, regional, national and international events," said Steve Bishop, executive director/president of the Florida Region of USA Volleyball. "The support and shared vision by Lake County staff and the Lake County Board of County Commissioners has been extraordinary."
Following the ribbon-cutting ceremony, the venue will host the 2019 Sunshine State Athletic Conference High School Jamboree, the season kickoff event for high school beach volleyball teams across Florida.