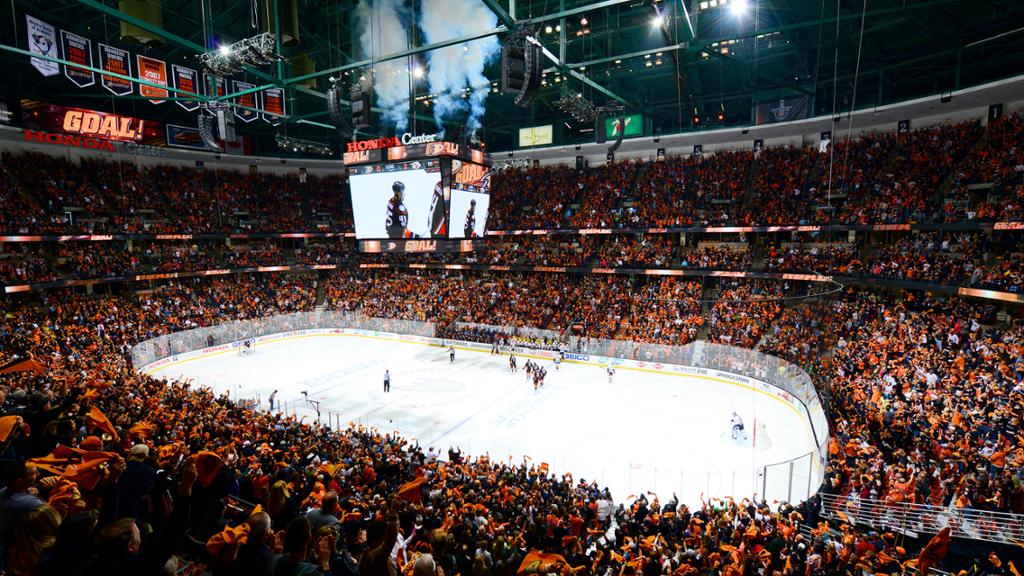 Anaheim Arena Management and Honda have extended the naming rights deal for the Honda Center, home of the NHL's Anaheim Ducks, with 10 years added to the existing 15-year partnership. The new extension will carry the agreement through 2031.
The partnership includes Honda Center exterior signage, freeway marquee placement, media integration, car displays on two exterior corners of the arena and the continuation of the annual Anaheim Ducks Fan Appreciation Night sweepstakes where one fan takes home a new vehicle.
"We are proud to continue our partnership through the next decade and beyond with Honda," said Tim Ryan, Honda Center president and chief executive officer. "They are a driving force behind the Anaheim Ducks and Honda Center, and we are grateful to have a long-standing partner whose idea of 'The Power of Dreams' and commitment to the community align with our own."
Through Honda's presenting sponsorships of the Anaheim Ducks Golf Classic and Dux in Tux, the Anaheim Ducks Foundation has helped raise over $4.5 million since the start of the partnership in 2006. Those funds support the mission of the Anaheim Ducks Foundation to facilitate and support programs throughout Southern California by providing educational opportunities, broadening access to the sport of hockey, and addressing the health and wellness needs of our community. Honda's support directly impacts the Anaheim Ducks Foundation and its community programs such as Ducks S.C.O.R.E., Learn to Play and Top Flight, which have served over 300,000 local youth since the partnership began.
"We are thrilled to extend our partnership with Honda Center for another 10 years. We've been partners with the arena and Anaheim Ducks for over 13 years and are pleased to support the vision and financial resources that Henry and Susan Samueli invest in the building to maintain it as a state-of-the-art facility," said Jay Joseph, vice president of the Marketing Division of Automobile Sales at American Honda Motor Co. "We view the Honda Center as one of these essential SoCal institutions we are pleased to support and help grow."