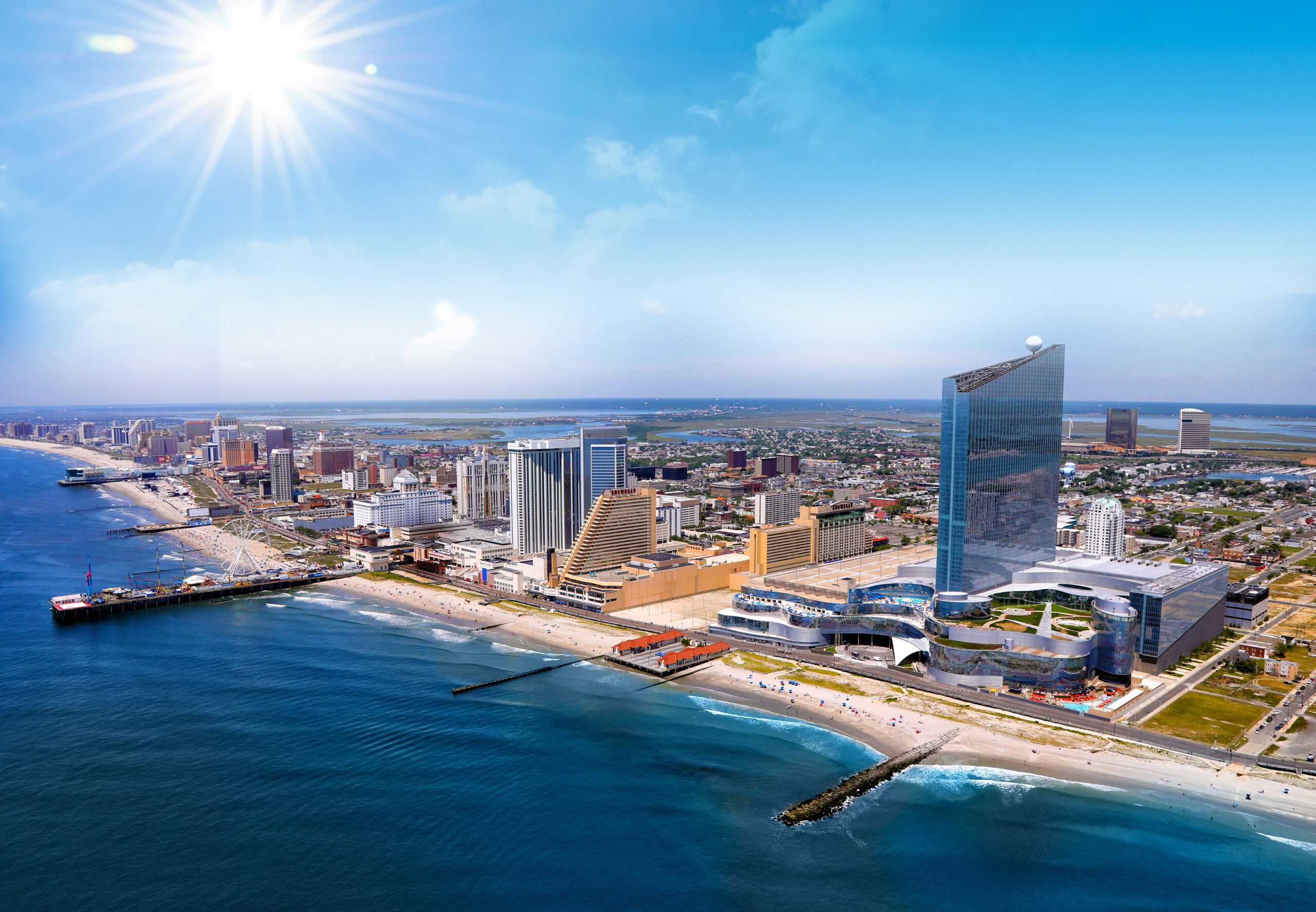 The U.S. Supreme Court has had more than a passing influence in the world of sports. Whether it was the 1972 Curt Flood case that upheld Major League Baseball's antitrust exemption, a 1984 antitrust case involving the NCAA that allowed conferences to sell their own TV rights and paved the way for gigantic media rights deals, Title IX issues on nearly every level of athletics or recent arguments about name, image and likeness rights for college athletes, the Supreme Court has changed how athletes and fans play, view and enjoy sports.
Another impactful moment came in May 2018 when the Professional and Amateur Sports Protection Act of 1992, which had restricted regulated sports betting primarily to Nevada, was struck down by a 6-3 decision. The decision to legalize sports gambling across the country again opened the floodgates. As a result, 20 states now allow sports betting operations with five more preparing to start soon.
States that have entered the space are seeing it pay off financially. JPMorgan recently released a report estimating that sports betting brought in an estimated $1.5 billion in revenue in 2020. In the next five years that could increase to as much as $9 billion — a number that could skyrocket even further if California, Texas and Florida, with a combined population of 90 million, eventually legalize gambling.
Each state has its own rules and regulations, so what fans can do when it comes to sports betting in Colorado is not the same as in New Jersey or Michigan. But even with a landscape that changes by the day, the best bet is that the momentum of sports wagering will continue.
"Americans have been betting on sports as long as there's been sports to bet on," said American Gaming Association President Bill Miller, whose organization ahead of the Super Bowl estimated over 23 million adults would place a legal wager on the game.
How Betting Boosts Tourism
So much of what has made Las Vegas a tourism mecca has been tied to sports gambling. Whether it is the Super Bowl or March Madness, any big sports event has been almost a license to print money for hotels on the Strip, many of them perfectly situated with hundreds of televisions showing games 24 hours per day. With food and beverage service sent straight to your chair, a mega-fan can go to Vegas, not leave the hotel for days on end and never be bored because of the gambling opportunities.
As the lone state in the country to have legal sports gambling until 2018, Nevada — and Las Vegas specifically — was able to stake itself as a prime tourist destination for those inclined to wager on competitions. Now with the ability to use sports gambling as their own tourism draw, states have increasingly used the tax revenues generated to further promote themselves; Colorado, Pennsylvania and South Dakota specifically use some of the tax revenues earned through betting to promote tourism.
And while it may not direct revenue straight to tourism, nowhere has sports gambling transformed a region more than New Jersey — the state whose lawsuit eventually led to the 2018 Supreme Court ruling.
The New Jersey Division of Gaming Enforcement has reported $128.5 million in gross revenue from sports wagering in 2021 compared with $70.5 million at this point year-to-date in 2020. The hotel industry in New Jersey is getting increasingly involved; Bally's has placed a sportsbook in partnership with FanDuel in its Atlantic City property. Located by the northern boardwalk casino entrance, the sportsbook has five betting windows and 20 self-serve betting kiosks. It also features a food and beverage menu with pub-style fare, cocktails and a selection of craft and local beers at a self-pour beverage dispenser beer wall.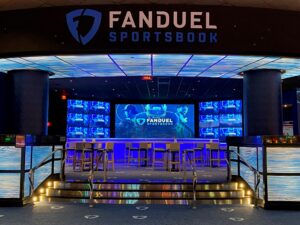 "Evolving market dynamics and customer appetite have made it clear that casino guests enjoy access to a retail sportsbook," said Adi Dhandhania, senior vice president for strategy and interactive at Bally's Corporation. "Given the rise in sports gambling popularity amid the pandemic, land-based destinations should embrace sports betting as Bally's has and its ability to drive tourism."
The strategy is simple: Take what Las Vegas has been doing for decades as a sports gambling destination and add your own twist. It has led to huge sports-betting revenue for states on the East Coast, catering to people would love to spend a few days relaxing and betting casually on sports but prefer to stay closer to home when they vacation.
"Sports betting has been nothing short of a dynamic game changer for Atlantic City," said Dan Gallagher, director of sports sales at Meet AC and the Atlantic City Sports Commission. "It has not only proven to revitalize the Atlantic City market but has also increased Atlantic City's exposure as a 'do it all' destination."
Leagues, Teams Capitalize on Opportunities
Sports gambling seemingly forever was the third rail of collegiate and professional sports leagues. While gambling undoubtedly boosted the popularity of sports, it was never to be seen, talked about or heard on an NFL broadcast. For a myriad of reasons, college sports still keep the topic of betting at arm's length. But professional sports, bit by bit, are moving into the sports betting space.
Having spent decades avoiding Las Vegas like the plague, the National Hockey League and National Football League now have franchises and stadiums located on the Strip. The NHL recently agreed to a partnership with Bally's to make it the league's official sports betting partner; MGM Resorts has gaming partnerships with the NHL, the National Basketball Association and Major League Baseball. Eleven NFL teams have official betting sponsors and the league has said teams are allowed to have betting lounges that showcase mobile betting options at their stadiums, although retail sportsbooks are still prohibited.
Other pro leagues have gone further than the NFL when it comes to sports betting in stadiums. The Prudential Center in Newark, New Jersey, home to the NHL's New Jersey Devils, has a William Hill betting lounge in the venue. The Washington Nationals are partnering with BetMGM to open a sportsbook at Nationals Park this summer. And the Chicago Cubs plan to open a sportsbook near Wrigley Field in 2022.
But nobody has gone bigger and embraced sports betting more than Monumental Sports & Entertainment, owner of the NBA's Washington Wizards, the WNBA's Washington Mystics and the NHL's Washington Capitals. Monumental has a temporary book at Capital One Arena in partnership with William Hill U.S., having taken nearly 1 million bets in the first six months. It will soon open a full sportsbook venue with 12 ticket windows, 10 self-service kiosks, VIP areas, private dining/event space and more within a 30,000-square-foot space that also pays homage to the history of sports in the District of Columbia with custom touches throughout the venue.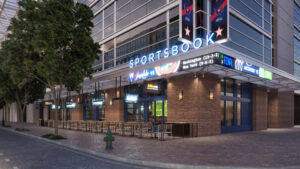 "We've always believed at the core that it is an incredible fan engagement opportunity for us," said Jim Van Stone, Monumental's president of business operations and chief commercial officer. "It's a synergy opportunity for us because we have these sports fans coming down to us on a nightly basis and we think sports betting fits in seamlessly to that opportunity."
Betting is an attraction but, as Van Stone describes, not the sole intent of the facility. Having the venue could allow Monumental to host fans on weekend mornings for Premier League soccer with brunch served. Monumental and William Hill are creating a special events division to host pay-per-view events for boxing or mixed martial arts. And bringing casual sports bettors to the building is a fan activation opportunity for the teams to attract them to a game at Capital One Arena.
"I think that is the whole premise for us," Van Stone said. "We're a live-events business with what we do in the building, we're a content business, we're a culinary business, we're a retail business. When I look at sports betting, I think that's part of the overall engagement ecosystem for us. Having a year-round sports book will be a big driver for us to sell more tickets to events. Without a doubt you can attract people who are passionate about sports betting and then maybe want to experience an event at the building. You look at what you could do at our building almost like a casino resort (in that) you have great dining experiences and entertainment experiences."
Monumental's sportsbook philosophy mirrors what many sports teams are trying to do more of: Realizing that while for decades the experience has been about having fans enjoy the game, sports betting is another way to attract, activate, engage and draw revenue from events.
"I think it's just a tremendous runway for continued growth," Van Stone said. "All of our buildings are these huge, immersive, billion-dollar properties and almost mini-resorts with great big screens and culinary experiences. The chance to increase engagement with customers and fans will be something that will be really, truly bright. I think sports betting is going to continue that."
Gambling on the Go; Micro-Betting's Popularity
Whether you realize it or not, you've been micro-betting your entire life as a sports fan. How many times in the stands have you and a friend debated what type of pitch would be thrown next, or if a free throw would be made? Do you think this guy will make a birdie putt to win the Masters? Will they pass or run on third down and short with five minutes to play in the fourth quarter?
"I think (micro betting) is one of the most exciting elements in the sports betting space," the AGA's Miller said. "What hasn't happened yet because we haven't had fans in stadiums (during the pandemic) is we haven't seen the development of in-game sports betting."
And you can bet professional leagues have taken notice of micro-betting's potential.
"There's so much untapped potential with in-play betting in baseball that can be realized," said Kenny Gersh, Major League Baseball's executive vice president of business development, at a recent SportBusiness webinar. "Now that the products are really starting to improve, it's how do we get each of the operators to really tap into our data where you can create those micro bets? Baseball is uniquely positioned for that."
One of the earliest companies to get into the micro-betting space is Simplebet, a technology company that focuses on micro-market sports betting through automation and machine learning. It already works with major players in the sports betting space including FanDuel via the PlayAction free-to-play game as well as PointsBet and Intralot, a gaming supplier and operator.
"I think that Fan Duel and Simplebet have done a great job on the free-to-play stuff," Slane Advisory Founder Sara Slane said during the SportBusiness webinar. "My hope is that we're starting to pivot toward real in-play prop betting to occur. Simplebet is extremely well-positioned to take advantage of that opportunity and strike when the time is right."
Intralot, which operates digital sports betting platforms in the District of Columbia, partnered with Simplebet during the NFL season. In the playoffs, the partnership resulted in more than 20 percent of DC's total handle for in-play betting, with bets per game increasing every week of the postseason including a 52 percent increase from the conference championship games to the Super Bowl. Simplebet's partnership with the FanDuel PlayAction free-to-play game during just one NFL Monday night game saw an average of 41.7 bets per user.
"We saw the big economic opportunity in the U.S. market and then in particular the market around sports with football, baseball and basketball," said Simplebet Co-Founder and Chief Executive Officer Chris Bevilacqua. "In a sport like baseball you have 950,000 pitches every year, 300,000 at-bats. You have an overwhelming amount of inventory that are discreet in-game moments that allow for the unique micro-market offering. Same thing as football with plays and drives — you have multiple markets on each play."
Bevilacqua estimates the micro-betting market could be worth billions on a yearly basis because of the ability to keep people engaged in games no matter the score compared to the traditional bets that were available in the past. He compared it to betting the over/under in the Super Bowl or how many yards Tom Brady would throw in a game, then having to wait for more than three hours to see how the bet plays out — instead, you can bet on how many yards the next pass will be and track your bets during the game to see how you're doing.
"It's a much different level of engagement," Bevilacqua said. "The micro markets are more of an entertainment product versus the outcome-based product where you have arguably the more hardcore sports bettor that is shopping around to get the best deal. This is a much different type of betting experience directed toward the casual fan. It enhances the entertainment value of the game they're watching. You have a chance to prove your expertise."
Where It Goes From Here
Is there ceiling for sports betting in the next five to 10 years? The differences in state guidelines — and those that are staying on the sidelines for now at least — can often lead to confusion over what is allowable. It stands to note that given the amount of action with gaming and sports betting partnerships, one area to watch will be how companies are able to use personal data from mobile bettors. There will also be plenty of attention on the sportsbooks at Capital One Arena and Nationals Park as a test case to see how teams — and leagues — can use the ability to place a bet to convert casual fans into rabid supporters while also using betting venues as a sports and tourism destination.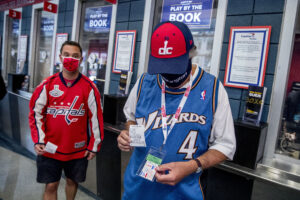 "The one thing about the professional leagues, we all share best practices," Van Stone said. "We compete on the ice or the court but we share best practices to grow our overall business. The casinos, the daily fantasy companies, the rules and regulations are different in every market. … I've done quite a few calls with teams in the U.S. and I look at this as such a complimentary piece of what we do as a live events business, that I think the opportunity for continued growth and engagement is only going to increase."
"There's nothing in life that goes up forever," Bevilacqua cautioned, "but I would tell you that we're at the top of the first inning and it's a long game ahead. New Jersey in December did nearly a billion dollars in (sports betting). Imagine when you get to 30, 35, 40 states and everybody is fully mobile. We're at the tip of the iceberg right now."