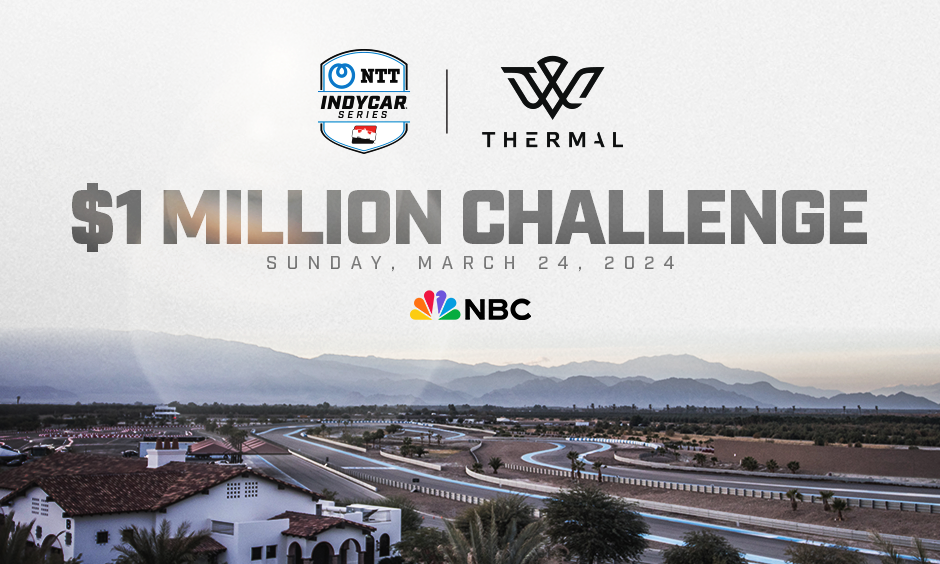 The NTT IndyCar Series will host a made-for-TV racing exhibition at The Thermal Club outside of Palm Springs, California, during the 2024 season with a $1 million prize to the winner.
The $1 Million Challenge is set for March 24, 2024, on NBC with an IndyCar Series Open Test and qualifications to take place March 22–23.
"The NTT IndyCar Series will add an incredible new event to our schedule with next year's spectacular racing showcase at The Thermal Club," said Penske Entertainment Corp. President and Chief Executive Officer Mark Miles. "This world-class venue just down the road from the world's premier entertainment market is the perfect place to bring our hyper-competitive racing and growing star power."
The weekend format will include a qualifying session and two heat races, with the top six from each heat advancing to a showcase. The top five finishing teams will split their earnings with The Thermal Club members, including a $1 million prize awarded to the winner. Championship points will not be on the line.
The Thermal Club is a private, 490-acre property at the base of the Santa Rosa Mountains. The facility was named "Professional Motorsport Facility of the Year" at the 2017 Professional Motorsports World Expo in Germany. The Challenge comes after the IndyCar Series hosted an open test on the 17-turn, 3.067-mile layout in February to start the 2023 racing season.
This is gonna be fun. 😎⁰⁰💰 $1 Million Challenge ⁰🗓️ March 24, 2024⁰📍The Thermal Club⁰📺 NBC pic.twitter.com/RSNSo9Dfxy— NTT INDYCAR SERIES (@IndyCar) September 10, 2023
"The experience the teams had at The Thermal Club was second to none," said IndyCar President Jay Frye. "We treated it like a preseason scrimmage and, looking back, it was the perfect launch to this record-breaking season. The facility is spectacular, and we cannot wait to return and showcase IndyCar in a whole new way."
The event will largely be exclusive to Thermal Club members, but there will be limited tickets available.
"We are proud to welcome IndyCar back to The Thermal Club during the 2024 season," said John Rogers, owner of The Thermal Club. "The teams, drivers and the entire IndyCar Series paddock are true professionals and we look forward to developing our relationship with them in the future. This marquee racing showcase in March promises to be special for everyone, including spectators, Thermal members and race fans tuning in at home."