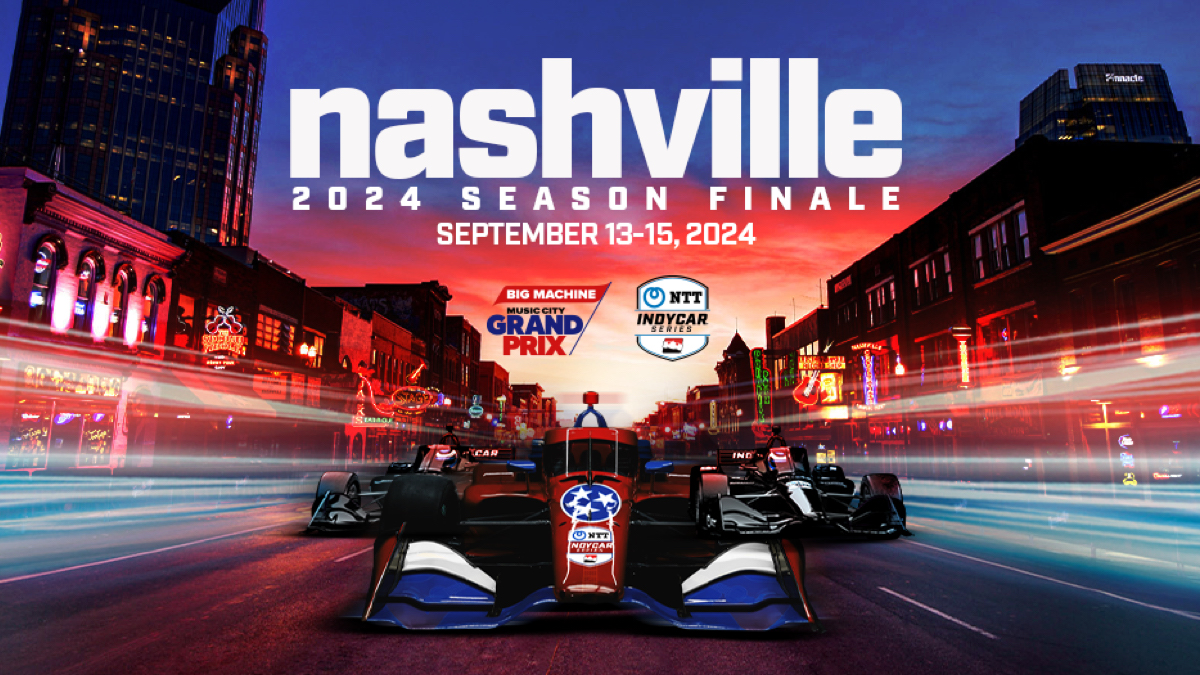 IndyCar and the Music City Grand Prix have announced the 2024 NTT IndyCar Series finale is moving to Nashville on September 13–15, 2024, and that the 2024 season awards ceremony will also take place in Music City, on September 16 at the Schermerhorn Symphony Center.
More than 250,000 fans are expected in downtown Nashville for the Big Machine Music City Grand Prix. The new 2.17-mile, seven-turn circuit will move across the Korean War Veterans Memorial Bridge and route directly past the Country Music Hall of Fame. The racecourse will then run through the city's honky-tonk district. Each day of racing will culminate on Broadway with a street party featuring live performances.
"Nashville and the Big Machine Music City Grand Prix team are ready to host a can't-miss, action-packed event that transforms the NTT IndyCar Series season finale and elevates it to an even higher peak on the global stage," said Mark Miles, president and chief executive officer of Penske Entertainment Corp. "Next year's race in Nashville will be an unbridled celebration of the most fierce and competitive motorsport on the planet, set against the backdrop of an innovative and breathtaking stage that includes one of the premier global entertainment districts in the world."
The Music City Grand Prix has become a marquee event for Tennessee, bringing fans from all 50 states and dozens of countries annually. While the season finale is moving to Nashville, this year's final venue on the 2023 schedule, WeatherTech Raceway Laguna Seca in Monterey, California, will remain on the 2024 calendar. More details about the entire 2024 schedule will be announced at a later date.
"WeatherTech Raceway Laguna Seca remains a beloved, historic venue for our teams, drivers and fans in an important and scenic market," Miles said.
Schermerhorn Symphony Center boasts design elements that pay homage to the history, culture and people of Tennessee.
"The fact that IndyCar has chosen Nashville and the Big Machine Music City Grand Prix as the crowning event is a testament to our fans, partners, stakeholders and truly the Nashville hospitality industry as a whole," said Matt Crews, chief executive officer of the Music City Grand Prix. "The ability to promote our city and state year-round and bring our race into the heart of Nashville is an absolute honor. The Big Machine Music City Grand Prix continues to grow to levels that I never dreamed could have been possible."