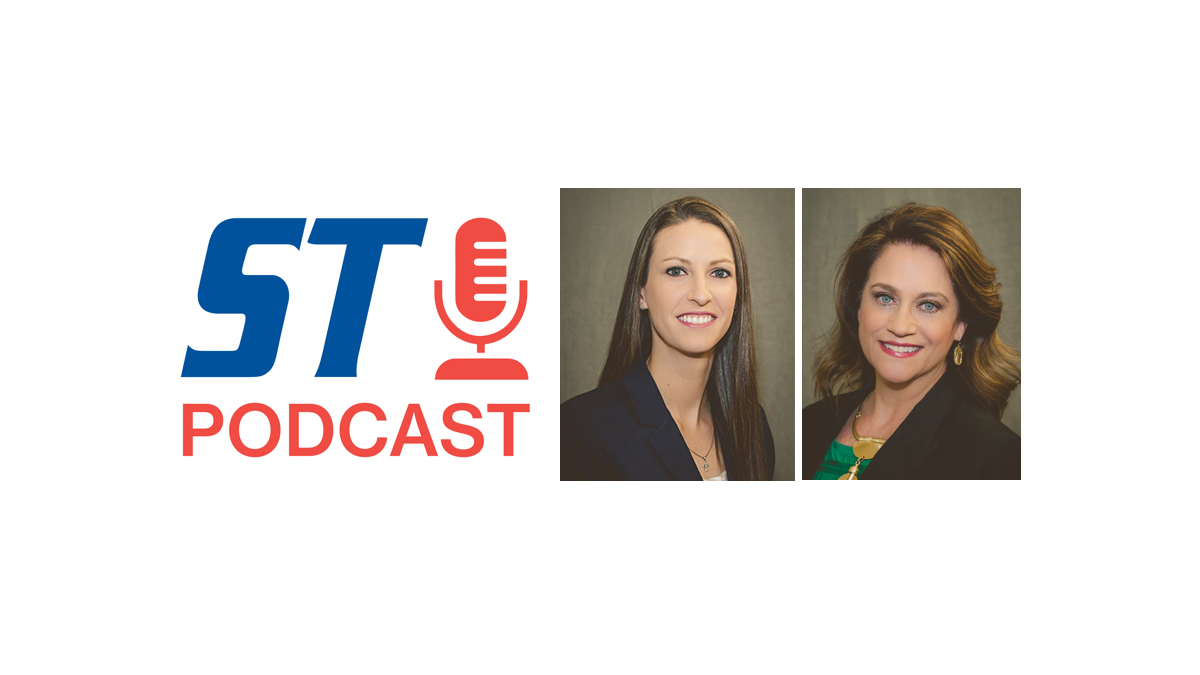 The NCAA Men's Final Four, for the fourth time in its history, will be held in Houston starting with the semifinals on Saturday and the championship game on Monday. For the third time the games will be at NRG Stadium, home of the NFL's Texans and host to many events each year. The venue will also host the 2024 College Football Playoff National Championship and be one of the host cities for the 2026 FIFA Men's World Cup.
SportsTravel Managing Editor Matt Traub talked with Janis Burke and Holly Kesterson from the Harris County-Houston Sports Authority about the planning that has gone into this weekend's events both on and off the court, working with the NCAA for years leading up to Saturday, civic engagement throughout the community, the hardest parts about putting on the event and what it means for the city to be the site for Jim Nantz to end his tenure as the play-by-play voice of the Men's Final Four.
The local organizing committee's state of preparation for the weekend:
Kesterson: "Across the board, we are ready. It is crunch time so all the bells and whistles are being finalized and little bits being arranged, but 14 days to go and we are super excited and ready in Houston for the Final Four."
The legacy of the event in Houston:
Kesterson: "There's so many amazing things that Houston has to offer and the way the NCAA and the Houston Local Organizing Committee have been able to weave those pieces together is what makes big events special — everything from literacy programs at the third grade level and all the youth events that are going on, to a college course that we're running in partnership with our four host institutions and on and on. There's so many amazing touch points and those are for people who don't even have to be basketball fans. And then you add the layers of true basketball fans and the growth of basketball in this community, the revitalization of UH as a dominant basketball program, (Texas State) made the tournament the last couple of years. It's just an exciting time in our community and especially an exciting time for big sporting events and the Final Four."
The civic and community programs surrounding this year and its impact:
Kesterson: "I'll say that there are a lot of really great programs that NCAA encourages a community to take on, and then it's how you make those unique to your own community that makes them special. Read to the Final Four is a third-grade literacy program was actually started in 2016 here in Houston. The last time the Final four was in town, it had one school district and 64 teams in it. … we're in 11 school districts and we're nearly 39,000 kids who will go through that program this year. So that's just one example of legacy and touchpoints at the community level. But we've added things like the Fan Jam truck, which has gone all over the city, bringing swag and games and fun about basketball to different areas. And then things like a court revitalization project which is at the Blue Triangle this year, they're getting a brand-new court and helping improve their facility …  the priority for us is making sure that we spread the love, that everybody in our community feels like they're a part of this, that they're engaged. We're trying to be in as many different school districts, as many different community pockets of our community as we can because we think that's important. … our third graders have read more than 50 million minutes, and many of them still reading and counting their minutes well beyond their requirements. So that's special because we'll feel those impacts made in years to come as those kids grow up and move on in, in their careers and in their lives."
Giving community programs a Houston-centric emphasis this year as a host city
Burke: "… Let's just take one element, the Read to the Final Four that started in Houston in 2016 and then every city was required to do it after that because it was so successful. You watch every city up their game and just do a little bit better, which is great. It makes us happy because that many more kids are on the U.S. are being touched. By the time it comes back in 2023 to us, we needed a full-time person working that program. I think we always gain from going to these cities and watching what they do and every city is trying to do something unique, do something that puts their own fingerprint on it. And we learn from that all the time.
Working with the NCAA over the years:
Kesterson: "They really are true partners and it's a collaboration in order for us to be successful. They're great at what they do, they know this business, they know this event in and out, but it's the partnership of how we make it fit and truly be a positive experience in our community that makes that hand in hand experience so important. They are true partners. They're in every month. We get to spend a lot of time with them. Dan Gavitt and JoAn Scott and their whole team are exceptional. I've been extremely, extremely fortunate to work alongside them and their team. And we're appreciative of the support that they've given us and the partnership."
What is the hardest part of putting on a major event such as this one:
Burke: "I think sometimes you have to keep your eye on the future, so while we're trying to prepare for this event and get ready for it, we also have college football playoffs in less than a year. And (2026) World Cup that we're working on and all these bids that just keep coming in that the team has to work on while we're trying to put on the very best event we can. So that's the hardest part from my perspective, for our agency, is just balancing all that we have to keep our eye on the future while we're also trying to do a really good job for this year."
Kesterson: "The biggest challenge for me is that there's so much we can do. There's so much opportunity. This event is so positive. The impact and the ripple effects in the community are so fantastic. But we're running out of time … we still are coming up with new ideas and new things we can and want to do, but we've got to be able to prioritize and trim those things down as we get closer and closer. This team has been working on this for nearly two years now. We're breathing and living college basketball all the time, so it's hard to trim down and say, OK, we're almost done. We're going to wrap this up and put a bow on it here in just a couple of days. … We're starting to wrap some of those things up, which I think for some of us is sad as we put in a lot of time and it's often times hard to say goodbye as it rolls onto the next city.
Burke: "It's kind of like that Christmas morning, right? You've been wrapping presents and wrapping presents, and you all open them and you're all looking at each other like, what do we do the rest of the day? You always kind of feel that after a really big event that you put your heart and soul into."
Additional local interest with both Houston and Texas having strong seasons:
Burke: "It's super exciting. We know that it's going to ignite our city and everybody's really very thrilled in anticipating that at the same time, we have to balance, because all the hotel rooms that have been held for visitors and for the visiting teams. So you're balancing those business needs, but at the same time super excited for your local team."
Kesterson: "I can tell you that Houston is, as a community, is into it. We were out in the rain last night at the watch party on Avenue to Houston. People are excited, they're cheering for their Texas teams, but Janice is spot on. We're excited for any of the four teams who make it, because this is a memory that those student-athletes will never forget."
The culmination of years' worth of work for the local organizing committee once Monday night tips off
Kesterson: "I'm trying not to get ahead of myself. We've got a lot to do before we get to Monday championship night. I think the biggest thing at that point will just be absolute gratitude to our team, to the NCAA, to our community. That will be that moment of, man, we did it, what we collectively all put it in, it paid off. That's what I'm looking forward to for sure. But there's a lot that goes on around that week. The games are obviously what you see on TV. But you have the Fan Fest presented by Capital One. You've got three days of A-list music festivals … the list goes on and on. It is a jam-packed weekend of activities, and I know a lot of people miss that if you're not here on the ground during Final Four. But it is an amazing, huge event that lots of people are invested in, even if you're not a diehard basketball fan. So I would say, when you get to Monday night and that last buzzer rings, it's going to be a special moment.
Burke: "When you talk about 3,600 kids dribbling through your streets and putting a parade route on and keeping everybody safe and the logistics of getting them their shirts and their balls, that's an event within an event. I think by the time you get to Monday, you're like, OK, we've got all of these events behind us. And we have a lot of clients in town with FIFA and College Football Playoff, AAU … they want to see our city when we have a big mega event and how we handle it and look at the crowd control and the safety procedures. (Sunday) we have the Astros opening day and a lot of clients coming to that, the Rockets versus Lakers game on Sunday. Our city really will be buzzing and I think by the time we get to Monday, it'll be OK, we got everybody where they needed to be. Everybody had a great time and now we can kind of just watch the game Monday night."
The significance of being the site for Jim Nantz's final call as play-by-play voice for the Final Four:
Burke: "Jim Nantz is very special to our community. We have the Houston Sports Awards and he's a Lifetime Achievement Award winner. We have a very special and good relationship with Jim, so we are going to make the most of that. And Holly has some special surprises as part of that too."
Kesterson: "There's nothing more special than getting to hanging it up for Jim here at home, and so we're glad to be a part of that. I know the University of Houston is happy to be a part of that. Anything we can do to make this special and memorable for him is, is what we want to be doing. So we're excited to see some things come out over the weekend of the Final Four and be able to just honor him for all that he's done for our community."