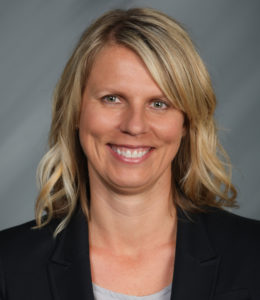 International Speedway Corporation (ISC) has promoted Julie Giese to president of ISM Raceway in Avondale, Arizona. Giese currently serves as managing director of business operations for ISC's design and development department, leading the coordination between ISC's 13 motorsports entertainment facilities, internal corporate departments and the design and development team. In November, Giese will begin her new role of overseeing the promotion and operation of ISM Raceway.
"We couldn't be happier to announce Julie Giese as president of ISM Raceway," said ISC CEO Lesa France Kennedy. "She has spent close to two decades in motorsports, most notably with ISC, that included leadership roles in major redevelopment projects like Daytona Rising and the ISM Raceway project. Julie's unparalleled knowledge of the industry, along with her experience and passion, will serve her well in this new role."
Giese joined ISC in 2001 and has held positions including director of public relations at Watkins Glen International and vice president of marketing and communications at Daytona International Speedway. Starting in January 2017, she worked alongside the ISM Raceway team on the design and project management of the $178 million ISM Raceway Project Powered by DC Solar.
Giese's first major event as president of ISM Raceway will be the Can-Am 500 race weekend, November 9–11, which will mark the grand opening of the new track after the completion of the track's renovation project. Renovations include new dining areas, five new garages, new and refreshed suites, Wi-Fi throughout all common areas, new seats and a new fan zone bar.
"I'm beyond thrilled at the opportunity to lead the new ISM Raceway," Giese said. "I'm excited to be joining a great team as we unveil a new venue that is primed to become a top motorsports and entertainment destination."