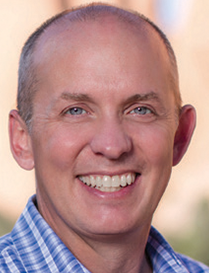 Golf Channel has announced that Matt Farrell will begin a new position as general manager of alternative golf and executive director for the World Long Drive Association. Farrell, the chief marketing officer of USA Swimming, has more than 20 years of experience in sports and entertainment marketing with positions that have also included the U.S. Olympic Committee and Warner Bros. He will begin the newly created position at Golf Channel on December 3.
"Golf Channel is committed to the growth of the game by engaging new and different fans in our coverage of all aspects of the game," said Tom Knapp, Golf Channel executive vice president of partnerships and programming. "Alternative competitions like World Long Drive expand golf's reach, and Matt's proven track record of elevating sports, both through grassroots efforts, digital extensions and high-profile media opportunities will further fuel our efforts. Matt has a terrific reputation within the Olympic community, where he is known as an effective and strategic partner amongst colleagues across sport governing bodies and sponsors."
"From the first time I experienced a WLD event, I immediately saw the progressive vision and promising future of long drive as a sport and unique avenue for golf to connect with younger, athletic-minded sports fans," Farrell said. "And thanks to the investments of NBC Sports, the competitors, sponsors and event hosts the past few years, we have an incredible foundation to expand upon with a global, long-term strategic plan. For me personally, I look forward to combining my background in commercial development, organizational leadership and digital content at USA Swimming and the U.S. Olympic Committee with Golf Channel's entrepreneurial enthusiasm to grow the sport of golf in non-traditional ways."
In the role, Farrell will lead all domestic and international business elements for Golf Channel's owned and operated alternative golf franchises, led by the World Long Drive Association. The long-drive competitions have aired on Golf Channel since 2013. In his role with the series, Farrell will oversee event sponsorships, marketing, communications, operations, player relations and TV/digital media extensions. He will also lead teams focused on further development of additional alternative golf competitions, events and franchises.
Golf Channel acquired World Long Drive in 2015 and the series aired five televised events in 2018, culminating in the Volvik World Long Drive Championship. A women's division was added two years ago.