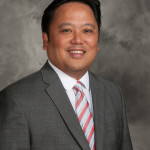 Ken Chin has been appointed the first executive director of Denver Sports, the former Metro Denver Sports Commission. In January, Denver Sports, which is charged with attracting sporting events to the Denver region, became part of Visit Denver, the city's convention and visitors bureau.
Chin previously served as vice-president of business development and events for the Atlanta Sports Council, the sports division of the Metro Atlanta Chamber. There, he was part of the senior team that launched the first Chick-fil-A Bowl Alma Mater, a made-for-television, celebrity-amateur golf event. Additionally, Chin played a leading event role with ESPN College GameDay's first appearance at the inaugural Chick-fil-A Kickoff Game (Alabama vs. Clemson) in 2008. He also oversaw production for the ASC's Atlanta Sports Awards show from 2007–2013 and the Naismith Awards hospitality events held in Atlanta during the 2013 NCAA Men's Final Four.
In addition to his role overseeing ASC events, Chin started the business development arm of the ASC, leading the company's efforts to attract new sports events to the 29-county metro Atlanta area. He also oversaw the content for the majority of ASC bid submissions and was responsible for engaging the ASC with the U.S. Olympic Committee, U.S. Paralympics, the NCAA and the Atlantic Coast Conference.
Chin previously worked for the National Hockey League, starting as an intern and eventually rising to vice-president of the Events & Entertainment Department. There, he was part of the leadership team that evaluated and researched bid submissions for events such as the NHL All-Star Weekend and the Entry Draft.
"Ken Chin brings the perfect mix of experience in both managing major sports events and in recruiting and creating these types of events for city destinations," said Richard Scharf, president and CEO of Visit Denver. "We were particularly pleased with his experience in creating partnerships and outreach that involve an entire community in bringing major sporting events to the region."
The Metro Denver Sports Commission, now known as Denver Sports, was founded in 2001 to help bring high-profile sporting events to Denver. The organization is best known for its involvement with the 2008 NCAA Frozen Four, the 2012 Women's Final Four, and the Rocky Mountain Showdown football game that matches the University of Colorado against Colorado State University. For the past 12 years, the organization has also led the effort to position Denver for a possible Olympic bid. In December 2012, the board of Denver Sports voted to merge with Visit Denver's sports marketing arm, effective in January 2013, to combine efforts to bring sporting events to the region.
"Denver is one of the great sports cities of America. In Ken, we have a phenomenal individual to lead Denver Sports and help bring major new sporting events to our region," Denver Mayor Michael Hancock said. "The city looks forward to working with Ken and the Visit Denver team on the future of Denver metro sporting events."