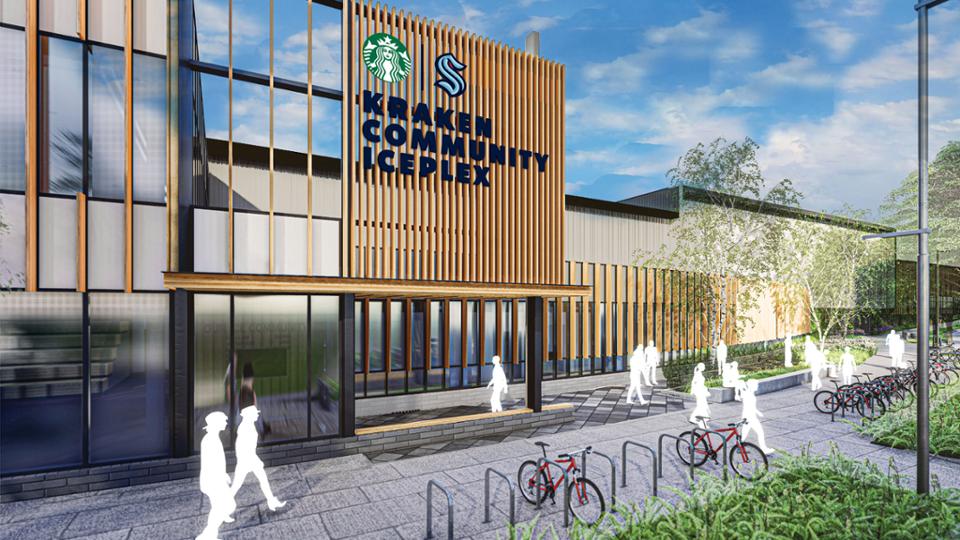 The Seattle Kraken's training center has been unveiled as the Kraken Community Iceplex with local corporate titan Starbucks serving as its community impact partner.
The three-rink Iceplex is on track to open by September as a purpose-driven center by advancing inclusion and equity in the Northgate neighborhood. Along with being the latest NHL team's training center, it will be used for youth and adult hockey events and more with dedicated community space in the venue.
"Since inception, the Kraken have been committed to the greater Seattle community, and there is no better partner to amplify this commitment than Starbucks," said Tod Leiweke, Kraken chief executive officer. "We are proud to join forces with such a like-minded change agent. We both agree collectively we will make a lasting impact on our region."
Starbucks will open a store within the Iceplex with a percentage of the profits supporting the Kraken and Climate Pledge Arena's One Roof Foundation and other local nonprofit organizations.
"Starbucks has tremendous pride in our hometown, and we are honored to work with an organization like the Seattle Kraken, which shares our values," said Kevin Johnson, chief executive officer at Starbucks. "The people in our city represent the very best of us, and working together, we're committed to strengthening the Seattle community, celebrating our neighbors, and building a lasting partnership that uplifts the lives of people and families across the Puget Sound."
The Iceplex will have programs to support youth and adult skating and hockey lessons, youth and adult hockey leagues, figure skating, public skate sessions and other rink activities. Fans will be able to watch the NHL team practice and attend game-viewing events.