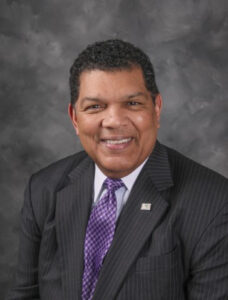 Larry Alexander, who helped bring several major sports events to Detroit as the longtime president and CEO of the Detroit Metro Convention & Visitors Bureau, has announced his intention to retire. Alexander's retirement will take effect December 31.
Alexander oversaw the bureau for the past 22 years, a stretch that saw an economic transformation in the city. Of note was the redevelopment of TCF Center, formerly known as the Cobo Center, which upon its completion in 2015 helped attract large meetings and events to the region. Between 2010 and 2019, the center increased revenue over 536 percent.
Alexander also oversaw the creation of the Detroit Sports Commission, which has helped the city land dozens of high-profile events. Those events have included Super Bowl XL in 2006 and the 2009 NCAA Men's Final Four as well as several other NCAA championships. In addition, Detroit has hosted the 2003, 2008, 2013 and 2017 AAU Junior Olympic Games and the 2008 Women's International Bowling Congress. The sports commission also contributed to the city's successful bid for the 2005 MLB All-Star Game and the hosting of the 2004 Ryder Cup.
"When it comes to attracting conventions and visitors, at one time Larry had one of the most challenging jobs in the country and in the tough times he was there with creative strategies and steadfast advocacy for our community," said Marla Drutz, chairman of the Detroit Metro CVB Board of Directors. "As Detroit began its rebound, Larry was always one step ahead in presenting metro Detroit as a phenomenal location for events and visitors. His work ethic, command of complex issues and client focus are also exemplary."
Before joining the bureau, Alexander held a succession of leadership roles within Westin Hotels & Resorts, becoming the organization's first African American general manager at the age of 29. There, he also oversaw major renovations, repositioning, construction and opening efforts at flagship properties.