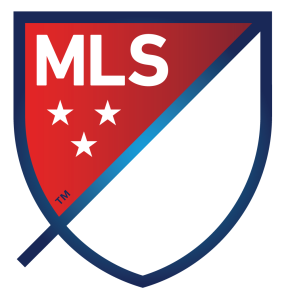 Major League Soccer has unveiled a new logo as it prepares for its 20th season, designed to be flexible enough that clubs can adopt the league crest in their own uniform color schemes.
The crest features three stars, designed to reflect what the league considers three pillars of its brand: For Club, For Country, For Community. A slash across the logo is a reference to the sport's speed and energy. The crest is also designed in two "halves," the first with the letters "MLS" and the stars, and the second with open white space "that brings you in and out of the MLS world," according to the league.
"We have etched a new milestone in our future today—a culmination of the many monumental changes that have positioned us for rapid growth," said Howard Handler, chief marketing officer for MLS. "In the last 18 months, we have introduced new teams, new soccer-specific stadiums, an eight-year, multimillion-dollar media rights partnership, and our owners have made significant investments to sign world-class athletes. Together, these elements have led to the realization that our current brand is no longer a proper representation of the league we are and want to become."
The crest's primary red, white and blue colors pay homage to the nations MLS represents—Canada and the United States—although teams will be permitted to change the colors on their uniforms to match team colors. The logo design is intended to say "soccer" without featuring the ball and cleat of its predecessor, according to the league. "Our new brand and crest are the result of an iterative process that has helped us better understand the world in which we operate in," Handler said. "The outcome is not an evolution, but a revolution."
The new league identity will begin to appear in 2015-related programs this year, including the NYC FC and Orlando City SC jersey launches, which will take place in November. The full rebrand will take effect in preparation for the 20th MLS season. In an effort to create a "fans first" experience, the crest also made its debut in EA Sports' FIFA 15 video game, which was recently released.